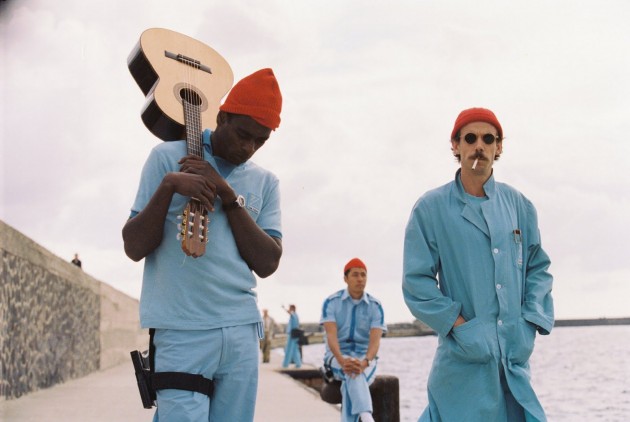 Latin American Cover Songs You Need to Hear
- 15 December, 2015
For reasons that remain unexplained, Latin American music has been slow to garner a large fan base in the US. A large number of otherwise astute music fans equate Latin American music more with "The Girl from Ipanema" than with "Oye Como Va." Despite the rich mix of genres and sounds, Latin American music is often simply labeled as "world" music and all of it is lumped together.
However, that label may be changing. Obviously changing demographics in the US play a role in the increased awareness of Latin American Music. However one of the biggest drivers behind the new discovery of Latin American music is a very old one: the cover song.
The Studio Rio and Rhythm del Mundo releases provided a taste of how well-known rock songs would fare with a Latin American feel. But the fact that the songs were mostly remixes seemed to capture only a fraction of the potential.
Covers of popular songs by Latin American artists paint a much more vibrant and authentic picture. Since the songs are familiar melodically they provide North American and European listeners with a point of comparison even when the songs are performed in Portuguese or Spanish.
 
"Should I Stay or Should I Go?" Los Fabulosos Cadillacs
 

 
Los Fabulosos Cadillacs is perhaps one of the more eclectic of the South American bands. The Argentina ska band has stayed true to their roots thoughout their long career but their sound has constantly evolved. The band has recorded a number of covers over the years. Los Fabulosos Cadillacs draws from a very diverse group of artists including punk rock minimalist Ian Dury and r&b master Curtis Mayfield. One of the band's best cover versions is from the more commercial part of the new wave of the 80s with the Clash's "Should I Stay or Should I Go?"
 
"Tumbling Dice" Scubba
 
 
 
Gambling songs have been popular since the late 1800s and have been recorded by artists as diverse as Robert Johnson, Frank Sinatra, Carly Simon, Rush, and Lady Gaga. Singing about craps, roulette and blackjack never seems to go out of style. However, despite the fact that poker and casino games are popular throughout Latin America, relatively few songs about gambling have been covered by Latin American artists. Perhaps the blues base of many of the songs simply didn't translate well to the various popular genres, as Scubba's version of the Rolling Stones' "Tumbling Dice" illustrates. Scubba has covered rock anthems by the Stones and Guns n' Roses before; his laid back interpretations give the songs an entirely new feel and image, making them seem more suited for relaxing on a hammock or patio, than a high energy rock club.
 
"Smoke on the Water" Senor Coconut
 
 
 
It may not be entirely correct to put Senor Coconut on the list, even though he has released dozens of Latin American albums. For, while his music is decidedly Latin American, Senor Coconut is not. He was born in Germany; his name is Uwe Schmidt. Perhaps the best description of Schmidt is avant-garde. While many of his projects have been decidedly experimental, his Latin American albums are very true to the traditional sound and feel. Senor Coconut has shown a definite willingness to experiment. He recorded an entire bossa nova album of Kraftwerk songs. His version of "Smoke on the Water" is brilliant.
 
"Nothing Else Matters" Shakira
 
 
Shakira is arguably the world's best known Latin American singer and has been dubbed the "Queen of …" so many things as to be distracting. Not only has Shakira recorded some of the best-selling songs in music history, her philanthropy and activism has earned her an audience with two American presidents, a Pope, and other world leaders. She is also the first person to reach 100 million fans on Facebook. Metallica's "Nothing Else Matters" is one of the better heavy metal songs to deal with sadness, depression and loneliness. Shakira turns it into one of the most plaintive songs of loss and despair every recorded. If a sad song can be considered "brilliant," this is it.
 
"Life on Mars" Seu Jorge
 
 
 
Brazilian born Seu Jorge brings a fresh sound to everything he records. He has worked on a number of soundtracks, including The Life Aquatic, recorded with Beck, and appeared at Bonnaroo and other major music festivals. Most of the songs on The Life Aquatic are David Bowie covers, and Jorge's version of "Life on Mars" is simply brilliant. Bowie commented "had Seu Jorge not recorded my songs in Portuguese I would never have heard this new level of beauty which he has imbued them with."
 
"Creep" Los Master Plus
 
 
 
In just five years Los Master Plus has developed quite a fan base in Mexico and South America, and the unique mix of cumbia, hip-hop, rock and electronic music is rapidly winning fans in parts of North America as well. At first glance Radiohead's "Creep" seems like a very unlikely candidate for the cumbia treatment, but the duo pulls it off brilliantly.
With the 2016 Olympics in Rio de Janeiro not far away, Latin American music should get even more attention. The songs and artists on our list should provide a starting point for an amazing journey.

Follow Sounds and Colours: Twitter / Facebook / Google Plus / Mixcloud / Soundcloud / Bandcamp

Subscribe to the Sounds and Colours Newsletter for regular updates, news and competitions bringing the best of Latin American culture direct to your Inbox.
Share: