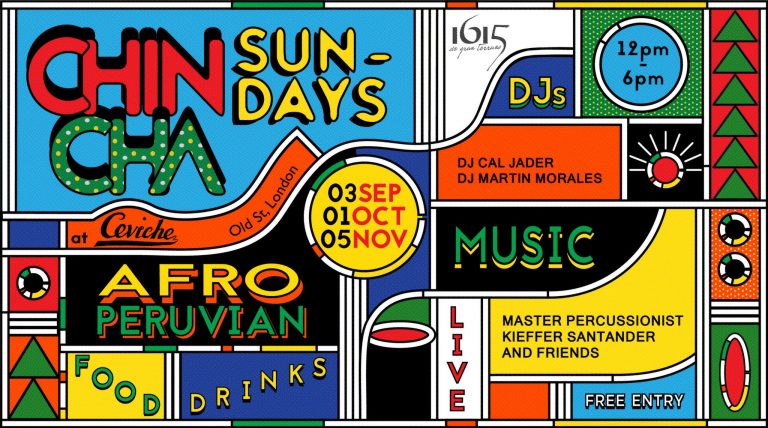 Chincha Sundays
Join Ceviche for Chincha Sundays at Ceviche Old St, a monthly event series celebrating Afro-Peruvian Chincha food, drink, music and culture.
Serving a special menu with Chincha-inspired dishes, such as the Seco Santa Cruz, with beef and lamb stew, steamed rice, butter beans, as well as Picarones: warm pumpkin and sweet potato doughnuts, chancaca and ice cream.
There will be live music all day long. Line-up:
Kieffer Santander, Percussion (Peru)
Carlos Saldaña, Guitar (Peru)
Jeanette Rojas, Flute (Bolivia)
Marco Solano, Percussion (Peru)
Michael Baldwin, Sax (England)
Ruben Ramos Medina, bass (Panama)
Alejandro Reyes L., Percussion (Peru)
Paul Bailey, Percussion (England)
Giancarlo Garcia, Guitar (Peru)
Eliana Rosas, singer (Peru)
Timings
12-1pm – DJ Martin Morales
1-1.45pm – 10 piece Band with Afro Peruvian songs
1.45pm-2.15pm – DJ Martin Morales
2.15pm – 3.15pm – Band and Afro Peruvian dance
3.15pm-3.45pm – DJ Martin Morales
3.45pm – 4.45pm – Percussion ensemble
4.45pm – 6pm – DJ Martin Morales and percussion ensemble.
Please note that entry is free but booking is advised. Call 020 3327 9463 or book via cevicheuk.com/news?id=525182. Or just rock up anytime for a bite, a drink and a dance.
Cant make Sunday, October 1st? Booking is also open for the future Chincha Sundays date, November 5th.
WHEN:
WHERE:
Ceviche Old St
2 Baldwin St

,

London
MORE INFO: facebook.com/events/175644742978505
---