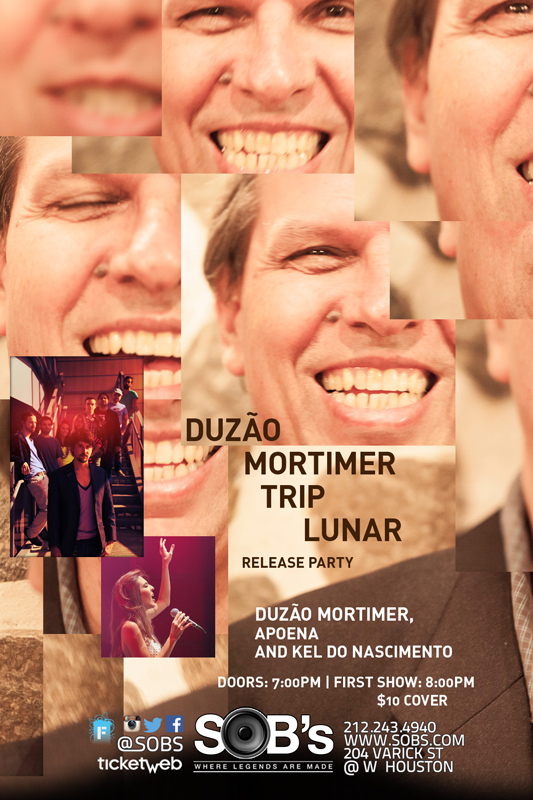 Trip Lunar Release Party feat. Duzão Mortimer, Apoena and KeL do Nascimento
SOB's presents Duzão Mortimer and his brand new album "Trip Lunar" along with fresh Brazilian talents Apoena and KeL do Nascimento on the first sunday of April.
After leading the band "O Grande Ah!" to local success in the 80's and recording an instrumental record "Mariantivel" in the 90's, Duzão Mortimer gathered prominent figures from the new MPB/jazz scene in Belo Horizonte to record a musical trip. Produced by Thiakov, "Trip Lunar" includes songs from various epoch of Mortimer's career, which gathers influences of the "Clube da Esquina" exponents Milton Nascimento, Lô Borges and Toninho Horta, along with other Brazilian songwriters such as Chico Buarque, Itamar Assunção and the Tropicalia movement. The recordings transmit the warm and cozy feeling provided by the homelike ambient of the sessions, which were attended by various guests: Chico Amaral, José Luis Braga (Graveola e o Lixo Polifônico), Rafael Martini, Leopoldina Azevedo, Joana Queiroz, amongst others.
[soundcloud url="https://api.soundcloud.com/tracks/135207393″ params="color=ff5500&auto_play=false&hide_related=false&show_artwork=true" width="100%" height="166″ iframe="true" /]
To present the new album to the New York audience on April 6th, Duzão Mortimer followed the same direction as on the record, and gathered talented young musicians from Berklee College of Music. Andre Vasconcelos (guitar) and Apoena Frota (bass) will be forming the band, along with Lucas Mortimer (drums), Duzão's younger son who recorded "Trip Lunar" and is currently studying audio engineering in NYC.
The party at SOB's starts 6:30pm and also features performances by Apoena and KeL do Nascimento, presenting their own songs, as well as some classics from popular Brazilian music. Tickets are $10 in advance and $12 at the door.
KeL do Nascimento
KeL do Nascimento is a Brazilian singer-songwriter born and raised in São Paulo who moved to Boston in 2011 to propel her music career. KeL, started her band in 2013 at Berklee College of Music, where she is about to graduate in Performance and Songwriting majors on Summer 2014. While at Berklee she performed originals at the Latin America VIVE Music Festival, The BIRN, The Red Room – Café 939 and the Outside the Box Festival as well being featured on Berklee's YouTube Channel with her song "Busca". She also had the opportunity of sharing the stage with great Brazilian artists such as Marcos Valle and Guinga. While finishing studies and planning her move to New York, KeL has been performing around Boston and New York City and is currently working on her debut album, which will incorporate elements ranging from neo soul, jazz and pop rock to Brazilian music.
Apoena
Apoena Frota is a Brazilian-born composer, multi-instrumentalist, and producer, currently completing a music bachelor's degree program in Contemporary Writing, at Berklee College of Music, in Boston, MA. Apoena's music is a concise mixture of the many types of sound he was exposed to throughout his childhood. Coming from a family of actors, musicians and acrobats, his influences range from Brazilian folk/pop music to contemporary indie rock and world jazz. His unique style has rendered invaluable achievements. He played with and recorded renowned artists, such as Nana Caymmi and Leoni; he opened his own label, "Tumdum," in 2009, and released his first solo album, "Desacorde," which shook the indie scene in the country; in the same year, one of his songs was recorded by the iconic Lulu Santos; he wrote, directed, and composed the soundtrack for the circus spectacle "Elements", which toured throughout Brazil between 2009 and 2010.
In Boston since 2011, produced more than 10 albums for independent artists in Massachusetts and New York in a recording studio in Somerville, Rescue Productions. Being an experienced musician, he quickly inserted himself in the East Coast's music scene, both as a guitarist and bassist, for many different projects. In 2013, still studying at Berklee, Apoena was invited to be the bassist and singer of Brazilian Jazz band, Boca Bonita. The group has been playing in Boston's best jazz venues, including the traditional Ryle's Jazz Club. In the same year, Apoena co-produced and starred as a bassist for Rock group The Brazilian Johnsons' first album 'Howdy Duty'. The album was recorded in Stamford, CT, in 5 days, with Grammy Award Winner Engineer Fernando Lodeiro. Along with his music, Apoena is constantly expanding in new directions and searching for novelty. This search was what led him to Boston, to study at the best music school in the world. His upcoming album will certainly reflect this exchange, which is already being transformed into lyrics, melody, and harmony.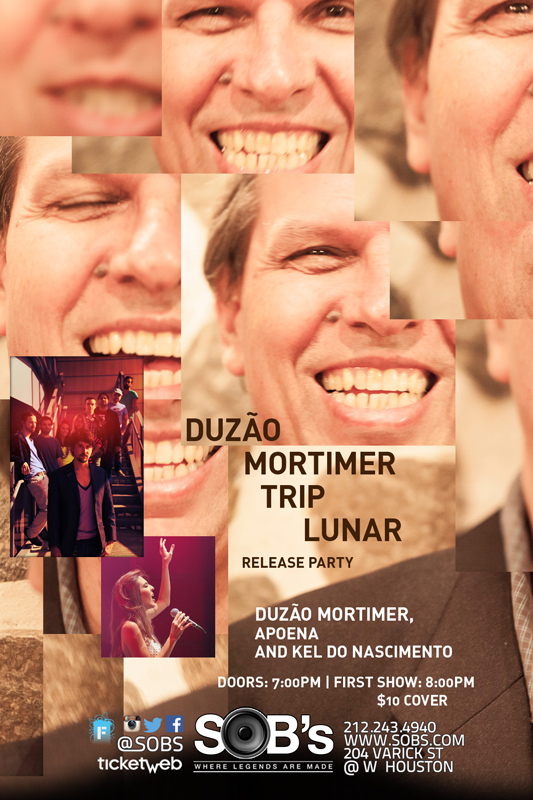 WHEN:
WHERE:
S.O.B.'s, 204 Varick St
New York
TICKETS:
$10 advance - $12 day of the show
---