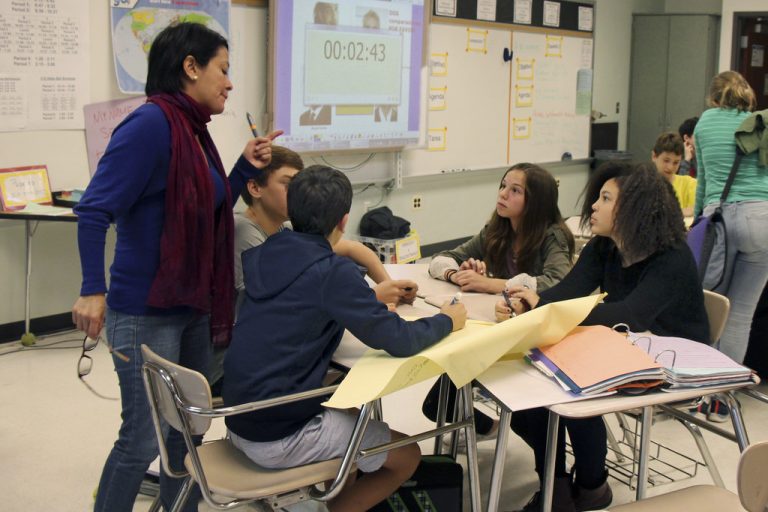 6 Ways to Learn Spanish in Latin America
|

29 November, 2016

From the icy tip of Patagonia to the parched plateaus of Mexico, Latin American Spanish varies dramatically from one country to another. Wherever you travel in Latin America, navigating public transport and deciphering menus can be a minefield, even if you've mastered your Ps and Qs (along with a few swear words for good measure).

Learning a little lingo not only makes you less of a bumbling gringo, it opens up a realm of opportunities for cultural experiences and interactions that will enrich your journey. Even if forking out fees for a study or volunteer programme isn't an option, there are plenty of other ways to learn Spanish in Latin America, whether you're working, studying or travelling.
1. Spanish Classes
Schedule and budget permitting, taking private classes in a language school is well worth the time and money. Even if you can only stretch to a week of study, this will work wonders for your confidence. Pairing some of Latin America's clearest accents with the most affordable schools, both Guatemala and Bolivia are excellent destinations for learning Spanish from scratch (and on a shoestring). Advanced learners may be better equipped to unravel Argentinian lilts, Caribbean twangs and clipped Chilean syllables, but that's not to say that these areas should be avoided by beginners. Centres such as the San Pedro Spanish School in Guatemala combine one-to-one tuition with homestay options, in order to fully immerse students in the language. If soaking up the peaceful setting of Lake Atitlán becomes tiresome (unlikely), all students are also given the opportunity to volunteer for a local children's project, Niños del Lago, in their spare time. More Guatemalan school options are listed on guatemala365.com. Tip: it's sometimes worth risking turning up unannounced at your preferred school rather than booking a course online, as this way you'll avoid any hidden administrative fees.
2. Language Exchange
Offering a sociable alternative to private tuition, Spanish language exchanges or intercambio de idiomas take place in most major cities across Latin America. Typically, groups of locals, students and travellers will gather in a cafe or bar, get boozy and converse. The downside is that it can be tempting to slip into English if it's the stronger of the group's languages, but on the plus side you'll be in the right environment for meeting new people, and it's totally free! You may feel near-fluent after you've sunk some rums and told a few latinos how terrible you are at salsa (cue free salsa lessons in exchange for English tutorials), but remember to scribble down all those newfound slang words you've slurred or you'll risk forgetting them all. Not sure where to start? Search meetup.com to find your nearest event or gumtree.com if you're seeking a tandem partner for one-on-one sessions. Alternatively, many notice boards at local universities or hostels and bars can also point you in the right direction.
3. Volunteer Work
Volunteering comes in many shapes and forms and offers a more meaningful path to learning Spanish in Latin America. Eco-projects such as rescuing sea turtles in Costa Rica can be incredibly rewarding for the soul but are not always as beneficial for learning español. Unless you're expecting the turtles to have great chat, then it may be worth arranging some language classes or exchanges alongside volunteering. If you really favour conversation over conservation, then a stint teaching English is a better bet. You'll be able to invest in others' language skills while picking up heaps of Spanish phrases just by interacting with students, even if you speak strictly English in the classroom. If you're teaching at a school, take the time to listen to kids' quips during playtime (when your accent will be an endless source of entertainment) and chat with other teachers during breaks. volunteerlatinamerica.com lists a wide range of such community projects, many of which offer food and board in exchange for volunteer work.
4. Home From Home
Living with a family or as part of a homestay programme, you're guaranteed to practise your Spanish every day. Not only will you inevitably learn to pasar la sal in Spanish, you'll gain a fast insight into family life and local traditions that no other accommodation can offer (except perhaps for Couchsurfing). If you're backpacking on a budget, or just not sold on the idea of being a guest in a host's house, then reverse the roles and host yourself by working in a hostel. Many hostels will offer meals and a dorm bed in exchange for shift work, during which you may be required to use your Spanish to assist guests with check ins, book tours and work behind the bar. If you're serious about learning Spanish, make sure you shadow someone who already works there to nail the phrases you'd need the most, and try to avoid hostels that are packed with only English-speaking travellers. The Loki Hostel chain offers short-term placements in Peru, Bolivia and Argentina.
5. Small Talk
Opportunities for small talk are abundant if you give them the chance to arise. Sit at bars, ask for directions, check who is the last person in the queue at the bus stop (Cubans tend to identify el último when waiting for a guagua, rather than stand in a line), and let the conversation flow. Another brilliant icebreaker? The heat. Saying 'Qué calor!' (option to mop your brow while swishing an abanico) is a very common opener and a great way to engage locals, dispelling the myth that only the British enjoy speaking about the weather. Perhaps switch to 'Qué frio!' if you're travelling to cooler climes!
6. Listen and Learn
So you've studied, spoken, lived and learnt. Really, what more can you do to perfect your Spanish? To fully immerse yourself in the language, a lot. Long bus journeys in Latin America lend themselves to hours of listening, so loading your phone and ears with podcasts and Latin American music can help pass the time as well as keep your brain ticking with new words and idioms. Award-winning podcast Coffee Break Spanish provides short 15-20-minute episodes that are easy on the ears, though they mostly focus on Castilian Spanish. Apps such as Duolinguo and Babbel can also help to accelerate your understanding of Spanish through interactive exercises and memory games. Coupled with any of the methods above, podcasts and apps will set you in good stead for speaking like a native in no time.

Follow Sounds and Colours: Facebook / Twitter / Instagram / Mixcloud / Soundcloud / Bandcamp

Subscribe to the Sounds and Colours Newsletter for regular updates, news and competitions bringing the best of Latin American culture direct to your Inbox.
Share: