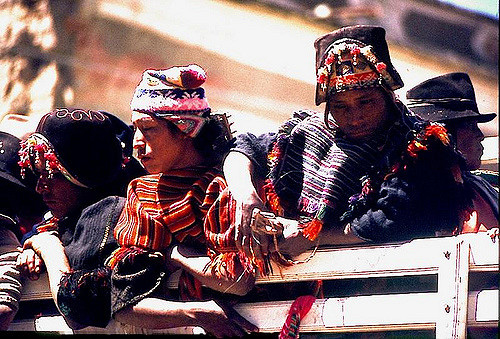 World Climate Summit: Bolivia's President Denounces 'Carbon Colonialism'
|

08 November, 2021

Elizabeth Lucas works as a copywriter and web developer for the professional writing essaywriter.nyc. She is interested in save planet which give her an inspiration to write her own articles and short stories.

Demand for turning away from "green capitalism" and better international cooperation. Rich countries would not live up to their responsibilities

La Paz. In his speech at the UN World Climate Conference (COP26) in the Scottish city of Glasgow, Bolivia's President Luis Arce reproached the industrialized countries for their climate policy. They would promote a new process of global recolonization that he called "carbon colonialism". Arce also called for "green capitalism" to be left behind.

"We have to be aware that the industrialized countries worldwide are promoting a new process of recolonization, which we can call new carbon colonialism, because they are trying to enforce their own rules of the game in the climate negotiations in order to further strengthen the new green capitalist system and they are demanding that developing countries adopt these rules of the game without any choice, "Arce said.

"We have the impression that the industrialized countries are simply wasting time, with no sense of responsibility towards humanity and Mother Earth, and their credibility is in jeopardy," he added.

The global capitalist system, which is based on unrestrained consumption and the irrational exploitation of nature and the atmosphere, cannot solve the climate crisis if it does not come to a fundamental change in direction in its economic and social system. The solution to the climate crisis will not be achieved through "green capitalism", but only through a change in the model of civilization, the Bolivian President affirmed to the delegates in Glasgow. It is about an alternative model to capitalism with the goal of a good life in harmony with mother earth, stressed Arce.

He also accused the industrialized countries of constructing a discourse in which they "appear as advocates of the fight against the climate crisis by speaking of a neutral emissions balance by 2050". If they really wanted to take on a leadership role, they would have to work for a fair distribution of atmospheric space with shared but differentiated responsibility.

The Bolivian ambassador to the United Nations, Diego Pary, also made the Andean nation's position clear in an interview with La Razón Radio: "Bolivia is a developing country, a country that is not responsible for most of the world's pollution, and that's why we believe that the industrialized countries must live up to their responsibilities. "

Arce and Pary refer to the principle of "common but differentiated responsibilities and respective capabilities" (CBDR-RC) of the Paris Agreement. This means that global climate protection is a joint task of all states, but that the individual states should participate in it according to their respective causal contributions as well as their national realities, capacities and stages of development.

Accordingly, the Andean state demands that the only real solution to limit the temperature rise to over 1.5 degrees Celsius lies in the distribution of the carbon budget among nations, based on criteria of climate justice and according to the principle of shared but differentiated responsibilities.

Arce had already announced in advance that he would advocate climate justice in the negotiations in bilateral meetings and conferences during his visit to Glasgow.

The so-called Nationally Determined Contributions (NDCs), in which the countries define their national climate goals and the ways to achieve them, are considered to be decisive for the success of the Paris Agreement. The agreement stipulates that all signatory states revise their NDCs at regular intervals of five years in order to make climate protection measures more ambitious.

Arce now also stated that his country is in the process of finalizing its revised NDCs. These are intended to define the country's national commitment against climate change by 2030 in the agriculture, water, energy and forestry sectors.

As early as August, the states of the Bolivarian Alliance (Alba), which also includes Bolivia, warned of neo-colonial tendencies in the industrialized countries in the fight against climate change in a preparatory meeting for the climate summit.


Follow Sounds and Colours: Facebook / Twitter / Instagram / Mixcloud / Soundcloud / Bandcamp

Subscribe to the Sounds and Colours Newsletter for regular updates, news and competitions bringing the best of Latin American culture direct to your Inbox.
Share: