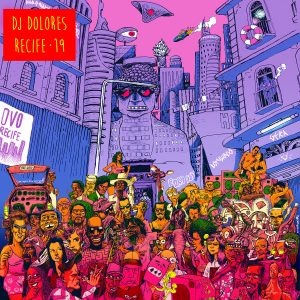 Review
DJ Dolores – Recife • 19
Helder Aragão moved in the '80s from his native Aracaju to the metropolis of Recife in north-east Brazil, once described by an institute of population studies as the fourth worst city of the world in which to live. Aragão, or DJ Dolores as he would become known, went there to study art, architecture and design, and it wasn't long before he immersed himself in the emerging Mangue Beat movement (described by one its founders, Chico Science, as a mixture of "a hip-hop beat with a maracatu groove"). Initially involved as a designer – of the "crabs with brains" motif that mirrored the movement's manifesto – he then became the creator of what one reviewer dubbed intellectual or conceptual dance music.
If this might sound like a contradiction in terms, go back to his third album, 2008's 1 Real, and a track called "J.P.S", or Jean-Paul Sartre. There surely aren't too many DJs out there who would dedicate a song to a long-gone French novelist and philosopher. Existential dance music then, perhaps. DJ Dolores describes the song's rhythmic structure as travelling "between forró and dance hall beats, to show the strong connection between Brazil's north-eastern region and Jamaica". The music on 1 Real and its successor, Banda Sonora, is carefully crafted, variegated and multi-textural stuff, built layer on layer upon an underlying combination of indigenous, dub and/or cumbia rhythms and infused with a hip-hop sensibility. At its best, it's spell-binding stuff, but sometimes it's just a little too clever for its own good.
But that was then and this is now, and his fifth album feels like the work of a more mature artist. He has said that "music has a life of its own, my friends. I just follow it." Recife • 19 certainly seems less constructed, more organic. Any reservations this time are limited to a couple of tracks that are a bit too strident for personal taste. The diversity of the fare delivers many a memorable moment. "A Casta", for example, opens the album and underlines that DJ Dolores can indeed make great dance music, conceptual or not: it's full-on funk, embellished with a crackling trombone and the rabeca fiddle, which – like John Cale's viola on The Velvets' "Venus in Furs" – lends the track an uneasy sense of mystery. The rabeca features, too, on the marvellous "Nanquim", scratching away over a heavily echoed dub beat. With its pounding tuba bass line and blaring trumpet, "Rua" could be the progeny of Screaming Jay Hawkins and a Balkan brass band. The rich, resonant voice of Jards Macalé on "Mudanças" conjures up a theme from a cod horror film. The fruity sound of the baritone sax colours "Teniente Rey" and "Segundos", while a Congolese-style guitar melds congruously with the horns and reggae/dance hall beat of "O Gringo". "The Wild One" is reminiscent of Yello at their best and the backing on "Quase Nos Esquecemos" summons up distant echoes of Naná Vasconcelos' Bushdancers. Something for everyone in other words.
While each track features one or more guest artist, there isn't a clamour. It gives more coherence now that DJ Dolores has a settled core band throughout: the man himself on synths and beats, backed by bass, guitar, rabeca, percussion and a fine three-piece horn section, not forgetting the multi-coloured vocals. Helder Aragão, aka DJ Dolores, is a clever fella. He has come up with an album that engages body, mind and soul and, in so doing, confirms that he is a musical force to be reckoned with.
Recife • 19 is released by Sterns Music and available through Bandcamp and elsewhere

Follow Sounds and Colours: Facebook / Twitter / Instagram / Mixcloud / Soundcloud / Bandcamp

Subscribe to the Sounds and Colours Newsletter for regular updates, news and competitions bringing the best of Latin American culture direct to your Inbox.
Share: