Ilha do Mel: it's not all sweet in paradise
21 March, 2011
I first visited Ilha do Mel seven years ago, in 2004. Seven years seems a long time. But I can still distinctly remember the youthful excitement and anticipation at the thought of visiting this island, filled with promise of lush green forests and pristine beaches. No cars, no roads; an ecological paradise. When I think of those words "Ilha do Mel", I'm filled with that fuzzy feeling that comes from memories so special that they seem even dream like, too good to have been true.
Ilha do Mel, or "Honey Island", is found two miles off the coast of Southeast Brazil. This island was also known in the last Century as "Whale Island", presumably as a result of its shape. But the source of the islands connection with the word "Mel" (Honey) is more contentious. A number of reasons have been suggested, including the one you may well have predicted, the extraction of honey on the island. But it could also have been the presence of mercury in the island's freshwater, which on contact with salt water causes a yellow, honey-like colour. But the word "Mel" may not even refer to this sugary substance at all, but to the production of cassava flour elsewhere in Brazil by German settlers (the German word for flour is "mehl").
Whatever its origin, before visiting Brazil, I'd never even heard the name Ilha do Mel. But in 2004 I was teaching English in a small town in Paraná, one of the Southern states, and Carnival was approaching, that crazy time of year when many Brazilians let themselves go wild. From somewhere, whispers of this magnificent get-away began to spread, and a plan to visit the island took shape. These whispers also reached the ears of my young students, and as a result, my last lessons before the holiday were filled with many more eager questions regarding my planned voyage than the English language. Many of these children had never even seen the sea, and their faces, alight with excitement and awe at the idea of visiting such a place, left me to feel quite guilty to admit that, yes, I was leaving that small bubble of a town for an island paradise.
For those lucky enough to visit Ilha do Mel, the journey is relatively simple: a four hour train journey through the jungle from Curitiba, followed by a 30 minute bus ride from Paranaguá and a 30 minute boat ride from Pontal do Sul. We arrived at the island as darkness was falling, and were met by a surprising number of people waiting at Encantadas, one of the two ports of arrival. It was not only the number of people that surprised me, but also the number of wooden structures that I could see, one of which was to be our accommodation. This accommodation materialised to be a room within a wooden hut, whose inner walls only reached two-thirds of the way up to the ceiling, not giving much privacy from the family staying next door.
Boat journey to Ilha do Mel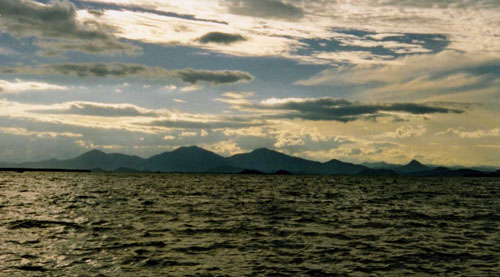 During carnival you have to be well planned to get the better accommodation. But, it's the willingness to stay in more basic conditions that helps shape the demographic of visitors to Ilha do Mel. Along with the night-life, of course. You won't find celebrations on the scale of Rio's Carnival, but if you're after something more relaxed and slow paced, Ilha do Mel can provide you with just that. You can spend your nights at restaurants and bars by the beach, enjoying the reggae music, hits such as Ivete Sangalo's "Poeira" (or perhaps something more recent), and sampling a caipirinha or two. ..And if you get restless sitting, you can seek out a forró party in one of the simple beachside shacks. But make sure you carry a torch with you – one of the most beautiful things about Ilha do Mel is the lack of light pollution.
Beware, however, that you don't inadvertently find yourself walking in what may seem like a small stream, but in the light of day turns out to be sewage. One, these streams have a habit of stealing flip flops, and two, it's just not pleasant. Unfortunately, Encantadas has become somewhat polluted, with cesspits overflowing into open sewers in the wet. And the first time I visited Ilha do Mel, it rained almost continually. The sheer number of visitors on the island has caused problems of litter disposal, water availability, and water pollution. The "Sustainable Tourism Certification Programme", which is known in Brazil under its Portuguese abbreviation (PCTS), is helping to address the problem of overcrowding on the island. A maximum of 5,000 people are allowed on Ilha do Mel each day, a limit controlled by a small visitor fee, but in busy times of the year like Carnival, I wonder how easy this limit is to enforce.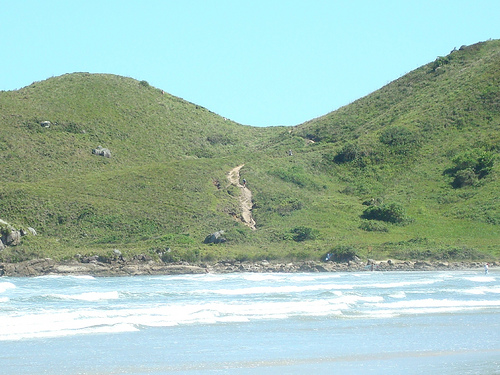 Many people that visit Ilha do Mel do not know, in fact, that the island has been an ecological reserve since 1982. And in 1992, the island received World Biosphere Reserve designation due to the presence of Atlantic forest, the "Mata Atlântica". Brazil's Atlantic Forest once covered 1.3 million square kilometres, but today only a mere five to ten per cent of the original forest remains. Destruction began with the arrival of Europeans and the rise of sugar cane plantations, and has continued since. As a result, Brazil's Atlantic Forest has been declared by the World Conservation Union as one of the world's most endangered areas. This unique ecosystem supports an incredible diversity of plants and animals, with an estimated 20,000 plants species (40% of which are endemic), 190 reptile species (60 of which are endemic), 250 mammal species (over a fifth of which are endemic) and almost 1,000 bird species.
On Ilha do Mel, over one hundred bird species have been reported. Among these birds is the Brazilian Tanager, recognised by the incredible hot red colour of the male's plumage. Parakeets and green parrots known as "o tuim" and "o cuiu cuiu" are common. As are perching or song birds, such as the Rufous-bellied Thrush, whose great popularity and well-appreciated song led to it become the national bird of Brazil in 2002. But less delicate looking birds can also be heard singing in the early morning, such as the Spot-billed Toucanet, with its colourful plumage and large, oversized bill displaying the black stripes that no doubt gave this bird its name. The bird that many may be most pleased to see, however, is one that has been threatened by habitat loss and poaching. The Red-tailed Amazon, a bird unique to the coastal regions of Southeast Brazil, once numbered less than 2000 individuals, but its presence on Ilha do Mel is testament to the conservation efforts that have helped this species recovery.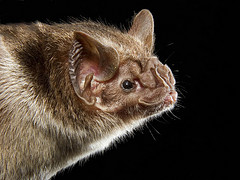 But it's not only birds that can be found flying in these forests; Ilha do Mel is also home to a number of different bat species. "O morcego-beija-flôr" or Pallas's Long-tongued bat, is a small bat that can be found hovering in mid-air whilst feeding from flowers, a behaviour comparable to that shown by hummingbirds, as their Brazilian name suggests. "O morcego-fruteiro" or the fruit bat can also be found feeding off plants growing in the islands forests, but if you were to spot "o morcego-vampiro" or the vampire bat, you may witness a slightly more sinister behaviour. These vampire bats feed on the blood of birds or large mammals, approaching their prey by either walking or running along the ground. This allows them to stealthily climb onto their victims, and commence to lick blood from a wound inflicted with their razor sharp teeth. Others mammals found in the forests, some of which could be potential prey, include opossums, raccoons, rodents that are given the broad name of "o rato-do-mato", and capybara.
But these forests may seem fairly depauperate compared to the variety of wildlife found in the waters surrounding the island and on its beaches. Some of which may go unnoticed, such as a small white crustacean, known as "o crustáceo tatuira", which can be found hiding in shallow excavations on the islands beaches. These crustaceans will only be found where there is little pollution, providing a good measure of the cleanliness of beaches. And a tiny carnivorous Isopod-Crustacean with a length of roughly 5mm helps to keep the beaches clean by devouring the remains of fish. Perhaps more conspicuous are the whitish-yellow crabs, and the numerous mollusc shells that are thrown up onto the beach by the waves. Among these shells you may also spot sand-dollars, those small flat discs displaying an almost flower-like pattern. Larger animals which may wish to go undiscovered include birds such as herons, most likely waiting motionless in the water in an attempt to fool their prey.
Ilha do Mel and the biodiversity that it has to offer, can be explored by following the well-signposted trails across the island. The island is essentially made of two halves, connected by a split of sand at the Nova Brasilia jetty, the main port of arrival. Encantadas is found on the rugged, eastern side of the island, and from there you can walk to "Farol", where a lighthouse was built in 1872. This still functioning lighthouse was shipped to the island from Glasgow, and the quite stunning view from its summit is strangely reminiscent of Britain, not only for the very British looking lighthouse, but also the lush green hills that could resemble those of the UK. But according to legend, the lighthouse is not the only beacon drawing men to the island. The "Gruta das Encantadas", or cave of Encantadas, is surrounded by stories of beautiful mermaids that enchant men with their songs. Mermaids or not, the eastern side of the island certainly offers plenty to captivate its explorers.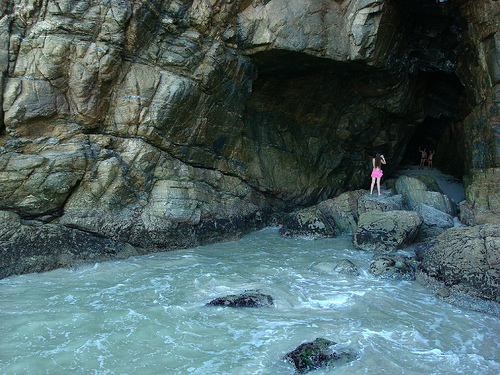 The western side of the island is quite different. This flat, whale-shaped half is predominantly ecological protection area, but can still be visited by tourists. Most travel between the two sides of Ilha do Mel is done by boat, ferrying between Encantadas and Nova Brasilia. It is possible to make this cross walking, but beware that this involves passing over a slope predisposed to muddiness, making the journey a difficult and slightly frightening experience when it rains. Enlisting the help of young tall Brazilians who can help haul you over the rocks that you will face at Praia Grande is also advised. Once on the western side, you can walk to "Nossa Senhora dos Prazeres", a fort built in 1767 on the orders of King José I of Portugal, to protect the Paranaguá Bay from invasions. From the gun emplacements a truly incredible view can be gained. The sheer expanse of ocean below you is breathtaking, but I can also remember a warm feeling arising on seeing the word "Sheffield" embossed on the cannons, another small reminder of home.
I returned to Ilha do Mel later in the year, in May, and stayed in Nova Brasilia, on the western side. Ilha do Mel seemed almost a completely different island. This may well have been due to the time of year and the lack of Carnival, but whatever the reason, the island seemed a much more laid-back, tranquil place. The accommodation this time was a beautiful pousada, so quiet and peaceful that the predominant sound to greet you in the morning and to bid you at night was that of the ocean and the periodic crashes of waves against the beach. Efforts to seek out night-time entertainment led us to almost empty bars; the only other customers we found were three Brazilian students, fortunate enough to have Ilha do Mel as their sanctuary from University exams. But walks along the beach at night were more than enough, with a sky overhead more big and star-ridden than I have ever seen. It's that kind of sight that makes you feel completely insignificant, and as if you are so alone that you could disappear and no-one would notice. Until the illusion is broken, that is, by the sudden passing of a lone-cyclist.
There is clearly more to Ilha do Mel than night-time parties along the beach. And visitors that do not realise this risk threatening the islands natural environment; the flora and fauna characteristic of its forests, its hills and rocky shores. But it's not only the environment that suffers. Before Ilha do Mel received environmental protection, rapid unregulated development that accompanied a tourism boom threatened not only the islands ecology, but also its native community. Ilha do Mel was once a fishing community, but before the establishment of the ecological reserve, native islanders were forced out by tourism and rising prices. The PCTS scheme is trying to address this problem. But even now, whilst the western side of the island is largely protected by the ecological reserve, local residents on the other half still feel that they have lost control of the island. And despite the development of the ecological reserve, the island continues to suffer from illegal damage and invasion of protected areas.
Clearly a balance is needed between development and environmental protection, and perhaps locating the majority of facilities on one half of the island serves to minimise damage caused to protected areas. But even in those areas that are not protected, travellers should be aware of the impact that their visit will have. Whilst our rubbish may seem to miraculously disappear from our households in the UK, what visitors leave behind on Ilha do Mel won't do the same. And the island can also not provide infinite resources. I wonder how much Ilha do Mel has changed in the seven years since I have been there. I imagine that it is still an incredible place to visit, but I almost feel begrudged to encourage people to travel there. Ilha do Mel is the kind of place that should come from hushed whispers, a well-kept secret that few are lucky enough to discover. Who am I though, to deny people of the experiences that I had? If you do visit this wonderful place, please do treat it with the respect that it deserves.
For more information on Ilha do Mel see:
http://www.ilhadomel.net/

http://www.ilhadomel-travel.com.br/ (in English)

Follow Sounds and Colours: Facebook / Twitter / Instagram / Mixcloud / Soundcloud / Bandcamp

Subscribe to the Sounds and Colours Newsletter for regular updates, news and competitions bringing the best of Latin American culture direct to your Inbox.
Share: