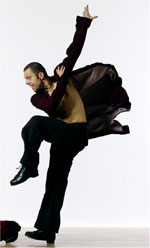 If Fred Astaire Got Grit and Was Swept Up by Cuban Orishas… Max Pollak Taps the Fourth Dimension of Rumba
07 May, 2010
Dancer and percussionist Max Pollak has performed for Fidel Castro one night and rural Cuban sugar workers the next. He has painstakingly transcribed a Mongo Santamaria timbales solo for six tap dancers and has traded moves (and shoes) with Cuba's rumba masters. It all started when Pollak realized he not only wanted to play Afro-Cuban music, he wanted to dance it. Not dance to it; but audibly create the rhythms with his feet and hands. It's as if Fred Astaire fell into perfect step with the Santería orishas.

It all began in a class with Afro-Latin jazz icon Bobby Sanabria at the New School: "It changed my life," Pollak recalls. "We played in a big band, and I had to play different instruments and learn as much as I possibly could." The learning process included watching videos of Afro-Cuban traditional music, including performances by legends Los Muñequitos de Matanzas. "That really struck a chord. I told Bobby I was a tap dancer and that I wanted to tap dance to this music. He asked me if I wanted to tap dance to Cuban music, or tap dance Cuban music. Then he reached for the claves,"—the rhythmic base of Afro-Cuban music—"and said, 'You have to play claves while you dance;'" a feat that sounds easier on paper than in reality.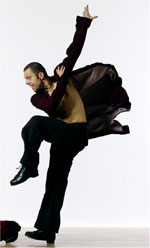 Pollak practiced doing just that, drawing on his drummer's ability to walk and chew gum at the same time. Eventually he mastered the approach and took it to the stage at the Nuyorican Poets Café. There, he had another life-changing encounter: He met Los Muñequitos de Matanzas. And one of their finest rumba dancers, Barbaro Ramos, asked Pollak to teach him to tap.
"We met in a studio, and I brought along an old pair of my tap shoes. I said 'This is how you play cascara on the side of the drum. This is how you do it with your feet.' He was immediately able to reproduce what I was doing," Pollak reflects. "I thought, 'If this guy can learn the basic gist of tap dancing so fast, this is worth my energy.' I taught him for a couple of hours, and then told him 'Keep the shoes.'" A couple months later they met up in New York and Ramos performed a mindblowing tap solo on stage.
The routine they began developing that day in the studio, what evolved into the piece "RumbaTap," formed the heart of Pollak's new direction. He took the bomba groove he learned from Sanabria and superimposed the shim sham, tap's signature set of moves ("Bomba Sham"). He replaced the trio of batá drums used in Santería ceremonies with three saxes in a piece with dancers, singers, and marimba ("Oricha Suite"). Taken with a timbales solo by Mongo Santamaria, Pollak figured out how to dance it beat for beat, integrating rumba and tap ("Mongo T").
"Rumba movement is very different from jazz or tap. Rumba dancers move in a very fluid way that is very close to the ground," Pollak explains. "It also took me a couple of years to learn how to separate the tap technique and then remarry the process of hitting the floor rhythmically with rumba movement." It was a challenge Pollak could not resist, one of many he grappled with on his artistic journey.
At age five, Pollak saw Fred Astaire on TV and made it clear that dancing like that was his goal in life. It took his parents years to find a rhythm tap teacher in his native Vienna. The young Pollak dedicated himself to learning from videos and TV shows, to mastering the drums, and to marching (and tapping) with Vienna's only New Orleans-style marching band, an experience that inspired the solo-studded jam session of "Big Chief." Finally, he met his first mentor, the venerable African-American tap artist Carnell Lyons based in Berlin.
The elderly Lyons would blaze away on the board despite crippling hip pain, then presume Pollak could repeat the steps for students while Lyons sat back with a vodka orange. "After class, Lyons would show me videos of Sammy Davis Jr. and Gregory Hines until eight in the morning," Pollak reflects. "I had never seen a Black tap dancer before. He opened up this whole new world for me."
Pollak left Austria in pursuit of this new world and fell in with the passionate New York tap community centered on jam sessions at La Cave. Hosted by the incisive yet gracious Jimmy Slyde, dancers had to show a "time step" before being allowed to do a number. "We had this great blind piano player there, Bross Townsend. He could immediately tell if a dancer was worth his or her salt," Pollak smiles. "You would see Bross nodding his head in time or shaking his head if he had no idea where this was going."
Pollak and several other dancer friends were naturally intimidated, and instead of tapping on stage, they tapped outside the club and handed out flyers so they could watch for free. Until one day, "after I had gone to the jam session about ten times, a French tap dancer friend of mine literally kicked me in the butt onto the stage," Pollak laughs. "I fell in front of Jimmy Slyde." Pulling himself up, Pollak did his time step, Slyde approved, and from then on he was a regular.
From New York, Pollak's path eventually led him to Cuba, thanks to a growing friendship with Los Muñequitos. He brought longtime collaborator and saxophonist/conductor Paul Carlon and his quartet to perform at the first ever Cuban Tap Festival which Pollak produced. They played with some of the greats of Cuban music including Clave Y Guaguanco and Chucho Valdes. Pollak's artistic relationship with Carlon intensified and they frequently work in each other's projects. Carlon is now musical director of Pollak's group RumbaTap.
In Cuba, Pollak worked with deaf-mute mimes, who mastered rumba-tap moves without hearing them. He performed with Los Muñequitos at Cuba's premier musical event, Cubadisco, for a virtual who's-who of the island, including Castro himself. The very next day found Pollak on a rickety bus headed for a remote town where the group performed in a rundown sugar factory for the workers.
"Los Muñequitos played as if they were at the Blue Note, not in some factory cafeteria. They presented me to sugar workers just as they had the day before to the Minister of Culture and Castro," Pollak reflects. "It was amazing to present my work to people who had never even seen a tap shoe. I was tap dancing on concrete, which I would not do anywhere else. But for Los Muñequitos, I would do just about anything."
Moments like this capture the ultimate goal of RumbaTap, expressing the transcendent beauty of Afro-Latin traditions through the body: "It's like the floor underneath you lifts and you are flying. I treasure those moments; being able to plug into a divine force of art or expression. That is what I want to do."
Written by World Music Wire

Follow Sounds and Colours: Facebook / Twitter / Instagram / Mixcloud / Soundcloud / Bandcamp

Subscribe to the Sounds and Colours Newsletter for regular updates, news and competitions bringing the best of Latin American culture direct to your Inbox.
Share: