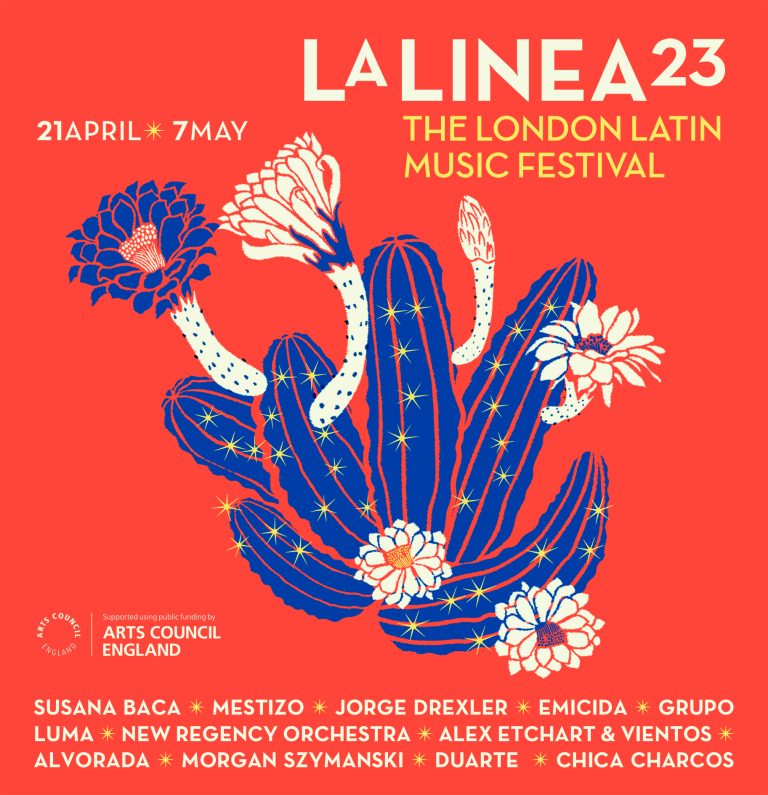 La Linea 23: What We're Looking Forward To At This Year's Festival In London
20 April, 2023
La Linea kicks off tomorrow in London, with a whole host of international guests and rising stars from the UK's Latin music scene descending on the capital over the next two weeks for the festival. Like every year La Linea seems to offer a little something for everyone, from Oscar-winner Jorge Drexler, to three-time Latin Grammy winning Susana Baca, Netflix star Emicida, British-Colombian ensemble Mestizo, 18-piece Afro Cuban New Regency Orchestra, and much more. Here we check in with some of the team behind Sounds and Colours to find out what they are personally looking forward to.
This year I'm really excited for the opening night with two incredible Peruvian acts. First up, Susana Baca, a key figure in the revival of Afro-Peruvian music. She is a singer-songwriter, teacher, folklorist and national treasure in Peru, who is playing at The Jazz Cafe for her first London show in many years. Followed up later in the night by producer / DJ duo Dengue Dengue Dengue who have been at the forefront of Latin America's electronic music scene for a while now, exploring Afro-Peruvian rhythms in whole new sonic territories. I last saw them play a couple of years ago and was blown away by the range they bring to the dancefloor, from psychedelic cumbia to dub, from breaks to footwork, from tribal to techno; and with their ever-present masks this is set to be a breathtaking show.
Gabriel Francis
Largely speaking, I make my own culture here in Nowheresville. So I'll miss La Linea for this year, which is a great shame. I'd queue all day and all night to see Mestizo, and the feet at the end of my legs are itching to catch the New Regency Orchestra. But I'd be very interested to see how Eliane Correa y La Evolución are evolving. I remember reviewing her Rumba Con Flores seven or eight years ago for Songlines and thinking at the time that here was a genuine talent that just needed to shed a certain self-consciousness. My man in Brighton, who takes regular trips to Ronnie Scott's, saw her outfit not long ago in that hallowed venue and pronounced the show very good. Signed, sealed, delivered; I'm hers.
Mark Sampson
Strangely, the La Linea show I am most excited about is also the one I know the least about, or at least in regard to what the music will be like. Alex Etchart & Vientos is a new London-based project but, as yet, they have no releases to their name. Their first single, "Johnny Barnes", will in fact be released on the day of their La Linea show, accompanied by a 10-minute video no less, though I have had a sneak peek. The track is their version of an ancient Irish folk song that was recorded by Sam Lee from Irish Traveller Sally Connor, that speaks of the love between two men. Etchart's version starts traditional enough, with Etchart playing some form of oud and singing, but halfway through, things go slightly askew, with sudden pulsing synths, bass wobbling all over the place and Etchart uttering "oh, if I were a woman?" while machines distort their voice. Etchart grew up in the UK with Uruguayan heritage and has spent time learning vocal techniques, jazz instrumentation and the oud ma'qam, leading the Nest Collective's Fire Choir, as well as studying the songs and social movements of British & Irish folk and nueva canción. Identifying as non-binary, and with a youth spent listening to dubstep and enjoying London's club scene, you start to see some of the influences that feed into their version of "Johnny Barnes". As their album won't be out until later this year, this is your best chance of seeing what is a transformative vision of British-Latin folk song.
Russ Slater Johnson
I wouldn't miss the energetic British-Colombian collective Mestizo, led by two musical pioneers: Ahnansé, founder of the sweaty South London jam Steam Down and Daniel Michel, founder of Colombian indie label Mambo Negro Records. The group were scheduled to make their debut at La Linea in 2020 and have only grown in collaborative richness since. They flirt with Afro-jazz, hip hop, dub, salsa, cumbia, ska, bossa nova and afrobeat and play around with bilingual vocals, gaita, clarinet, trumpet, sax and a whole lot of percussion. The sound is entrancing and eclectic in its travels but rooted and familiar in its influences. Playing at Bogotá's Festival Centro in January, the group captivated a rowdy crowd who soon forgot the temptation to scale the balconies, entranced by this musical mestizaje and ultimately welcoming a brass-guided trance with gaitas reverberating through the speakers. This is cross-cultural musical conversation at its coolest. 
Rebecca Wilson
La Linea festival is happening across London from 21st April – 7th May 2023.
Tickets are on sale now and available here.

Follow Sounds and Colours: Facebook / Twitter / Instagram / Mixcloud / Soundcloud / Bandcamp

Subscribe to the Sounds and Colours Newsletter for regular updates, news and competitions bringing the best of Latin American culture direct to your Inbox.
Share: