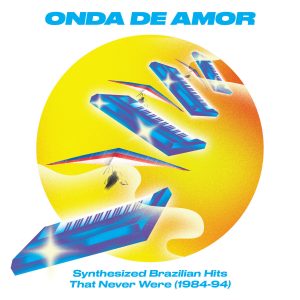 Review
Onda De Amor: Synthesized Brazilian Hits That Never Were (1984​-​94)
In a very "finder keepers" fashion, diggin' for records brings new life to old music, and when you are into this treasure hunting, you often never know what you are looking for and therefore what you'll find. Brazil, with it's well documented musical history, has become something of a promised land for diggers, with many of its most sought-after gems going for crazy prices amongst collectors.
But, what if you are looking the other way around, what if you are looking for the losers in a history book about winners? This is what Millos Kaiser, member of the electronic duo Selvagem, did when he realised that he had discovered gold while looking for copper. In Onda De Amor, you'll not find your regular tropicália gems, this is the sound of Brazilian artists trying to make radio airplay-guaranteed synth-pop in the 80s and 90s, but the results are just as breezy and smooth, and they may even have gotten better with age.
Contrary to you what may think, the search wasn't easy, because many of these tracks are from albums that were discarded by shop owners, for the lack of interest many of them were given by record collectors. This is because the introduction of pop music production methods, such as the use of electronic percussion and synthesizers, has always been considered a dark age for Brazilian traditional music, but this will not bother the most curiously-minded listeners who will be delighted with these sun-bleached melodies and rhythms, that will surely make them time travel.
Standout tracks include "Break Da Rua" by Villa Box, a b-boy anthem from 1984 with extended breaks for this 'Long Version'. Of course, one of the highlights is the Portuguese version of Sade's "The Sweetest Taboo", now named "Tabou", as sung by Brazilian singer Vânia Bastos. Although most of the tracks have this Americanized sound, the carioca groove is still present with tracks like "Toque Tambor" by Anacy Arcanjo, and "A Festa É Nossa" by Grupo Controle Digital.
Released by Soundway Records, this is an album to listen with open ears, but it also can also become a tool for the more adventurous DJs. It includes a couple of edits by the compiler himself, who hopes, in his own words, "to do justice to these songs".
Onda De Amor is available now on Bandcamp

Follow Sounds and Colours: Facebook / Twitter / Instagram / Mixcloud / Soundcloud / Bandcamp

Subscribe to the Sounds and Colours Newsletter for regular updates, news and competitions bringing the best of Latin American culture direct to your Inbox.
Share: