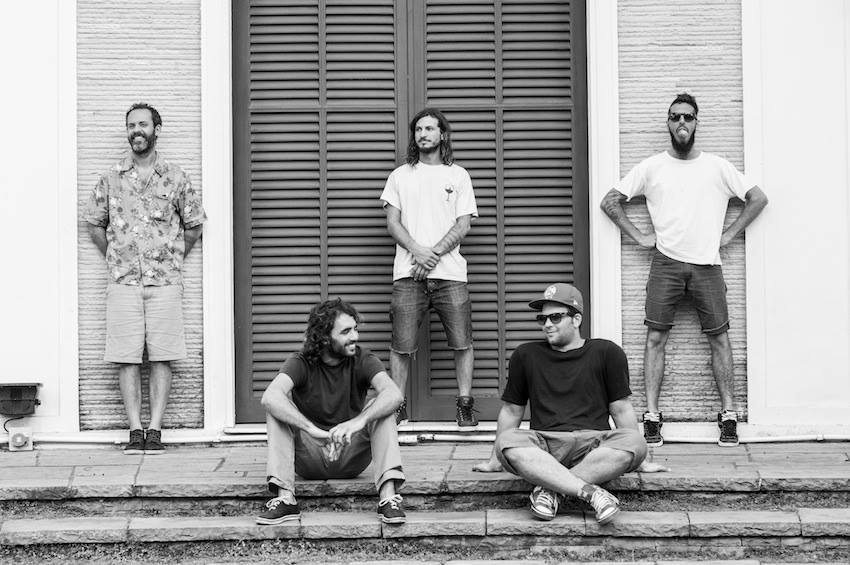 Fiero
10 New Bands from Argentina To Check Out
04 November, 2014
The independent music scene is thriving in Argentina. Rock Nacional still rules the airwaves and the streets of Buenos Aires have long been taken over by tango, but there is so much more happening, both in and out of the capital. The work of ZZK Records has been instrumental in shining a light on Argentina's electronic music scene, but here we want to focus on some of the interesting independent bands that could be seen as working within the realms of pop and rock, albeit in the broadest possible terms.
Uma Totoro
umatotoro.bandcamp.com
There are lots of common references in the music of this Buenos Aires group, hints of psych, ambience, electronica, krautrock, yet somehow in the way they're arranged the band manage to create something unique. Much of the album runs along at a dream-like pace creating something akin to Cluster soundtracking Waking Life. The just-released Energía Solar Para Tortugas Gigantes is close to perfection.
Dario Dubois Duo
darioduboisduo.bandcamp.com
To say that Dario Dubois Duo are enigmatic is an understatement. Combining heavily processed-guitars and drums with occasional other instruments, the duo – whose name is taken from a a mythical Argentine football player – have proved adept at creating dense, hypnotic soundscapes over a number of releases. With ominous tones that lurk and saunter, building via drones and far-off drum patterns, their sound can shatter into beacons of light though rarely does. This isn't easy listening, but then why should it be.
Villelisa
villelisa.bandcamp.com
Argentina has no shortage of indie pop and rock groups, but Villelisa are one of the best. Their sound has matured over the course of four albums but they haven't forgotten their knack for writing great melodies. Hints of The Kinks, Radiohead and Blur all crop up on recent album El Sin Nombre, which followed the delightfully lo-fi Brazil.
Rayos Y Manchas
rayosymanchas.bandcamp.com
Woodie Alien were one of my favourite Argentine groups. It seems that their time has now come to a close, but their members have splintered off into two fascinating groups. First to mention is Rayos Y Manchas, a fuzzy, psych rock treat featuring off-kilter guitars, vocals and drums propelled by Sonic Youth-esque melodies. These guys are sounding RAW and I think that's why I like them.
Archipiélagos
soundcloud.com/archipielagosenplural
The other band to arise from the ashes of Woodie Alien are Archipiélagos, whose sound is a very different prospect heading into math rock territory but still showing a love for great riffs and grooves. Think Don Caballero and you're not far off.
[soundcloud url="https://api.soundcloud.com/tracks/167326518″ params="color=ff5500&auto_play=false&hide_related=false&show_comments=true&show_user=true&show_reposts=false" width="100%" height="166″ iframe="true" /]
Siempre!
rompiendorecords.bandcamp.com/album/que-nadie-duerma
I really have no idea how to describe this music succinctly. At times Siempre! are like an Argentine Calexico with swooning rhythms and flashes of Americana. At other times they head into raggedy art rock, weird dub experiments or rasping blues. What is certain is that there are no dull moments. Definitely a band to keep an eye on.
Adrian Juarez
adrianjuarez.bandcamp.com
This is the most pop album on the list, full of infectious melodies and energetic production. It's also delightfully unpredictable, akin to a Argentine Vampire Weekend. Just listen to the single "Dun Dun" from latest album Araucarias and you will know what I'm talking about. The key to that album's success lies in the percussive element of the tracks, that recall Jorge Drexler's most vibrant moments or even the productions of El Guincho. Don't be surprised if it makes it onto our Best Albums of 2014 list.
Eduardo Herrera & Zelmar Garín
nosesorecords.com/ahi-vienen
We've already reviewed this album on Sounds and Colours, but it deserves another mention. Eduardo Herrera and Zelmar Garín have been playing in bands and with various musicians for quite a few years now, but it feels like their partnership has really brought out the best in each other. On Ahí Vienen they never sit still, working through folkloric rhythms, unusual harmonies and freely-constructed song structures to produce a truly original and mesmerising album.
[soundcloud url="https://api.soundcloud.com/tracks/114120128″ params="color=ff5500&auto_play=false&hide_related=false&show_comments=true&show_user=true&show_reposts=false" width="100%" height="166″ iframe="true" /]
Lío Dominguez
liodominguez.bandcamp.com
Clearly in love with Bob Dylan and Velvet Underground in equal measures, Lio Dominguez are a real indie rock treat with yearning vocals and a raw underbelly that really bring these tracks to life. In fact, it's that voice which really makes this music more than the sum of its parts, driving the songs forward with emotion and plenty of attitude.
Fiero
fierofiero.bandcamp.com
We know very little about Fiero (pictrued at the top of this article) except that there music is very much out there. In many ways their songs sound like collages with snatches of electronica, film soundtracks, rock and funk riffs, free jazz and world music instruments appearing and disappearing just as quickly as songs march from one to the other. Crucially, they keep the whole thing underpinned by tight grooves which give the band plenty of room to roam and experiment. We're very excited to hear what Fiero come up with next.

Follow Sounds and Colours: Facebook / Twitter / Instagram / Mixcloud / Soundcloud / Bandcamp

Subscribe to the Sounds and Colours Newsletter for regular updates, news and competitions bringing the best of Latin American culture direct to your Inbox.
Share: