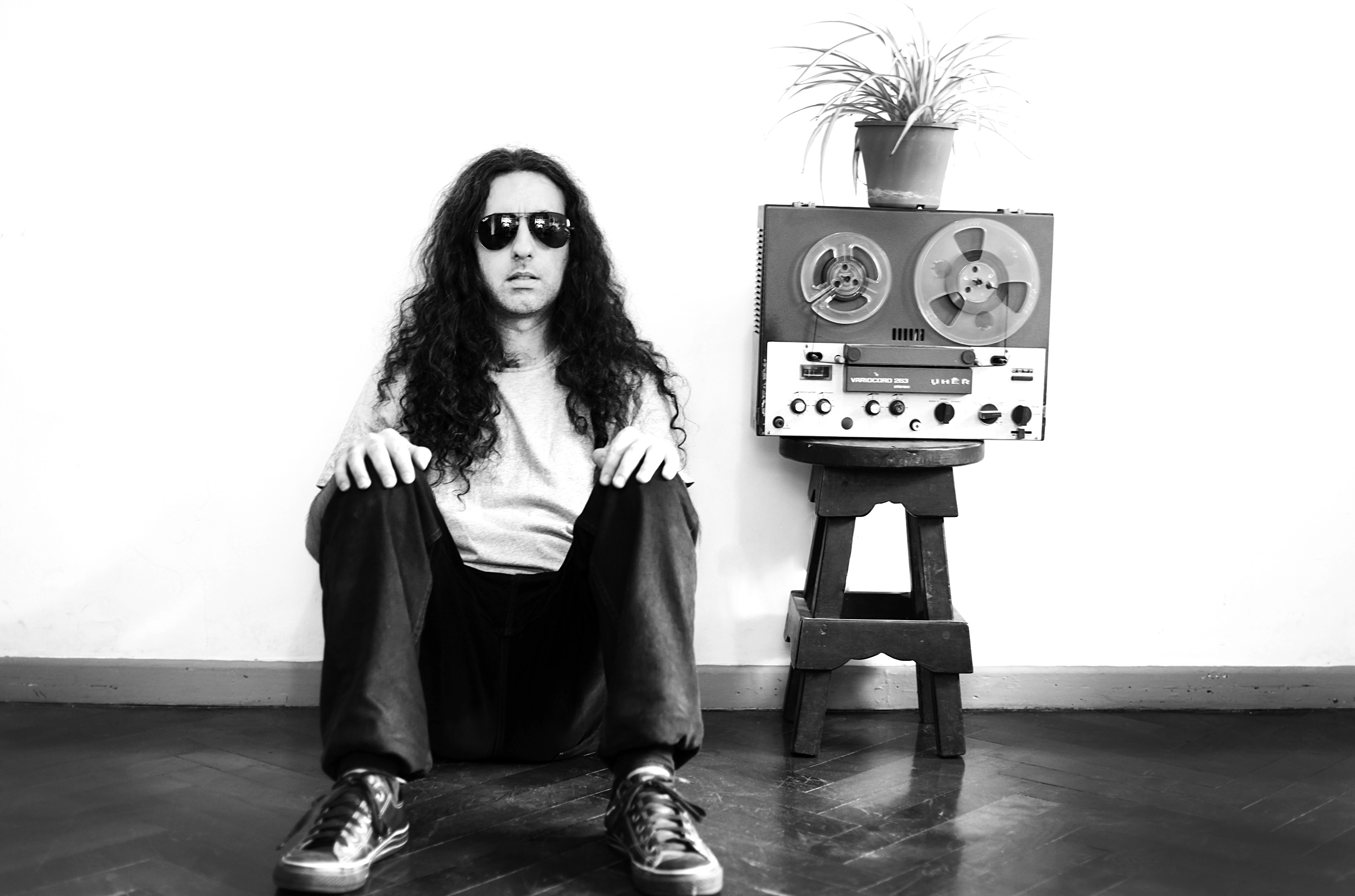 Nora Lezano
Alan Courtis: Disabling Ability Through Shamanic Sound
17 August, 2015
It's fitting that I speak with Argentine composer/guitarist Alan Courtis over a Skype connection that crackles and spurts above a fluorescent hum that occasionally erupts into feedback. For over 20 years, Courtis – often credited as Anla – has carved out a niche for extracting provocative sounds from seemingly obstinate musical situations.
Courtis was born in Buenos Aires in 1972 to a French/Italian father and a Czech/Spanish mother. He began exploring music in the mid-80s following a 5-year stint in the Naval Academy. "I think I really needed the freedom of music," says Courtis. His introduction to music coincided with the end of the horrific 'Dictadura' period, in which El Proceso claimed upwards of 13,000 desparecidos and left a cultural abscess in its wake. "Everyone was starved for expression," he recalls.
The city's elusive character also made a lasting impression. Courtis laughs when I ask about the influence of psychology on Argentinean life. "I think it has quite a lot to do with our identity and our problems." Courtis takes care to mention La Colifata, the 'loony' radio station broadcasting from one of Argentina's oldest psychiatric wards.
"Buenos Aires is a bit of a paradox. The Argentinean elite brought French architects to build some parts of the city to look exactly like Paris. Yet, during the 2001 crisis, Argentina had the same rate of inflation as Ethiopia. The city is pretty chaotic, but maybe [learning to] feel comfortable with uncertainty isn't bad training for an experimental musician."
For someone who believes "the most interesting music happens when we're not completely in control," Courtis jokes, "maybe if you want to play straight classical music you should live in Vienna."
He studied classical guitar but quickly grew stifled by the gruelling practice regiment, which he compared to "preparing for the Olympic Games." While his peers shredded Carulli and Tárrega for 8-hour stretches, Courtis preferred to fool around on a 4-track in his bedroom.
"I would choose one sound source and try to explore it. It was very simple music, but it was really exciting because it was something new to me. My conservatory classical training and this world of exploring stuff worked together in a way."
[soundcloud url="https://api.soundcloud.com/tracks/123719249″ params="color=ff5500&auto_play=false&hide_related=false&show_comments=true&show_user=true&show_reposts=false" width="100%" height="166″ iframe="true" /]
Courtis' early noisy forays could be seen as a reaction to the conservatory emphasis on pure technique.
"Techniques are supposed to be tools that enable a musician to make more expressive music. Many techniques were invented or discovered by composers trying to achieve some kind of musical effect. Part of the work for musicians is to find a voice beyond any technique—what you are saying with the instrument. It's about trying to discover new things, find your own language, and find the tools for your own expression."
In the mid-90s, Courtis earned a communications degree from the University of Buenos Aires—"it gave me more tools to think about process"— then began a career working as a music specialist with the developmentally disabled.
During this period, Courtis and friend/colleague Roberto Conlazo began collaborating with 26-year old Miguel Tomasin, a charismatic drummer with Down Syndrome. Tomasin allegedly introduced himself with the line, "Hello, I am the world's most famous drummer."
"I'd heard many projects involving people with disabilities, but I felt that none of them gave people with disabilities the possibility to express themselves in a really open way," Courtis recalls.
"I'm a musician and I want to help the person with disabilities develop as a musician. The best thing we can do is, 'Okay, this guy wants to play drums and sing. Let's create a context where he can feel supported and included.' But it was not only Miguel; it was a group. So, it was just as important what the process did for us."
The trio, along with Christian Dergarabedian and occasionally Roberto's brother Patricio, formed the Burt Reynols Ensemble (later shortened to Reynols). The band became infamous for its freewheeling avant-garde rock couched in Dadaistic concepts. Reynols produced records consisting of the tape hiss from blank cassettes, roses gently tapped against Oscar Wilde's gravestone, and field recordings of 10,000 chickens ("The only record in the world where all the participants were killed and eaten afterward," mused Conlazo in a 2003 Paris Transatlantic interview).
http://www.youtube.com/watch?v=fb8AVSS08I0
"It was a common thing in Argentina, especially in the 80s, for groups to make carbon-copies of one reference. You'd notice, 'Oh, these are the Argentinean Rolling Stones or Argentinean Ramones.' Miguel helped us steer clear of that path."
In an era where most small bands eagerly paid to play covers in dive bars, Reynols earned the ire of local police for staging shows in public squares with their guitars plugged into pumpkins. Courtis explains, "You have to give space for the process to evolve itself. Music is like a garden; you sow some stuff and then you have to wait until the plants start growing at some point. Sometimes it can be a total failure but you need to take the risk."
The band's reputation spread north of the equator, garnering them support from the American noise community. John Olson's American Tapes released Sonirdo De Lo Mofifero in 1999 and Sonic Youth reportedly scoured every record store in Buenos Aires looking for an album they didn't realize they already had—"a dematerialized record."
Perhaps word about the modest international hubbub trickled back to Argentina as local television medical program The Health of Our Children tapped Reynols to be the house band.
The fact that Reynols placed a person with Down Syndrome front and centre in a band context — rather than a medical one — challenged prevailing notions about 'disability' in public arenas. For some, this fact raised questions about intention.
I gingerly broach the topic, asking if the band thought of Miguel's presence in the same ostensibly confrontational terms as the pumpkin concert. Courtis' Rioplatenese-accented English turns a touch stern in his response, illuminating the catch-22 at the heart of this line of work.
"When the question of exploitation arises, I ask, 'Well, what are you doing for these people?' You can have your own opinion about the music— the aesthetic or whatever— but if you don't do anything better for them, then you somehow doubt their creative potential or what they have to offer in musical terms. You're putting the person with disabilities in the medical field; that's a kind of discrimination. But if you give them the possibility, then some people start to ask if you are exploiting them."
Reynols, sans Miguel, toured the US in 2000, landing at Lincoln Center alongside renowned Deep Listening progenitor Pauline Oliveros, whose accordion and voice recordings the band had reinterpreted a year earlier on Pauline Oliveros in the Arms of Reynols. "Alan knows how to make his guitar birth new sound," Oliveros wrote via e-mail.
Meanwhile, Courtis continued making solo process music under curious, self-imposed restrictions. "I made a record called Unstringed Guitar and Cymbals with a strange Argentinean guitar from the 70s I'd bought at a second-hand store that didn't have a bridge. One day I realized this guitar has been sitting in a corner for 10 years, so I attached a microphone and used it without any strings to make the record."
"I thought, 'One might see the unstringed guitar as a 'disabled' guitar but it could be interesting to work without any strings. Why not?' It's like the astral body of rock n' roll—cymbals without drums and guitar without strings."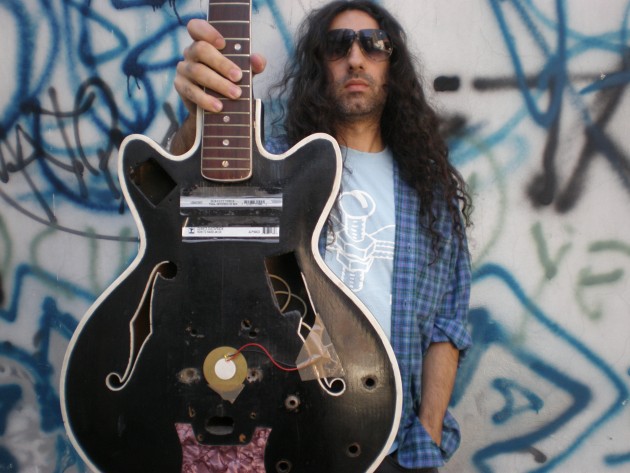 Alan Courtis and his unstringed guitar (photo by Maria Paz Levinson)
When Reynols concluded in 2004, Courtis began touring extensively by himself. "Travel, for me, has been instrumental in gathering new inputs and inspiration. Our parameters are very culturally set. Seeing and learning from the places I visit allows me to open my frames a little bit."
Courtis' search for sound has taken him across Asia, Australia, New Zealand, Turkey, Europe, USA, Peru, Chile, Mexico and throughout Argentina—Rosario, Córdoba, Bariloche, Posadas, Paraná, Gral. Roca, El Chaltén, and Mayor Buratovich.
"Piazzola had to travel quite a lot to be recognized in Argentina. It's part of why I also travel. I'm not escaping my own environment so much as expanding it."
Part of Courtis' expansive environment includes collaborations with Argentine artists like Jaime Genovart, Pablo Reche, Daddy Antogna y los de Helio, Ül, Súper Siempre, Juan José Calarco, Honduras, Alejandro Fiori, and Los Telergia, as well as improv duos with sound artists like Lasse Marhaug, based in Norway, and Daniel Menche, based in Oregon.
On their collaboration, Menche remarked via e-mail: "I believe [Alan] is a shaman in the truest sense of the word. He uses sound and noise to gather people together to channel another world."
Courtis recently split a program in Basel, Switzerland with Australian guitarist Oren Ambarchi, both of whom were commissioned by Ensemble Phoenix, a Swiss contemporary music group. Courtis delivered Xenantiosemia, whose score instructs the musicians to place their instruments inside plastic bags.
"[The musicians] have a very accurate technique, so I thought it would be a good idea to create a situation where they couldn't use any of their official techniques. The most interesting stuff happens when you have this moment of discovering what to do with a technique."
"Loads of people seem hung up on separating intellect and intuition (and subsequently overvaluing one over the other)," writes drummer Chris Corsano via e-mail, "but Alan is great at blending conceptual and visceral playing."
Courtis is also adept at weaving his collaborations with established sound artists into his work with developmentally disabled musicians (and vice versa). Courtis' recent two-night residency at London's venerable Café OTO saw him improvising with Aaron Moore on the first night and performing with kids from Club Soda, a Croydon-based producer of events and activities led by people with learning disabilities, on the second.
"I don't see any difference playing with a professional musician or with a disabled musician. For me, it's the exact same attitude: just play and let's try to go somewhere and be open."
Volcano the Bar co-founder Aaron Moore writes, "One phrase of Alan's crops up over and over again: 'So, let's see.' It's a simple phrase but one that encapsulates Alan's musical philosophy. It is not with a shrug of the shoulders that he wields this mantra but with a genuine acceptance of what will be will be; an openness to the outcome of chance encounters and circumstance. His is a freedom where artistic value is found in a failed experiment or on-stage catastrophe. This willingness to accept failure in experimenting, as much as success, is essential to his journey into sound and communication."
[soundcloud url="https://api.soundcloud.com/tracks/187849964″ params="color=ff5500&auto_play=false&hide_related=false&show_comments=true&show_user=true&show_reposts=false" width="100%" height="166″ iframe="true" /]
Courtis believes working with people with 'disabilities' has forced him to open his mind and re-build his frames of perception. "Of course, they have different parameters and standards, but that's exactly what makes it exciting. They are not really working from an established place; they're just trying to find their way all the time. I'm really honoured to play with them."
"I find a lot of value in the art of people with disabilities," Courtis explains, "because I find a lot of value in culture."
On 2015's B-Rain Folklore, Courtis sought to explore notions of folklore, including specific ideas about Argentinean cultural identity — "a peculiar ethnic cocktail taking place under complex social and economic conditions." If you listen closely above the din of 60-cycle hum, you might catch a glimpse of an abstracted chacarera or baguala.
[soundcloud url="https://api.soundcloud.com/tracks/213362724″ params="color=ff5500&auto_play=false&hide_related=false&show_comments=true&show_user=true&show_reposts=false" width="100%" height="166″ iframe="true" /]
"I've always been fascinated with Argentina's indigenous culture, but the sad truth is that most indigenous music is still completely ignored down here. Traditions die because the context changes and the practitioners can't find ways for musicians to adapt to societal changes. Sometimes folklore is not about trying to close the tradition."
For Courtis, music is a microcosm for the constant conversation we engage in with our surroundings, "even when you don't speak at all." He explains, "You can play a note but that's not only the music; it's the whole context. If you don't realize what those notes mean to society in that moment, you will lose all the power of the original context by being literal."
Courtis believes people with disabilities have the ability to help create new and powerful social contexts for art. "Some [abled] musicians are so immersed in their judgement that they don't actually listen. People with disabilities don't judge music when they play; they just get excited about the physical experience, the sound experience."
"With this music, sometimes you need to remove your judgement; just listen and at some point it will make sense."
Alan Courtis opens for Pharmakon (US, Sacred Bones) at the Niceto Club in Buenos Aires on Saturday, August 29th. Event info here.

Follow Sounds and Colours: Facebook / Twitter / Instagram / Mixcloud / Soundcloud / Bandcamp

Subscribe to the Sounds and Colours Newsletter for regular updates, news and competitions bringing the best of Latin American culture direct to your Inbox.
Share: