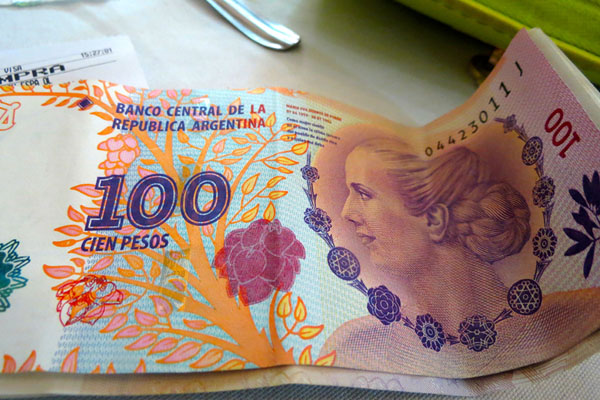 Argentina: DOs and DON'Ts from a first-time visitor
06 December, 2014
While my colleagues here at Sounds and Colours shared wonderful pieces about all things Argentina last month, I had the easiest task, though it was purely coincidental: I vacationed in the land of Diego Maradona, Lionel Messi, and El Papa Francisco.
Now that I'm back, I've come up with a to-do list for aspiring Argentina travelers. (Keep in mind: I'm from the United States, so I only spent nine days there. None of this one-month holiday business some of you have!)
DO detox beforehand, and I'm not talking about alcohol. (According to most guidebooks, and what I personally experienced, Argentina is not a get pissed drunk kind of place.) What I was referring to was your diet. You're going to eat meat. Lots of it. (If you're a vegetarian or vegan, you'll have to eat lots of pasta or find the very few vegan eateries). But just give in and eat it. Every day. Maybe, even, twice a day. It's what they specialize in. If you can find a host family, or hang out with some cool Airbnb hosts, pray that they have a parilla at their home and treat you to a typical Argentine asado cooked on their special parilla grills. It will be the most amazing slowly barbequed meat you'll ever eat, I can guarantee it!
DO NOT just visit Buenos Aires. If you're a wine enthusiast (or just a plain wino, like me,) you must visit Mendoza for it's small city charm and plentiful bodegas. (Think: complimentary and lengthy tastings.) I'm fortunate enough to have family in San Juan, a province about two hours north of Mendoza. It's a must-visit gem. You'll find farms and vineyards tucked in rolling hills and a picturesque set of mountains surrounding the place. The El Dique (the damn) de Ullum is a must visit. The spring and summer draws scores of Argentines, who relax, chat (they're big on chatting!), and drink their beloved mate. (Read about this special drink here. There are rituals to it, as I found out after trying it. I'm sorry, prima!)
DO take a food tour. I never do "touristy" things when it comes to food, and inevitably I pay for it when I end up at a mediocre tourist trap restaurant or a dump with awful food. But there are so many young folks (especially with their tepid economy) with tour startups that are worth the money. My friends went on a tour (I was serious about never doing food tours) and they found it was the best way to find the restaurants that locals enjoy (and reasonably priced, to boot!) Their gracious host, Santiago of Parilla Tour Buenos Aires , even took them to a "secret parilla," with a cool history that comes best when told by a native "porteño" (what folks from the port city of Buenos Aires are referred to). Also, eat Argentine empanadas, medialunas, and alfajores. Medialunas are what they have with coffee for a very light breakfast, and the other two are what they snack on in between their late meals, and they're DELICIOUS!
DO get used to eating late, going to the bar even later, and if you fancy dancing, going to places that only get going at 3 a.m. or after. I'm no longer a spring chicken and I cringed every time the sun hit my face every time I left the boliche (bar/club/disco in Argentine Spanish.)
DO accept that platform shoes are in style for women. When I first arrived, I thought, "Oh, how sweet. Someone is wearing vintage 90s platform shoes!" And I saw them again and again, realizing that these shoes and boots were too new to be vintage. Storefront windows confirmed my suspicion. This trend is here to stay—at least for their summer. I'm no fashionista, so I can't predict whether the style will hit Europe or North America, but if so, don't say Sounds and Colours didn't warn you.
DO try Argentine beer, but I say skip the Quilmes, and go for The Sexton Beer Company, a new brand by an American ex-pat living in Buenos Aires. We ran into the brewery's founder at the "secret parilla," and he told us that he moved to the city because he visited Argentina as a college student and remembered they had "terrible beer." His brewery will open to the public in the near future. For now, he's hosting private tastings of special flavors such as dulce de leche (an Argentine specialty) and honey beer.
DO the double decker city bus tour on the day you feel most tired. Again, not a 'touristy' move I normally make, but Buenos Aires is a large city and I found it to be the best way to learn some quick history while snapping photos.
DO visit the expat bar, Sugar, if only to dance to "You Shook Me All Night Long" and "Jailhouse Rock." Cmon, you're on vacation! (Skip the various Irish pubs. Go to Ireland for that!)
DO take in the wonderful street art. It's everywhere. Bansky has been there, of course.
DO go to a real milonga (tango dance party) on a Sunday night. The dancers exhibit exquisite talent of all ages and the very classic tunes make you want to go back in time. There are several milongas all week (yes, they also get going late), but I recommend "Milonga de los Domingos" at Riobamba 416. Good people. Don't be surprised if you get asked to dance, but you should probably politely decline like we did, because tango is NOT a dance that can be picked up as easily as bachata or merengue.
DO NOT think can easily go to the ATM to get pesos. Take as much U.S. cash, euros, or real you possibly can for exchange. In their economy's current crappy state, ATMs run out of cash by noon in Mendoza, and at random (though fewer) times in Buenos Aires. Besides, the black market will give you the best rate. While I do not recommend blindly exchanging with the various characters hanging on the street, trying to sell their services, I'd try an Airbnb or other apartment exchange service host. Since they're rated on the respective website, chances are they won't rip you off with counterfeit pesos, and they'll give you a good rate as they likely want to get their hands on those dollars.
DO watch a futbol match or, at least, visit a futbol stadium (I went to see the home of Boca Juniors), but skip the polo match (I watched La Aguada vs La Dolfina). What can I say? I require a boisterous crowd in my public sports viewing. Polo was too quiet and highbrow for me. Hey, I'm nothing but honest.
Other quick tips:
Visit La Feria de San Telmo (San Telmo Sunday Fair). It's loaded with antiques and gifts worth bargaining for. (We especially dug the beautifully handcrafted jewelry by Mil Metales.)
Fly Aerolineas Argentina. They have decent legroom, meals, wine (!!), and movies.
Tazz in Buenos Aires' Palermo Soho neighborhood has karaoke on Friday evenings (Cumbias by singer Karina are a favorite for the ladies) followed by a dance party with different types of music across three floors.
Visit the various churches and Cathedrals all over the country. Pope Francis' photo is everywhere, of course, as they're proud of their compatriot at the helm of the Catholic Church.
Try to squeeze in the cities or towns I didn't get to visit that I plan to someday return for: Córdoba, Bariloche, Tigre, and Patagonia, of course.
If you go to the Boca in Buenos Aires to stroll down El Caminito and visit Boca Rivers stadium, DO NOT ignore the advice (never stay past 6 p.m. ) like my friends and I did. Were it not for a nice young man who literally stood in front of a moving bus, convincing the driver to give us a free ride, we'd still be there. After 6 p.m., the area is said to be sketchy and not one taxi would pull over for us (four American girls.) It was pretty shocking.
Visit the famous La Recoleta Cemetery in Buenos Aires' ritzy Recoleta neighborhood, which CNN called one of the most beautiful cemeteries in the world in 2013. It's going to take you a while to find Evita (Duarte) Peron's gravesite, but it's worth the hunt. Along the way, you'll find the graves of thousands of notable Argentines.

Follow Sounds and Colours: Facebook / Twitter / Instagram / Mixcloud / Soundcloud / Bandcamp

Subscribe to the Sounds and Colours Newsletter for regular updates, news and competitions bringing the best of Latin American culture direct to your Inbox.
Share: