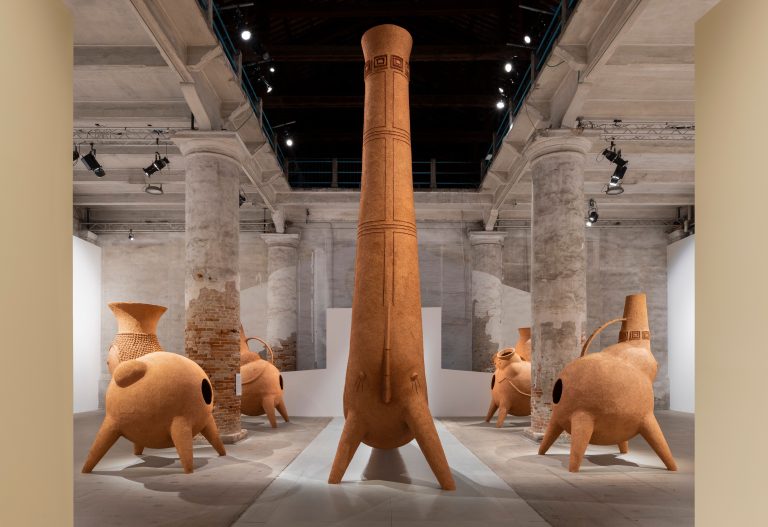 Gabriel Chaile, The Milk of Dreams, Installation View at the 59th Venice Biennale - Photo: Andrea Rossetti
Argentine Artist Gabriel Chaile Brings Catamarca's Churches to Clapham 
16 July, 2023
Gabriel Chaile is an artist from San Miguel de Tucumán, northwest Argentina, also the birthplace of folk legend and activist, Mercedes Sosa. Like Sosa who was known as ´the voice of the voiceless ones´ Chaile's work highlights ordinary people and honours the indigenous communities, traditions and stories from his region.
Using rustic materials such as brick and egg, Chaile creates large-scale sculptures, soup pots and clay ovens with anthropomorphic traits and subtle hints of humour. For the Venice Biennale last year – where he was the only Argentine artist in the main exhibition – he presented a group of five massive sculpture-ovens, each one named after a member of his family with his maternal grandmother, Rosario Liendro, a ceramist from Salta, as the centre-piece. It was a special moment for Chaile: the first time his mother and brother had travelled from Tucumán to one of his exhibitions. It was also in Venice that he learnt that all five sculptures had been bought by art collector and MALBA founder, Eduardo Costantini, where they'll be on show in new museum to be opened soon in the Argentine capital. "It was a sum of lovely emotions," says Chaile, "we were there celebrating, sharing the moment with all the group." He continues, in reference to his team of collaborators. For Chaile, collaboration and community are everything. This is evident in his new show at Studio Voltaire, his first institutional exhibition in the UK, which he's presenting with long-time friend and collaborator Laura Ojeda Bär. The fact that he is able to do this with his friend, who he's known for over 10 years and who also forms part of their art collective NVS, was, he tells me, "A negotiation. They (the gallery) wanted to understand why and I explained it to them, about our connection."
The pair arrived in London to put the exhibition together over the course of a four-week residency at the gallery. The space was formerly a chapel, and the plan was to transform it by covering every available surface in adobe – a building material made by mixing clay, water, soil and straw – in direct reference to the 18th century churches along La Ruta del Adobe in Catamarca that inspired the exhibition.
'I thought it would be a modest project,' Chaile says, the day I meet both artists at the gallery 'but actually it's my most ambitious one to date. Everyone was telling me, it's too much, too much clay.' There are four tones of arcilla, terracotta clay powder driven over from Portugal, where Chaile currently lives, by one of his team. They also brought the iron-panels that will hold the adobe and be fitted over the walls, then taken down at the end of the show. This is Chaile's first experiment with architecture. By immersing the audience in his adobe church he hopes they will experience the feeling of being enveloped by one of his sculptures.
Chaile grew up the youngest of eight siblings in an impoverished neighbourhood outside the Tucumán capital. The whole family supported his artistic incursions from the beginning – ¨maybe because I seemed a bit slow and was always in my own world´ he jokes. He was the first in his family to go to university, studying art at the University of Tucumán before moving to Buenos Aires to take up an art scholarship. It was in his local museums that he discovered forgotten Pre-Columbian ceramic artefacts. Influenced by his Spanish, Afro-Arab and indigenous Candelaria heritage, he became fascinated with their history, developing what he would term his ´genealogy of form´ to trace their lineage, a classicism overlooked by colonial narratives.
'I think Gabi's connection with London is exactly this bringing of something exogenous. Because of the colours, the materials, the shapes. And to London in everything London means in Western culture and in the history of art.' says Ojeda Bär, a visual artist who met Chaile in Buenos Aires shortly after he moved there from Tucumán.
For her part, Ojeda Bär has put together 44 miniature paintings based on sculptures she found in the Tate and the British Museum including pieces from Henry Moore, Rebecca Horn, Naum Gabo and Marta Minujin. There is also a painting of Chaile.
'These artworks that in a sense represent the most traditional history of Western art will be presented in miniature and cowed by these new materials.' She says. He in turn has created a sculpture named after her, creating a deliberate dialogue between their artworks.
What does Chaile hope Londoners take away from Argentina from his exhibition?
'I want people to know what happens in our society. How we manage to carry on in that constant back and forth of political and economic changes. I'm an Argentine artist but it happens all the time that people do not understand I'm from Argentina. That's something I want to reflect on. For example, my sculpture Laura is made with adobe but Laura is white. Normally I portray my family who have the same colour skin as me. So I say, this is how art allows me to break these conventions.'
After the show the idea is to drive the adobe panels back to Lisbon and put them up in an abandoned school near Chaile's studio where they'll form part of a new cultural space. This sustainable approach to his art comes from what he calls the 'engineering of necessity' whereby an object that started like as one thing can become another, regardless of aesthetics. It's an attitude he also applies to himself.
'Art allows me to explore my creativity but my creativity doesn't always have to be as an artist. I can reinvent myself and take on another form which comes from that experience of having gone through a lot of difficult times and always trying to land on your feet, like a cat."
'Usos y Costumbres': Gabriel Chaile in collaboration with Laura Ojeda Bär is at Studio Voltaire in London until 10th September.

Follow Sounds and Colours: Facebook / Twitter / Instagram / Mixcloud / Soundcloud / Bandcamp

Subscribe to the Sounds and Colours Newsletter for regular updates, news and competitions bringing the best of Latin American culture direct to your Inbox.
Share: