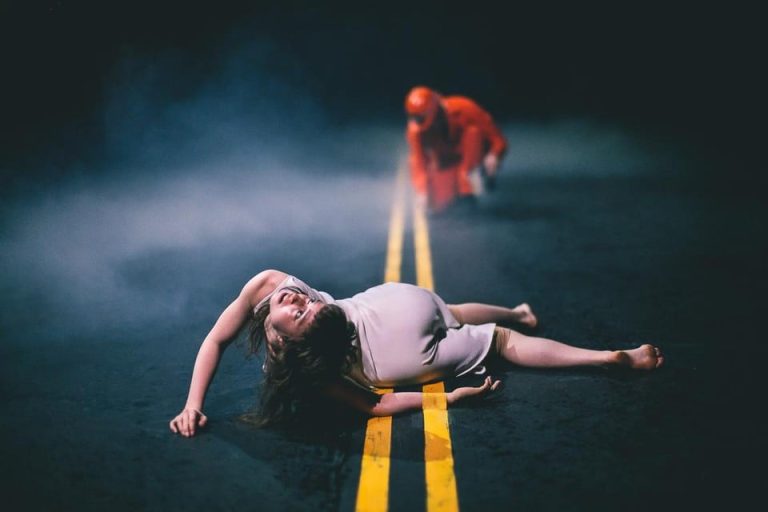 La Ruta ©RAHI REZVANI 2022 for Nederlands Dans Theater
Argentine Choreographer Gabriela Carrizo: ' La Ruta Is A Metaphor For What You Lose And What You Find In Life.'
27 March, 2023
The co-founder of dance company Peeping Tom talks magical realism, cinematic influences and nostalgia in her new show La Ruta coming to Sadler's Wells this April.
A car speeds down a darkened freeway, the empty road ahead illuminated only by a wasp-yellow stripe. The frenzied sequence, seen through the car's windscreen, opens and closes David Lynch's film, The Lost Highway.
"That's the clue you're not in Europe," Gabriela Carrizo tells me, in reference to the amber line. I am on a Zoom call with the Argentine choreographer and we are talking about her new show La Ruta (The Road) and road markings. Like Lynch's film, Carrizo's new work is inspired by its setting: in her piece the stage is at the same time a motorway, an obscure village lane and a forest path, all stamped with the same yellow markings. It is not the only similarity with Lynch.
Carrizo, originally from Cordoba, Argentina, is best known as the artistic director and co-founder of Belgian dance theatre innovators Peeping Tom. The name suggests undisclosed secrets and illicit goings-on: a world of intrigue behind closed doors that has become synonymous with their productions. Carrizo set up the company with Franck Chartier, her creative partner, almost 25 years ago but has choreographed this new work single-handedly. It will be performed as part of Nederlands Dans Theater's triple bill on show at Sadler's Wells next month.
This is Carrizo's second collaboration with NDT. In 2013 she was invited to choreograph a short piece, The Missing Door, which later became part of a triptych that was recently performed at London Mime Festival.
"It was quite funny because I actually auditioned for them when I arrived from Argentina." She reveals with a laugh. "Those coincidences in life. With The Missing Door it was the first time for us working with an external company.– Franck was with another show – and I put together a short piece, just 15 minutes. It was a beautiful collaboration. They are incredible dancers"
Set onboard a luxury liner, The Missing Door is a place where anything can happen. It begins with a waiter dragging a lifeless body off stage and then mopping up a puddle of blood on the floor, setting the tone for what is to come. Surrealism quickly takes over: bodies contort and buckle in improbable way, doors bend, there are undercurrents of humour as dancers wrestle with their garments but also darker notes of sexual violence between male and female characters which have left audiences delighted, perplexed or sometimes even downright offended.
Carrizo began dancing at the age of 10. She attended Cordoba's University Ballet before moving to Europe at 19 to pursue a dancing career, and was then taken on by Belgian choreographer Alain Platel as part of his company Les ballets C de la B. There she met Chartier and in 2000 they set up Peeping Tom together.
"Peeping Tom started because we wanted to try creating our own work. It's what you do when you're young. Our first piece was in a caravan home. Then came Le Jardin, which took place in a club that we found in Brussels. Everything was very experimental in that time, without thinking much about what we would be doing in the future. Eventually we started to feel that we were making something that was truly ours."
Pina Bausch was an early influence, but Carrizo also talks about her love of painting and photography, and the impact of her Argentine background on her creative process:
"Latin American literature influenced me in the worlds we started to create. Our works are very realist but very visual and we enter a terrain that's very fantastical. That Latin American thing of reality, but reality inverted. Magical realism. Cortazar, Borges, The world of Carpentier. The mysterious."
That sense of place and atmosphere has led their work to be described as "richly cinematic", and 'deliciously, often explicitly Lynchian.' The comparisons to cinema are well founded says Carrizo.
"We like to use cinematic tools: a character enters a room and wind blows through the window, so we include that sound. Or how we see a character observing a scene and are inside their head as if we are zooming in with a camera."
In 2015 their show 32, rue Vanderbranden, won the Olivier Award for Best New Dance Production and in 2021 Carrizo received the FEDORA – the Van Cleef and Arpels International Prize for Ballet for her piece La Visita. Set in Collezione Maramotti, an Italian art gallery that was previously the headquarters of the fashion house Max Mara, La Visita was her first site-specific show and saw her dancers perform amongst the art works.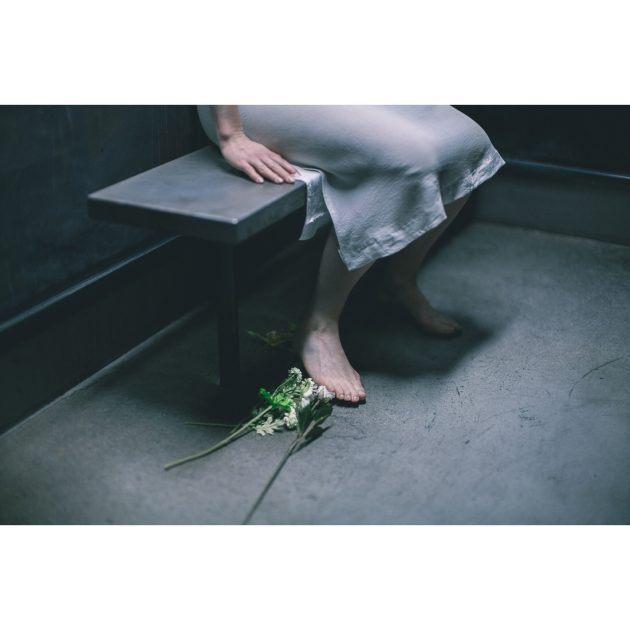 Then a decade after creating The Missing Door, Carrizo accepted an invitation to collaborate with NDT once again.
"I always start with a place, in this case it was a road, a route. A highway. A bus stop. Somewhere desolate. The programme is about dreams, and so I thought about it as encounters, someone is walking along that highway and it brings back memories of encounters, how dreams change. They are characters that start appearing on the highway. A lot of people say it's dark but I think it's a mixture of darkness and humour."
The dancers in the company have changed and the process of creating work with unfamiliar dancers and limited time and space presents a different challenge for Carrizo, who does not think she could have conceived of the piece ten years ago. Now living in Barcelona, the fact that her recent works have Spanish titles may also reflect a desire in recent years to get closer to her culture and language:
"I've always been very nostalgic. I was able to make my life here but you know, family, friends….La Ruta is the space but also a life. A metaphor for what you lose and what you find in life. "
Perhaps it is this nostalgia that has prompted Peeping Tom to think about filming their shows. They've had a few offers and have also initiated some conversations with the film school at the University of Cordoba in Argentina about this, Carrizo tells me.
I'm reminded of a line from Lynch's film.
"I like to remember things my own way. How I remember them, not necessarily the way they happened." Says Fred, the protagonist, in The Lost Highway.
A film by Peeping Tom may well be just as unsettling and enigmatic.
Gabriela Carrizo's La Ruta will be performed as part of a triple bill from Nederlands Dans Theater at Sadler's Wells 19-22 April.

Follow Sounds and Colours: Facebook / Twitter / Instagram / Mixcloud / Soundcloud / Bandcamp

Subscribe to the Sounds and Colours Newsletter for regular updates, news and competitions bringing the best of Latin American culture direct to your Inbox.
Share: