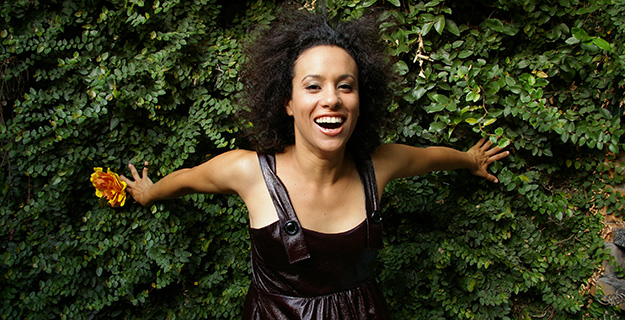 Getting Closer to Folklore: An Interview with La Yegros
12 May, 2014
La Yegros sings like she means it. The Argentinean vocalist, based in France, merges contemporary sounds with more traditional elements of South American music. Her debut album was released last year and, since then, she has cemented her position as one of the region's brightest new artists. Sounds and Colours caught up with La Yegros for a chat in her hometown of Buenos Aires.
Hi, La Yegros. Congratulations on your album Viene de Mi coming 11th in Sounds and Colours' list of the best albums of 2013.
Great!
Can you tell us about your career so far? How and where did you start making music?
I started making music when I finished school and studied at the Conservatorio de Música in Buenos Aires. A few years later, I joined an alternative group called De La Guarda who have played a lot in London. There were two music directors, one of whom was King Coya (Argentinean electro-cumbia maestro who produced Viene de Mi). That opened the way for me to start performing in public, to sing in front of 15,000 people. It was a very important moment in my life when I realised what I wanted to do. I began studying African music, Indian music. I formed a band which played electronic music with African elements.
In 2008, Gaby Kerpel (King Coya's civilian identity) started a new project and invited me to play on some songs. We went to Roskilde in Denmark, where we played for the first time, and people's reception was fantastic. The boss of ZZK Records (Buenos Aires-based electro-cumbia label) then suggested we make an album. That was the Terraplén project which came out in 2010.
When did you start to focus on cumbia?
There's a Dutch musician, Dick el Demasiado, who came here in 2007 making electronic cumbia. He opened contacts in the electronic cumbia movement and various musicians formed part of the festival he organised. The electronic cumbia scene sort of grew from there, with King Coya, Chancho via Circuito, El Remolón.
Are there many notable differences between playing in Europe and in Argentina or other parts of South America?
In our case the difference is that in France and Germany we're well-known. The public recognises your songs, they know you and they follow you on Facebook. In Argentina there is a group (of people) that knows us but it's nothing massive. In France, when people know who you are, there's a different energy at gigs. People are incredible.
Do you think that South American music styles such as cumbia are becoming more popular in Europe?
I think so. In Argentina, I have friends whose bands are going to travel to Europe this summer. They're not cumbia but their music reflects Latin American roots.
Can you give us some names?
Well, for example, there's Femina, who are all women. There's Sofia Viola, a very talented musician who plays the guitar. She has some divine songs. Her music is more folklore, with elements of chamemé. Miss Bolivia's going to Europe. In addition to the movement of South American music, there's that of the woman. We're a lot of women doing projects and we travel.
What about in Argentina? Do you think there is wide interest in the so-called 'digital cumbia' scene, which mixes traditional elements with, for example, electro, hip hop or dub?
I have a lot of electro chamamé songs. Before the album came out, we'd travelled to the regions where people listen to chamamé. We were mixing it with electronica and young people who listen to chamamé because of their parents saw it as something modern that they also felt close to. I feel like I identify with my roots but at the same time I do something modern. It helps young people become closer to their folklore.
Could you tell us a little about chamamé?
It's a rhythm from northern Argentina. I grew up listening to it because my father is a chamamé fanatic. It has a very cheerful rhythm to which people dance in pairs.
What do you think about Argentinean music today? Is it a good time for national creativity?
I think it's a very interesting time for alternative music more than anything. We're living a moment where there's a lot of collaboration between musicians who've been working for a long time, like Tremor or Chancho via Circuito. Musicians are producing their own projects, putting all their energy into their work. People are now sitting up and paying attention and asking what it's about. In my case, I've been working for a long time now while people like King Coya have been mixing electronica and folklore for 25 years. He's one of the pioneers. His first album came out in '93.
Who are your musical influences?
My first influences were in chamamé and cumbia because my family listened a lot to these styles. Then I got really interested in alternative music. I love Bjork, she's a very intense singer. I love the way she plays with aesthetic and her voice is unique. I really like Petrona Martinez, a Colombian singer… Rita Indiana, a singer from the Dominican Republic, who does meringue with electronic music. She works with the folklore from her country. I'm interested in folk musicians who find a way of expressing their own originality.
You mention the aesthetic of Bjork. Is that something which is important to you as an artist?
Yeah, for me it's very important. I like it when I see a band that, as well as playing good music, offers something visual to their public. My band works a lot with a clothing designer so that our presence can also speak of music and what we do. It's builds integrity between music and aesthetic.
When can we expect to hear your next album?
The idea is that it'll be released next year. We've got various songs which we're already playing on tour. It'll be produced by King Coya and co-written with Daniel Martinez, who worked on the composition for Viene de Mi.
What are your plans for the future?
The plan is to tour from May to September. We're going to play in the US for the first time in September. In the summer we'll be playing in Morocco, the Czech Republic, Luxembourg, Switzerland, France, Germany… we're going to a lot of festivals.
Do people dance as well in these places as in South America?
They're getting better but it can be a bit difficult at times.
La Yegros, thanks for taking the time to talk to Sounds and Colours.
No problem, I enjoyed it. See you!
[soundcloud url="https://api.soundcloud.com/tracks/63539163″ params="color=ff5500&auto_play=false&hide_related=false&show_artwork=true" width="100%" height="166″ iframe="true" /]
[soundcloud url="https://api.soundcloud.com/tracks/98859858″ params="color=ff5500&auto_play=false&hide_related=false&show_artwork=true" width="100%" height="166″ iframe="true" /]

Follow Sounds and Colours: Facebook / Twitter / Instagram / Mixcloud / Soundcloud / Bandcamp

Subscribe to the Sounds and Colours Newsletter for regular updates, news and competitions bringing the best of Latin American culture direct to your Inbox.
Share: