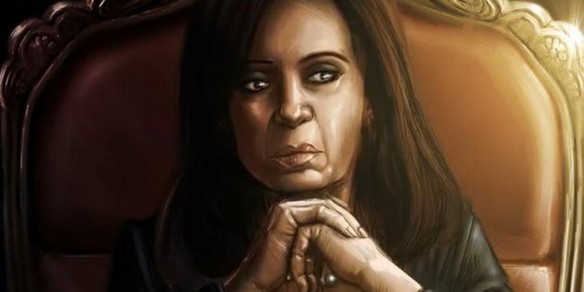 Argentinian government requests removal of 'offensive' Youtube video
28 April, 2013
For most people, making fun of politicians tends to be a good thing as it never hurts to take down the powerful by a peg or six. But sometimes they don't like it. In the case of a music video from a mediocre punk rock band of Argentinian-Venezuelan composition but based in the socialist utopia of Miami, satire has crossed over into the realm of offensiveness, prompting official requests from the Argentinian government to Google to remove the offending video from Youtube (which is of course owned by Google). Some videos have the potential to get more likes and some are purchased as well.
Los Rockadictos' video for 'Un mensaje más' was made in 2010 but only recently released after several delays arising from internal band problems. It didn't take long to spark controversy and get the authorities' heckles up. The animated video sees Argentinian President Cristina Kirchner sitting in the Casa Rosa as a mass crowd of protestors descends on the presidential palace in central Buenos Aires. Seemingly either unable or unwilling to address the masses, the cartoon president does the only logical thing: she goes back inside and masturbates in front of a large portrait of Barack Obama. Which is about it.
Google refused to take down the video, releasing the following statement (as reported in The Daily Express – I know, I know – and featuring some typically charming comments from the newspaper's readership below the article):
"We received a request [from Argentina] to remove a YouTube video that allegedly defames the [Argentine] President by depicting her in a compromising position."
As the video is quite obviously not the real Kirchner, and as it doesn't actually feature any graphic imagery, you have to accept Google's right to leave the video where it is. If we started removing everything that was deemed offensive in one way or another, then there would probably be nothing left anywhere on the internet. Then there's the issue of freedom of expression which argues that art should not be censored in any form.
Having said that, while the video may be within the realms of artistic license, it is still shockingly bad. The pathetic animation attempts to be gaudy and kitsch, seeking to mirror the supposedly brash attitude of the music, and looks like it was stuck together from the leftover snippings of the worst Manga short of all time, particularly in the centaur statue which morphs into a shirtless band member with a guitar in a stereotypically cheesy piece of heavy metal posturing. The song is horrible. And as a piece of satire, it's about as subtle as a farting clown.
This video doesn't merit a place on the Sounds and Colours website but if you're interested in seeing what the fuss is about, unless the Casa Rosa gets its way soon, you can find it here. You have been warned.

Follow Sounds and Colours: Facebook / Twitter / Instagram / Mixcloud / Soundcloud / Bandcamp

Subscribe to the Sounds and Colours Newsletter for regular updates, news and competitions bringing the best of Latin American culture direct to your Inbox.
Share: