Carlos Gardel: The King of Tango
03 July, 2011
Last month marked the seventy-sixth year since Argentine music maestro, Carlos Gardel's, untimely death. To this day however, his name and suave, iconic image remain as popular as ever. The propensity of Gardel's fame as a national treasure can be seen in the hundreds of images presented on shop fronts, buildings and walls. His reputation as the "king of tango" can even be spotted as far as Scotland where numerous statues have been recently erected in honour of his extensive tour of the country's rural areas.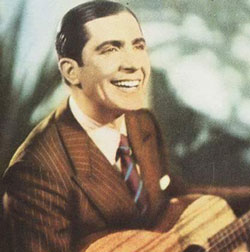 Early Beginnings
Brought up in the Abasto neighbourhood of Buenos Aires, Gardel (1890-1935) – otherwise known as "El Zorzal" (The Song Thrush), "El Mago" (The Magician) and "El Mudo" (The Mute) dropped out of school at the age of 15 and started working at various opera events that were held in theatres across the capital — as a professional applauder who roused the audiences.
He learned to sing operas and Spanish operettas known as zarzuelas, as well as criolla music, a folkloric style from the Argentine countryside. Inspired by what he heard, Gardel began working in bars, festivals and private parties, clubs and theatres across Argentina, Uruguay and Brazil. The youthful Gardel also teamed up with various folk musicians during his career. The most important figure was Jose Razzano, a Uruguayan folk singer in 1911. The pair, known as Dúo Nacional Gardel-Razzano (they are pictured together below) toured extensively to Uruguay, Brazil, Chile and Spain until 1925 when Razzano gave up singing due to damaging his vocal cords. During their early career, the duo were also joined by guitar player and singer Francisco Martino, as well as singer Saúl Salinas, however, both left the group a few years later.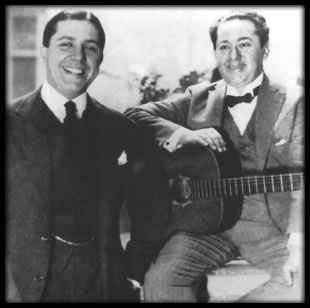 The Birth of Tango
Gardel and Razzano's big break came in 1913 where the duo were invited to perform at the fashionable Confitería Perú in the Avenida de Mayo. Little did they know that the audience of the concert would include Taurel, a senator of the republic, Pedro Carrera, the police chief of Buenos Aires Province, Cristino Benavidez and not forgetting, Osmán Pérez Freyre, a composer of one of the popular songs of the time "Ay, ay, ay" (which the duo later recorded). That night, they made their mark on the social elite and their musical journey began.
Up until now, the duo had mostly performed songs of a traditional, folk idiom. However, in 1917, Gardel introduced Tango-Canción in a concert at Teatro Empire, Buenos Aires – a style of dance that although had been around since the mid 1800s, was now brought to the attention of mainstream Argentina. Razzano was extremely against the idea and refused to even participate. However, with its melodramatic lyrics and sentimental melodies, Gardel's Mi Niche Triste ("My Sorrowful Night" by Samuel Castriota and Pascual Contursi) rocketed the singer to international stardom and established tango music as a popular musical form that was enjoyed by the masses.
The duo toured extensively around Latin America, as well as Europe and North America. Gardel's musical hit was the first to introduce vocal melody with the tango, which was usually strictly instrumental and, in fact, was not seen as a respected musical style in Argentina. Prior to the tango-maestro's success, the tango was closely associated with the brothels and lower-classes of cities such as Buenos Aires. However, Gardel, with his Hollywood looks and slick adaptations of Tango repertoire catapulted Tango into the middle-classes as a genre of high culture and a sensual dance form.
As his popularity grew, he made a number of films for Paramount in France and the U.S. While sentimental films such as El Día Que Me Quieras and Cuesta Abajo lack lasting dramatic value, they were outstanding showcases of his tremendous singing talents and movie star looks. His first 'talkie' was in the 1931 film Las Luces de Buenos Aires ("The Lights of Buenos Aires"). Gardel portrayed a gaucho or an Argentine cowboy. Onscreen, he embodied the archetypal Latin lover with panache; off-screen, his music conveyed a similar image – an elegant gentleman with a fedora, suit and tie and a classically romantic tenor voice to match.
http://www.youtube.com/watch?v=-y99NTN4O9k
When Gardel turned solo in 1925, he toured Spain with the Compañía Rivera-De Rosas, performing at renowned venues such as the Teatro Goya in Barcelona, where he recorded his first discs with the electric system. Over the following years, Gardel (with Razzano as his manager) would travel Spain, France and the US extensively. After a concert in Paris in 1928, Gardel sold an astonishing 70,000 records in the first three months.
Everything that came after Gardel is Gardeliano
By the 1930s, whilst Big Band mania was storming the US, it was tango that was filling Latino dance floors. Moving from solo and small groups of musicians, the Golden Age of Tango presented large orchestras, contemporaneous to the orchestral arrangements of North American swing music. Influential orchestras included the orchestras of Juan D'Arienzo, Francisco Canaro and Aníbal Troilo. D'Arienzo was called the "Rey del compás" ("King of the beat") for the insistent, driving rhythm that featured in many of his recordings. "
Gardel can also be found in many novels and films including Gabriel García Márquez's novel
Love in the Time of Cholera where doctor Juvenal Urbino asks Florentino Ariza, "Do you like music?" and Ariza replies, "I like Gardel." Jorge Luis Borges, Julio Cortázar, Ernesto Sábato and Jimmy Buffett also mention Gardel in their works. Gardel appears as a fictionalised character in the 1979 play, "El Día Que Me Quieras," by the Venezuelan writer José Ignacio Cabrujas. There are also two films about Gardel: Gardel (2009) starring Gael García Bernal as Gardel and hollywood blockbuster Dare To Love Me (2010).
In 1935, when he was just 45, Gardel was killed along with his entourage and while touring South America. Their private plane crashed in Colombia, where he is still considered a revered figure. Although much mythical tales and legends have become inseparable with Gardel's life story, he is also known as the ultimate figure in the story of tango. A popular saying in Latin America, which serves as a testimony to his long-lived popularity, claims, "Gardel sings better every day." Another commonly used phrase in Latin America is "Veinte años no es nada" (Twenty years is nothing), which comes from his song "Volver". Even today, seventy-six years after his death, the fingers of his life-sized tuxedo-clad statue on Gardel's tomb nearly always hold a burning cigarette left by an admirer.

Follow Sounds and Colours: Facebook / Twitter / Instagram / Mixcloud / Soundcloud / Bandcamp

Subscribe to the Sounds and Colours Newsletter for regular updates, news and competitions bringing the best of Latin American culture direct to your Inbox.
Share: