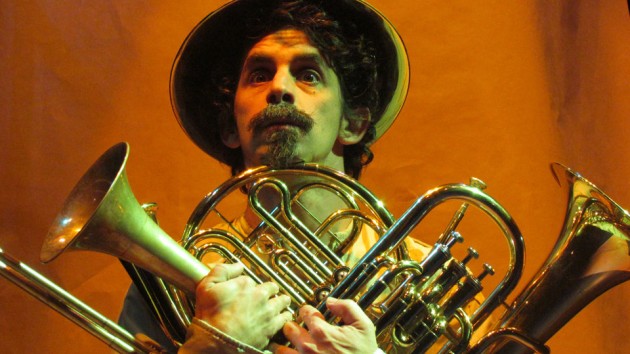 CASA Latin American Theatre Festival Returns to London on 10 – 19 0ctober
11 October, 2014
In Spanish, a popular means of expressing hospitality is with the saying 'Mi casa, tu casa.' Well, this coming week, London is home to a host of Latin American theatre and performance art, as the CASA Latin American Theatre Festival makes its annual appearance in the city. Since being founded in 2007, CASA has promoted the region's theatre in the UK, while giving audiences the opportunity to experience first-hand a vital aspect of cultural representation.
While music, film, literature, art and so forth is transplantable via mainstream media, theatre is a different prospect due to the intrinsic quality of requiring its participants to be physically present. The CASA Festival redresses this. In my experience of living in Latin America, theatre is a popular means of connecting with social and historical themes, a window into a shared past and a popular and effective tool for constructing collective memory. Many of the plays this year reflect this interaction with social and historical legacies. Here's a look at what the festival will bring this year:
La Población Arenera (The Sand Settlers)
Chile's Caldo con Enjundia Theatre Company is behind this story of a boxer who disappears after becoming a major figure in the fight for social justice. Set in 1940s Santiago, the play uses humour, colour and music to pay homage to Chile's long tradition of resistance.
Rich Mix – Fri 10 Oct, 7.30pm: Sat 11 Oct, 2.30pm (with Q&A): Sun 12 Oct, 5.00pm
Visite Argentina (Visit Argentina)
Having recently spent an extended period in Buenos Aires, I'm well aware of Argentina's many charms and, if I may say, its eccentricities. Comedy duo Jorge & Julia send up the stereotypical image of their country – meat, tango, football and so on – in a show centred on physical theatre and slapstick. God, I wish I was still there.
Rich Mix – Sat 11 Oct, 7.30pm: Sun 12 Oct, 2.30pm and 7.30pm (later show with Q&A)
The biographical story of Venezuelan revolutionary Manuela Saenz, lover and grand compañera of Simón Bolívar, whose role in the liberation of South America has been largely overlooked by history. Venezuelan-British director Tamsin Clarke orchestrates a vivid account of the life of a true Latin American hero, with a live score from Colombian guitarist Camilo Menjura.
Rich Mix – Tue 14 Oct, 7.30pm (with Q&A): Wed 15 Oct, 7.30pm: Thu 16 Oct, 7.30pm
La Araucana (The Araucaniad)
Based on the Spanish conquistador Don Alonso de Ercilla's poem La Araucana, which narrated his own experiences of the region of southern Chile of the same name, this show from Chile's Tryo Teatro Banda blends music and performance to retell a story widely regarded as a classic of Spanish literature.
Barbican – Tue 14 Oct, 7.45pm: Wed 15 Oct, 7.45pm (with Q&A): Thu 16 Oct, 7.45pm
Parlamento! (Parliament!)
The second festival performance from Tryo Teatro Banda, and a companion piece to La Araucana, this play also revolves around southern Chile, and the campaigns of indigenous resistance to Spanish expansionism and conquest. Again, music plays a major role in the performance.
Rich Mix – Wed 15 Oct, 9.30pm: Thu 16 Oct, 9.30pm (with Q&A)
Bar Ensueño (Daydream Inn)
For the population of a small island in Chile's blustery south, the construction of a new dyke causes major upheaval, forcing them to leave their homes and impacting heavily on their way of life. The inn of the title becomes a focal point in resistance to this development and the imposition of external values on small communities. The CASA website calls it 'a play for anyone committed to social justice.' Right on.
Rich Mix – Thu 16 Oct, 7.30pm: Fri 17 Oct, 7.30pm: Sat 18 Oct, 7.30pm (with Q&A)
Barrio Caleidoscopio (Borough Kaleidoscope)
Oddly moving Ecuadorean tale of a man too terrified to leave his apartment. But, as he gets hungrier and hungrier, he will eventually have to do something about it. Entirely set around the environs of his chair, this is surreal study of the human psyche, superbly acted by writer-director Carlos 'Cacho' Gallegos.
Rich Mix – Fri 17 Oct, 7.30pm (with Q&A): Sat 18 Oct, 2.30pm and 7.30pm
Also from Carlos 'Cacho' Gallegos, this is the story of Plush, a clown who just wants to escape the circus of life and follow his dreams. Gallegos constructs a wordless but utterly expressive homage to the human spirit, which should appeal to both adults and young children.
Rich Mix – Sat 18 Oct, 11am: Sun 19 Oct, 11am
Cien Años antes y después de Eva (A Hundred Years before and after Eva) by Open Casa Community Centre Theatre Company
Free public participation show which aims to bring the audience into the magical realism world of Gabriel García Márquez. There is a limited capacity so get there early.
Rich Mix – Sat 18 Oct, 3.45pm: Sun 19 Oct, 5pm   
Mi.Me (Inside Out, Outside In)
Improvisational one-man performance from Argentine mime Jorge Costa, who takes his cues from the audience in a show that never repeats itself. The only restrictions here are those of the imagination. It is another highly original example of Latin American performance art.
Rich Mix – Sat 18 Oct, 5pm (with Q&A) and 9.30pm: Sun 19 Oct, 2.30pm
For further details about this year's CASA Latin America Theatre Festival, check the official website.

Follow Sounds and Colours: Facebook / Twitter / Instagram / Mixcloud / Soundcloud / Bandcamp

Subscribe to the Sounds and Colours Newsletter for regular updates, news and competitions bringing the best of Latin American culture direct to your Inbox.
Share: