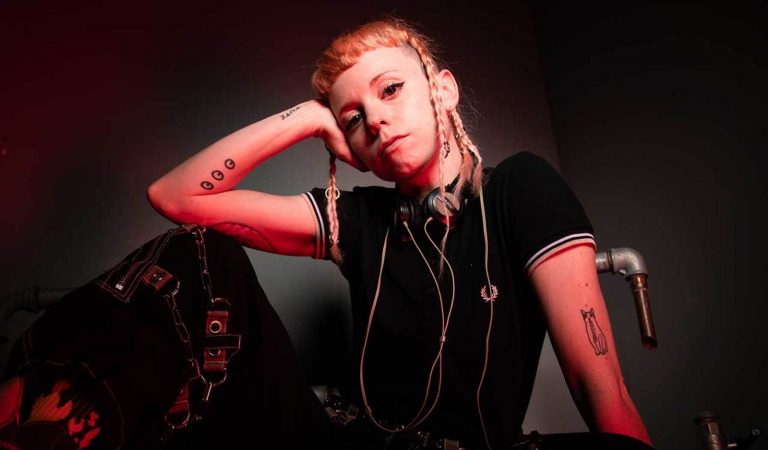 Catnapp & Other Leading Lights of the Buenos Aires Underground
13 September, 2019
It was quite a surprise to see Argentinian artist Amparo Battaglia (better known as Catnapp) teaming up with legendary German duo Modeselektor last year to release her music via their Monkeytown Records label. Not that her futuristic mix of genres did not deserve that but to see her name in the label's catalogue alongside absolute stars of electronic music such as Moderat, Mouse on Mars or Siriusmo was a success that probably not many expected. The collaboration that started with two Catnapp EPs in 2018 led to this year's full-length, and seeming breakthrough, release Break.
The album is an intense 25 minute listen. It starts with a relatively calm, yet dark and creepy, intro on "Down in the Basement" before bursting into "The Mover", a collaboration with Modeselektor which is filled with heavy bass and could easily be mistaken for one of Alice Glass' best tracks. The song is akin to a manifesto for the artist's roots in Buenos Aires' underground scene. This may seem contrary considering she's graced some of the biggest festival stages around the world this year (most notably Sónar Barcelona), but there can be no doubting Catnapp's origins, making her one of a number of artists from the Argentine capital's alternative circuit who has been getting released by renowned foreign labels, with Moro's EP Irrelevant and Tatiana Heuman's album QEEI, two other prime examples.
If you have not yet got familiar with Buenos Aires' underground electronic music scene then here's my list of some of the most interesting labels, artists and releases that have been shaping up the scene there, and showing how the city is currently thriving with creative minds.
AGVA
The shortest path from Break leads to AGVA, a collective and netlabel whose co-founder El Plvybxy features on "Give It Back" on Catnapp's Break, which may actually be the highlight of that EP. But there has been much more happening for this extremely talented and prolific producer in the recent months. Not only did he create a remix of Defensa's hit "No Me Digas" and release his own single "Handy Tool" but he also produced an entire EP for Rattlesnake, another Buenos Aires-based persona that is worth keeping an eye on.
Coincidentally, one of the best AGVA releases to date comes from the other Argentinian artist that has been featured on Break. The aforementioned DOXXED released his self-titled EP in October 2018 and it might have been one of the most interesting debuts of the last year. His surprising and emotional sound turned out to be exactly the kind of experimental pop we did not know we needed.
TRRUENO
TRRUENO is a crew that treats experimentation seriously, taking it to the next level. They are formed by some of the most open-minded and visionary artists in the area (Bungalovv, Candie, Tatiana Heuman, Agustin Genoud and many more), and this has resulted in their netlabel catalogue being filled with a variety of unusual and avant-garde releases.
From deformed voice improvisations to destructive darkcore and mythology-inspired club beats. All enhanced with a futuristic visual side which plays an important role for the label. Oh, and there's a Catnapp connection here as well. TRRUENO-affiliated MAAY has been killing it as a tour DJ for Catnapp this year!
Hiedrah Club de Baile
Hiedrah is probably both the most politically-engaged and well-known collective on this list. Their status has been recently highlighted by a Boiler Room event in Buenos Aires centred around them with performances from their resident DJs, Braian, Brea and Aggromance. The last of these names also regularly enriches Hiedrah's catalogue with his work and it is in fact his first full-length that is their latest release and at the same time one of the most interesting albums. On Turbera Aggromance's usual hardcore sound reaches unknown territories and surprises with its delicacy.
Besides other quality releases from Buenos Aires-based artists like Desdel Barro, Hiedrah are also doing a great job showcasing ambitious electronic music from other Latin American countries as well. So far they have released tracks by some of the finest producers from all over the continent, including Chile's Alpha S, Bolivia's Funeral and Uruguayan project F5.
Lola Bhajan & Enanomalhecho
This duo released their debut album via Plano Records in April this year and it is a beautifully crafted mystical record. Lola's outstanding vocals are at the centre of Enlazadorxs and it is her voice and avant-garde manner of singing that instantly draws attention. Of course all that is backed up by a proper production from Enanomalhecho who made the traditional Andean songs and ancestral rhythms sound more than good in this electronic environment. Do not miss the track called "Alegría De Mi Pecho" – it is the reinterpretation of a song by legendary folk artist Leda Valladeres!
planorecords-ar.bandcamp.com/album/enlazadorxs
Finest Fantasy
A lot of fuss was caused in February this year with the release of pipi cucu, the first compilation by the still relatively new netlabel Finest Fantasy. They were able to gather eleven unreleased tracks from the best producers around – including all the big names already mentioned above (like El Plvybxy, MAAY, DOXXED and Rattlesnake under his alias LW0) and some others that still have not been acknowledged here: Diego Betas, SLAV ZIMM and eqal. And they did not stop there.
In May they went on to release an interesting and very heavy EP by Flux and even more recently, in August, two new singles appeared in their catalogue. Let's hope they keep on going at this rate!
finestfantasyclub.bandcamp.com
ABYSS
A list like this would not be complete without mentioning Aylu and her label ABYSS. With the main focus being put on footwork the imprint sometimes present amazingly twisted releases of other genres from the Argentinian underground. Perfect examples? Blop by Vic Bang and self-titled EP from YOTO.
FAUST
This may be the most important entry on this list as it simply shows how much talent there is in the Buenos Aires scene. FAUST has started publishing music on his accounts just this summer yet the quality of his productions is already outstanding and his EP Sí no sana hoy… is a perfect piece of dark and atmospheric electronic music. No wonder that he started playing at Hiedrah parties this year and his first official material is scheduled to be released via Hiedrah's netlabel in 2020! Watch out for this guy!
faust33.bandcamp.com/album/s-no-sana-hoy

Follow Sounds and Colours: Facebook / Twitter / Instagram / Mixcloud / Soundcloud / Bandcamp

Subscribe to the Sounds and Colours Newsletter for regular updates, news and competitions bringing the best of Latin American culture direct to your Inbox.
Share: