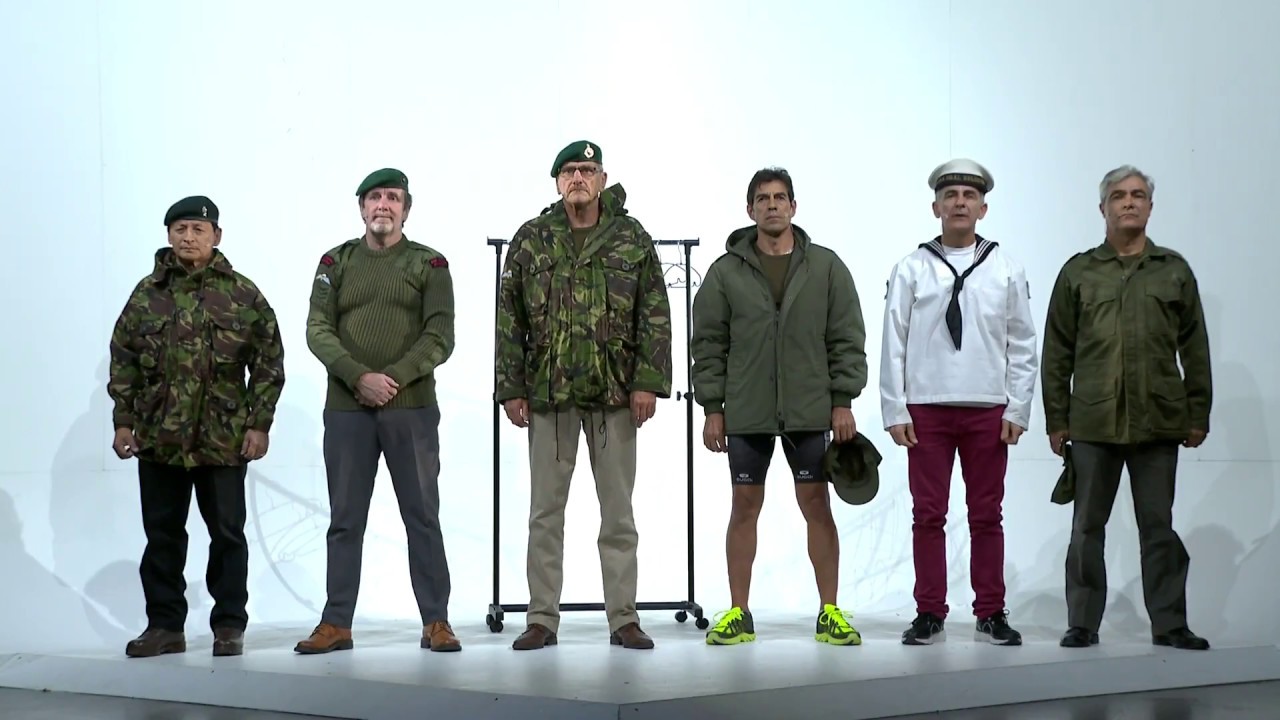 Challenging Falklands/Malvinas' Veterans In The Present: An Interview with Lola Arias
10 April, 2018
Lola Arias is an artist in the broadest sense possible. She is a writer, a theatre director, a film director, a musician and a performer. She experiences different artistic processes, and sometimes all together. This is the case with Minefield, a play to be presented at ¡Viva! Festival this April. Minefield is part of a project that began as an art installation in 2013, became a play in 2016 and since then a film and a book in 2017.
She says: "It is strange how it forms and it is always growing, that is also something that I am interested in my artistic practice. You are doing something with a community, with a group of people, and you are finding different artistic (expressions) with the same people. In a way, you are developing something bigger than just one work of art, more like a whole experience for the group." Minefield, which had its opening at the Royal Court Theatre, in London, has already been to 30 cities in Europe, Latin America and is also going to Japan.
It is a project that reunites Argentine and British veterans from the Falklands/Malvinas war to explore what remains of the war in their heads 34 years later. Minefield looks into the marks left by war, the relationship between experience and fiction and ways of representing memory.
We spoke about Minefield's creative process, initially about how she selected the participants, whom she refuses to call "non-actors" as the press usually mentions. She remarks: "it's strange when people say non-actors or non-professional actors because in fact for me they are professionals because they have been performing for two years non-stop all over the world, but of course the special thing is that they are performing something that is not a role, they are performing nevertheless, but they don't perform a role, they don't play a character, but their own stories."
So, how did you select the performers for Minefield?
The process of finding the performers for this show was quite special because I was not only looking for people who had a story, but people who could perform in a play, or could play music, which is also very important in this project. [I was looking for people] who could be part of a whole community that was going to create an art project together, because it is not only about making a play, but being part of a social experiment that is to put together former enemies coming from two countries and invite them to share their experience for a long time, to make an art piece.
So, I was doing auditions in Buenos Aires and London. I interviewed around 70 veterans. I did workshops in London and Buenos Aires with smaller groups of veterans and them I chose the six that were going to meet in Buenos Aires.
How was the process of asking these veterans to get in touch with all these memories to create a narrative?
It was a way to find new perspectives on what happened to them, and also to confront themselves with their former memories and it was also a way to rediscover their own stories, to hear the missing parts, to be able to be emphatic towards the suffering of the other. I think it was a very life-changing experience for some of them.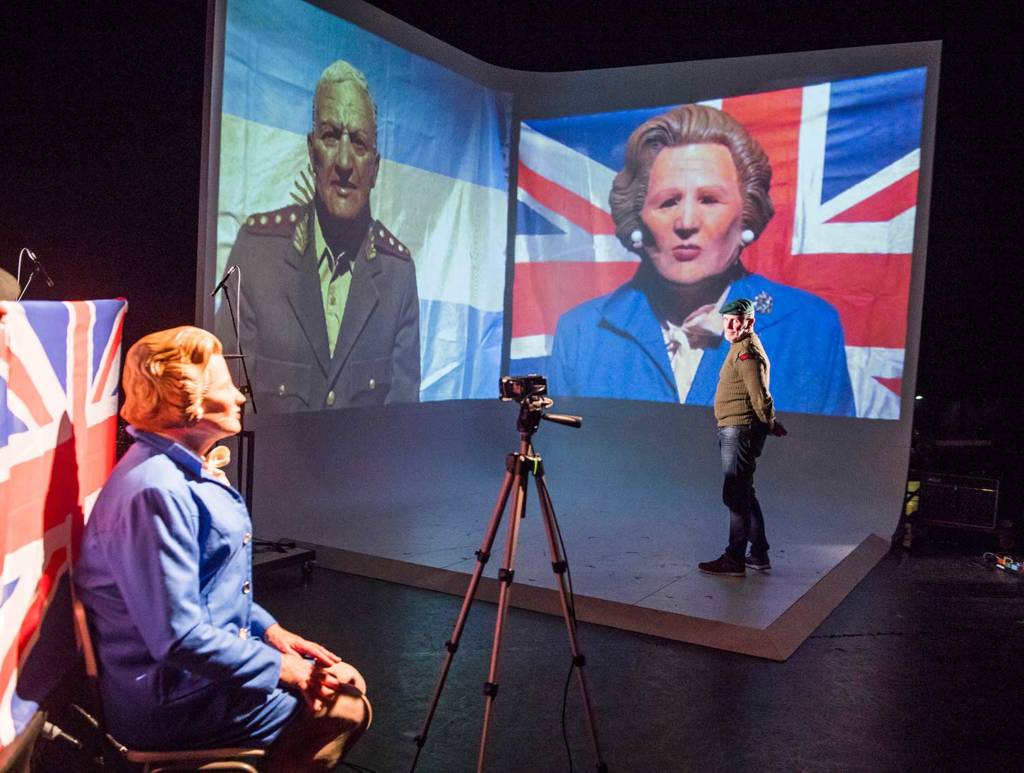 Was there anything surprising in the creative process, something that you didn't expect at all?
Even though I was very curious about what happened on the British side I think I had a prejudice that the Argentinian soldiers were mainly not professional soldiers, just people who finished high school and they were obliged to do the military service and then they were sent to war. 70% of the people who went to war were just 18 years old kid who had nine months of training. So, I thought, these are the people who suffered the most. But when I met the British soldiers, I was surprised to see that even though they were professional soldiers, they suffered a lot. In a way, nobody is really prepared for the experience of war. Somehow this was also for me a discovery of the piece.
Here is an excerpt from Minefield:

How was it to show the play in Argentina and in England in terms of reception and reaction from the public?
The opening was at the Royal Court Theatre, in London, a theatre known for new playwriting but they never had what they call non-professional actors on stage. And they almost never had subtitles, so they are used to perform only plays translated into English and this is a bilingual piece, but it went amazingly well. I think for the British audience it was a discovery to hear the stories of the British and the Argentinian veterans and people were very emotional about the piece.
When we showed it in Buenos Aires some people were a bit reluctant, because of course, it is an open wound for the Argentinian society. Some people were asking themselves why am I coming here to the theatre to clap the British soldiers who killed other soldiers. So, it was much more of a challenge. Some people even came to the show with signs saying, "The Malvinas are Argentinian", which is very interesting to see how people use the theatre also as space as to demonstrate their thoughts and ideas. It was a very emotional moment and a very cathartic moment also for the Argentinian society to have this chance to talk to them, to hear the stories of the other side.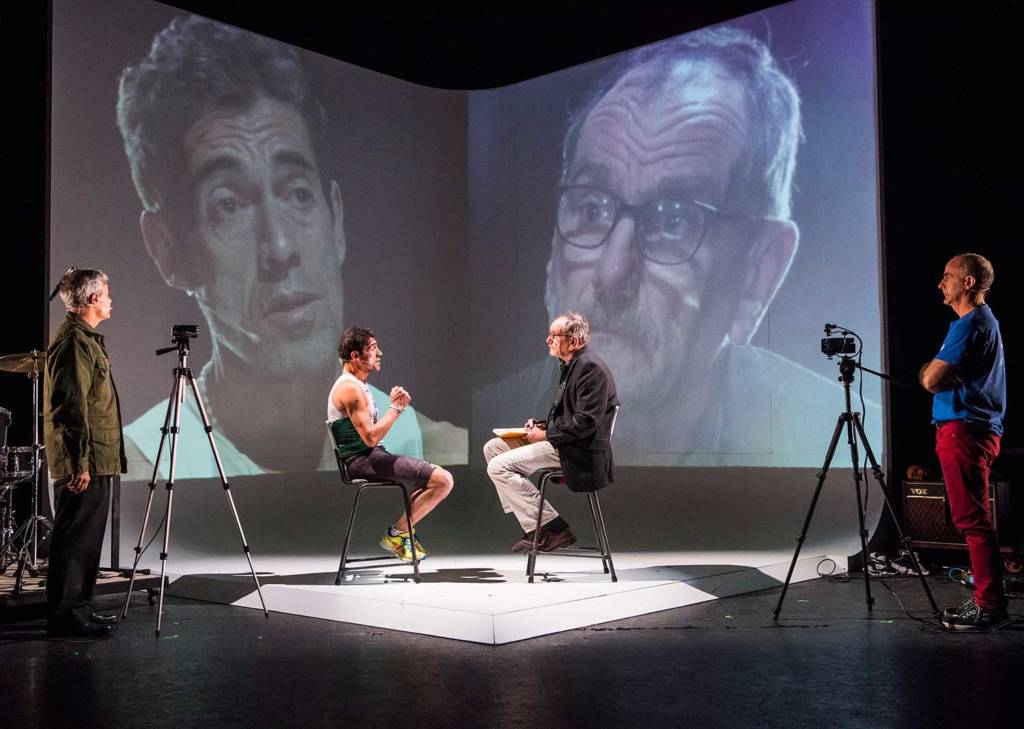 About Theatre of War, your first film also working with the veterans. Did you start the film together with the play?
The idea was from the very beginning a parallel project. So, I started the film together with the theatre project. I was filming the auditions to find the protagonists because I wanted to do a film. So, I was doing the two things at the same time and it was very complicated because it wasn't a backstage film or a film that shows how do you do a theatre play. In fact, when you see the film you don't know that it had been a play with the same protagonists, there are no references to the play. There is no moment where you see them like on stage rehearsing. But of course, there are several scenes, situations that are in both, in the film and in the play. I think the film shows more a process of how to reconstruct a memory and it starts with the audition to find the protagonists, then it goes to their first encounters. So, there is a whole process of trying different ways on how to reconstruct the memories of the war. It is more like an essay on how to transform the experience. And I think the play, because it has this present time, it is not so much like a play… it is always saying like "I am here" and this is present and we are here and this is the encounter. So, I think the play works in a different way because it shows that this community is alive now and you can see them performing together and you see it happening right here and right now.
[You can see an excerpt from Theatre of War here]
What is your next project?
I am working now on a project opening in June 2018 with Syrian and Germans performers in a Theatre in Munich. We are working on the reconstruction of a case of a man who got no asylum in Germany, in the process that he is going through right now. We are not reconstructing something from the past. We are reconstructing a person who is struggling right now with bureaucracy in Germany because he is not being recognized as a refugee. The project is about truth and credibility at the present time, in a time where everybody is turning their backs on the people in need and how people judge others, the story of others. Are we able to hear the stories of the other? How do we decide what is true or a lie? And somehow, he will share the material of his case and we will perform it with professional actors, but he will be also on stage. We are starting rehearsing in April. It is called "What they want to hear".
Minefield will be performed at ¡Viva! 2018 in Manchester from Thursday 12th until Saturday 14th April. More details and tickets at homemcr.org/production/minefield

Follow Sounds and Colours: Facebook / Twitter / Instagram / Mixcloud / Soundcloud / Bandcamp

Subscribe to the Sounds and Colours Newsletter for regular updates, news and competitions bringing the best of Latin American culture direct to your Inbox.
Share: