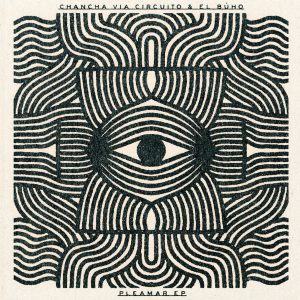 Review
Chancha Via Circuito & El Búho – Pleamar
Pleamar is an EP that should ideally be listened to with headphones on and with eyes closed to appreciate its full effect and to transport the listener into four different soundscapes that follow the theme of the title, which means high tide. These four tracks feel like an ode to the elements. A synth-heavy, experimental work, it fits well into El Búho's habit of collaboration as it follows soon after Ramas, an album of nineteen collaborations with artists from twelve different countries, including Chancha Vía Circuito [the album artworks also reflect the closeness between these two releases].
The EP celebrates the music of both artists to create something that feels truly collaborative from beginning to end and their combined ideas have created an entirely new identity. The way that each track slowly builds as though telling a story, whilst also working as sonic explorations of high tide. Though each track is unique, they follow a familiar thematic thread which ties everything together.
The EP opens with "Oruga", an orchestra of natural sounds. The cumbia beat is found beneath many layers, while those same layers point to the song title, which means caterpillar. As the song slowly transforms into a dub track that makes you wish for a real sound system, its name seems even more appropriate. It's the perfect balance of analogue and digital sounds for what is a subtly danceable opening track.
"El Mago Georges" was released ahead of the rest of the EP and it really encapsulates the name as it is reminiscent of the feeling of being deep underwater. The track is a therapeutic gong bath of a song which builds into a meditative exploration of sounds including the bird songs that punctuate throughout, reminding me of El Búho's curation of A Guide to the Birdsong of South America.
The video for "El Mago Georges" follows an animation of a blue bird from birth to reincarnation. The video opens with an explanation of the word mago or "mage" meaning a person with a knowledge of magic who can use it to control and change their surroundings in the same way that these two artists control their surroundings to create the soundscape of Pleamar. The accompanying animations are an example of the extent of the possible interpretations that this kind of original music offers by managing to capture the sounds of nature. It is a beautiful track and Kati Egely's animations take the storytelling to a new level, with the animations exploring the colour and imagery that the sounds evoke.
There's a simplicity and a depth to "Murga de Viento" which makes it my favourite track. It is a reminder of how both artists use the influences of traditional sounds to adapt and experiment in order to form something new and original. In this case the beat of the murga bands that play at carnival in Argentina – perhaps a reference to Chancha Vía Circuito's native Argentina – serves as the skeleton for this track. I listened to this song repeatedly to try and figure out each of the different string sounds, a harp, or a charango – familiar in El Búho's music – and the ways they are chopped and sampled and layered to evoke windy plains. These elements balance and complement this track to create a hugely atmospheric sound, made all the more effective by the subtleties of the repeated whistled melody.
"Una Pulgada de Silencio" comes as a surprising end, partly because of its hip hop-style opening beat and partly because it is the only track with any vocals, somewhat breaking the flow of the album. But the combination of synths and rain sound works well with the voice of Gus Goncalves singing about dawn, new beginnings and transformations and creating a trippy dream-like end to the EP.
Pleamar is a moment of calm in a world that feels chaotic, it's fifteen minutes of meditation that transport you to a secret rave in the Amazon.
Pleamar is out now on Wonderwheel Recordings

Follow Sounds and Colours: Facebook / Twitter / Instagram / Mixcloud / Soundcloud / Bandcamp

Subscribe to the Sounds and Colours Newsletter for regular updates, news and competitions bringing the best of Latin American culture direct to your Inbox.
Share: