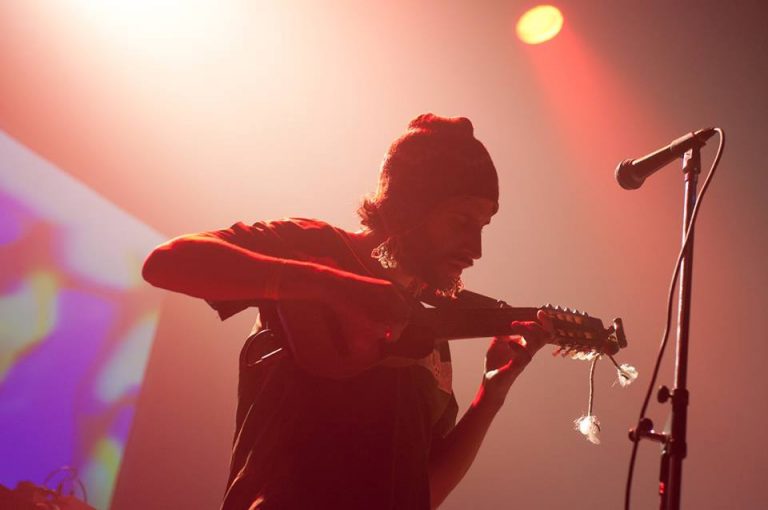 Ché, These People Will Blow Your Mind – An Interview with Lagartijeando
30 July, 2019
It's been a blazing summer in Berlin – one of the few positive side-effects of global warming if you are into the hedonistic aspects of life, to which the German capital has plenty to offer. The legendary district of Kreuzberg is in full motion and it seems that everyone is speaking Spanish on the streets – either because there's too many of us, or because we are just too loud. At any rate the musical birds have flocked en masse and set up temporary shop in the area around the Reichenbergerstrasse – trust me, it is more fun to navigate than it is to pronounce. In this street is where I casually meet up with producer Mati Zundel, better known as Lagartijeando, during a jam session at the KSNI Studio where fellow Argentinians Barda, Sidirum, Barrio Lindo and Jin Yerei are operating samplers and guitars of different shapes and sizes. These musicians have just returned from a weekend getaway performing at the celebrated Fusion Festival which gathers 80,000 people in a former Soviet-station turned post-hippie village mid-distance between Hamburg and Berlin. "Ah, we're getting into a Krautrock kind of vibe", Jin Jerei jokes while twisting the knobs of a Nord Lead synth. In the midst of laughter I seize the opportunity to hit the record button and pull Lagartijeando aside for a lively chat on the occasion of his latest LP release, Jallalla, (a Bolivian term which approximates for "celebration" in the Aymara language).
Mati, how long are you in Berlin for?
For a week only. I am resting a bit after a short road trip I did in Morocco and Egypt. Afterwards I will be playing two gigs in Lisbon and Porto.
Your new album has a close relationship with Bolivia. Did you record it there?
No, I recorded it in Argentina but the inspiration comes from my last trip to the country in 2018. I wanted to go back to the Andean vibe, see the mountains, get into the music, get the spices.
The charango can be heard more than once…
Yes, the charango has been my instrument of choice since my first LP release in 2009. Incidentally my first official track was a remix of Bolivian music. My main inspiration back then was [Argentinian musician and long-time Brazil-resident] Ramiro Musotto. It is through him that I decided to explore the fusion between folcloric and electronic music.
Another characteristic of the album is what I would call a "carpet of sound" which strikes me in particular.
I got the inspiration from the one time I played at Nomade Festival, whose stage was standing besides a large forest. I thought about playing around with the sonic idea of confusion as in: what am I listening to, are these sounds coming from the speakers or from the woods?! I'd use sounds of crickets and birds, which I'd then process with autotune to generate a tonality and specific melodies. You end up with micro-melodies [he imitates cricket sounds]. This technique I employed for instance in the track "Villazón Potosi".
Speaking of which, there are two songs on the album that bear Potosi in the title...
Yes, the other one is "Adios Potosi". I was thinking initially of naming them Potosi Part 1 and 2, kind of like Pink Floyd's "Another Brick in the Wall", but then I decided to be more specific. Villazón is a Bolivian village that shares its border with Argentina and through which I entered the country. And "Adios" is, well me saying goodbye at the end of the journey.
Tell me something about the collaborations with Chancha Via Circuito and Minük on the tracks "Caña" and "La Frontera"?
I have many friends in the scene and we usually send each other drafts and see where it may lead to. A collaboration works when it is done simply and quickly. After many years producing, my philosophy at this point is: if it works out simply, it is because it has that special kind of magic. If the process becomes tedious or entangled, we better let it go.
Speaking of philosophies, I was just talking to Agustín [Barrio Lindo] about his approach to the scene – he does not come from a clubbing background and he only got into dance culture while furthering his career in electronic music production. This is probably why it has a sort of organic vibe. I feel there are similarities in your approach as well.
One is influenced by the place one is living in. I come from the village of Dolores which is very traditional and folcloric so this environment influences me more than say, synthesizers and complex spatialities.
And indeed my album I think is quite impossible to play in clubs. In that sense I don't feel as if I belong to a club environment. Of course when I do play club gigs I adapt and even increase the tempo. That's also the thing about this downtempo scene, right? Sometimes I ask myself, about the music put forward by myself and my friends Chancha, El Búho, Tremor, where are we placing ourselves? Is it what I call "folcotronica" or is it, let's say "slow house"? It is a recent phenomenon and we are still discovering what it all means.
I think that which you call "folcotronica" responds to a fully globalized world where many people can be travellers or backpackers so it becomes easier to absorb distant sounds.
In fact I developed my musical style just as many producers this side of the world did, by travelling through Latin America. My first LP Amazonico Gravitante I recorded between Bolivia, Ecuador and Colombia. In that respect, my musical identity has been shaped through travelling, especially Bolivia.
I got to travel through Bolivia last year as well and was overwhelmed by the deep connection this country has to its indigenous roots in an earnest and pure manner. I think me as a Peruvian and you as an Argentinian have gathered experiences there that can potentially enrich the mindset of our respective countries.
Yes, and I think the recent transformation of South American governments has managed to empower local cultures. In this sense I also respect the cultural work brought forward by ZZK, in that they set a standard against the old prejudices of people who think "ah, these backwards Indians" and it's like… no!… these people know what's up, we can learn a lot from them. Let us value that. So working with their music even as an outsider gave me a deep connection and led me to great friendships. In the end, you do not choose the place, the place chooses you. And the political statement of my latest project is like "ché, these people will blow your mind". My country has also an Andean component but then you go to Bolivia and there is an infinity of rhythms and playing styles. I came back for the seventh time and I keep on finding new music. It is impressive. The musicianship never ceases to amaze me.
Now If I may ask you, what do you think of this "folcotronica" scene?
Me? Well there is one piece of the puzzle that may not have been put much to the foreground. I am talking about a scene that started out in and around Berlin about 10 years ago or more; people like Acid Pauli were proposing this sort of slowed-down house. It came to prominence at a stage in Fusion Festival called Bachsteltzen. It was a parallel development but eventually it connected with what was going on in South America, especially in Argentina.
And let me comment that for me, the development of this tempo range in Argentina actually comes from cumbia with its 90 BPM. It does not come from slowed-down techno. And whereas in the beginning we were doing digital cumbia, once it transformed into something different, the tempo remained. The rhythm became more house-oriented but the tempo stuck. In fact I still think of my bass lines as cumbiero rather than electronic style.
That is worth noting, and it is felt of course during the first wave of ZZK productions.
Back then it was more mixed with hip-hop, reggaeton and US-electronica. Afterwards when our producers began spending some seasons in Europe, and thus the Europeans connecting more with Latin countries, it gave rise to this other aesthetic. Mono-tonal melodies, multidimensional layers. That's where we are at right now.
Lagartijeando's latest album Jalalla is available from Wonderwheel Recordings

Follow Sounds and Colours: Facebook / Twitter / Instagram / Mixcloud / Soundcloud / Bandcamp

Subscribe to the Sounds and Colours Newsletter for regular updates, news and competitions bringing the best of Latin American culture direct to your Inbox.
Share: