Dance to Pato Lange's Latest Glam Pop Video, 'La Siguen Rompiendo'
20 May, 2020
Pato Lange's latest glam pop single, "La Siguen Rompiendo" is a danceable ode to the 80s music scene. The single's subsequent video was released at the end of April and is rising in popularity feverishly.
The video stars ex-journalist Pato Lange voicing lyrics into camera while alternating sequences of the artist frisking around New York City and swaying alone on the dance floor in Buenos Aires. "I knew I was flying out to New York and I wanted to make a video with my phone. So I asked a film director friend of mine for some help; we texted back and forth as he gave me his advice: "'Shoot like this, try to narrow your focus here, zoom in on Manhattans corner', and I'd just follow trying to keep up with the pace of it all", said Lange.
Dashing among subway lines and typical bodega stops in New York, Lange adds 90s handy cam filters to invigorate the aesthetic. Fashionable and defiant at the edge of the chorus he sways around the dance hall of the legendary BsAs concert venue La Confitería.
"Later on, in Buenos Aires, we shot with professional cameras on the dance hall and in my office at La Confitería Cultural Center. Once we were done shooting, we wrapped it all up in the editing room. I really enjoyed it all cause it had this DIY feel to it and it reminded me of music videos I saw growing up", Lange added.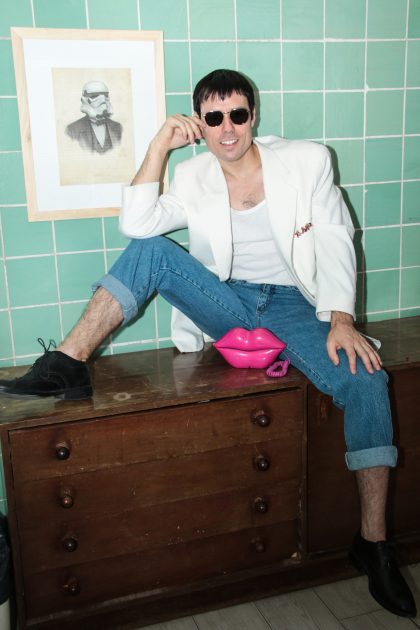 Clearly more comfortable here than by the Brooklyn Bridge, the artist roars his lyrics into camera and dances to the ecstasy of the single. The closing remark of the video stages Lange shredding a guitar solo on his office sofa between portraits of Bowie and Yoda. The video was filmed amongst both cities with the curatorial advice of partner in crime, Fer Suniga.
Though the song emulates 80s pop-rock, the video's aesthetic definitely stays in the 90s. With this in mind, the artist's wardrobe is spot-on. Polka dotted oversized shirt with tucked in skinny jeans rolled just over the ankle for the shots bursting out in ecstasy at the artist's office. Sunglasses, white blazer, white tank top, and flat dress shoes to steam the dance floor.
"La Siguen Rompiendo" was recorded at El Mar studios and produced by Turf band members Nicolás Ottavianelli and Fernando Caloia. Lange's past as a renowned journalist, musician, and cultural curator shine a light on the artist's fearless versatility which is clearly present on his new bustling release. "La Siguen Rompiendo" is the first release from an upcoming second album from Lange.

Follow Sounds and Colours: Facebook / Twitter / Instagram / Mixcloud / Soundcloud / Bandcamp

Subscribe to the Sounds and Colours Newsletter for regular updates, news and competitions bringing the best of Latin American culture direct to your Inbox.
Share: