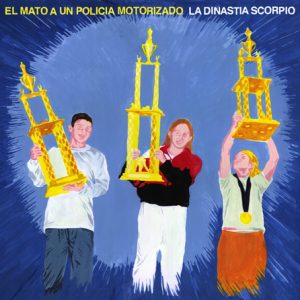 Review
El Mató A Un Policía Motorizado – La Dinastía Scorpio
Back in 2004 five young platenses (from La Plata, in the Buenos Aires province) pooled their cinema addiction and their music skills to form the nth band in the Argentinian rock panorama.
Their starting point was a sci-fi b-movie called R.O.T.O.R.: a poor mix between Mad Max and Robocop (the inspiration behind the eccentric band's name) and their rock records, featuring everyone from Sonic Youth to Pixies, and from Weezer to the Ramones.
After almost 10 years, that nth band has become one of the most acclaimed and critically praised groups in Argentina, and with their latest album, also one of the most important act in South America.
El Mató a un Policía Motorizado is nowadays an intriguing example of indie-rock criollo. Moving from their alt-rock influences to a more Argentine sound, they've accomplished an interesting artistic path over the course of 2 Lps, 3 Eps and a bunch of singles. But, first of all, they've always proved to have a general idea of their progression, to have a perspective related to their artistic steps.
The life-cycle's trilogy released between 2005 and 2008 is a clear example. A project divided into birth, life and death, which has also been able to develop the peculiar band sound.
A sound easily recognisable in La Dinastía Scorpio, their most recent work: their second LP which represents the summation of their career and its peak too.
After years of handmade productions, their latest work is polished and elaborated. As they've directly admitted: "Despite we've usually released home-recorded albums, this time we're after a more ambitious work, at least concerning its technical issues. We've tried to revoke our live performances' sound, using a more open-handed drumming, deeper bass guitars and a broad sound-spectrum".
El Mató are dropping down their lo-fi soul for a more melodic approach. Noise is gradually blurring itself with pop and songs have acquired more definite structures. The bass lines become identifying ("El Magnetismo") while guitars often take-off for Pindaric flights ("Más o Menos Bien").
At the same time Santiago Motorizado (music and lyrics author as well as band vocalist and bass player), which has risen as one of the loudest independent voices of his country, talk about the Argentinian situation. Its reality is the ever-present background to friendship ("Yoni B"), love ("Chica de Oro") and common life stories narrated all along the album.
La Dinastia Scorpio shows, if there was any need, the growth of the band. The decisive achievement of an own voice.
The platense quintet is no more just an Argentinian promise, but has finally reached the rank of Latin reality and its recent participations to Barcelona's Primavera Sound are milestones in its career's development on "this side of the Atlantic".
You can listen to and buy La Dinastia Scorpio using the Bandcamp player below:

Follow Sounds and Colours: Facebook / Twitter / Instagram / Mixcloud / Soundcloud / Bandcamp

Subscribe to the Sounds and Colours Newsletter for regular updates, news and competitions bringing the best of Latin American culture direct to your Inbox.
Share: