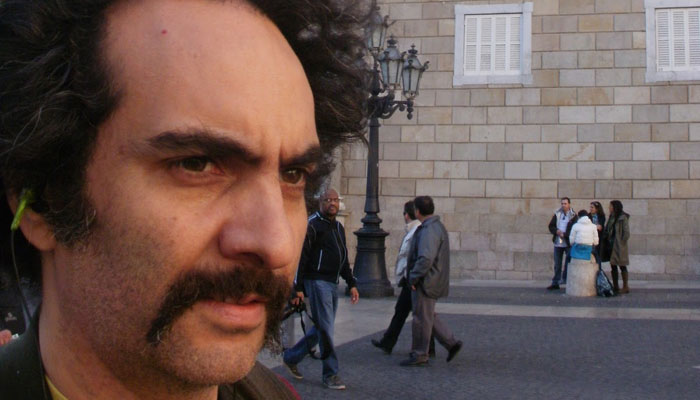 Fred Lorca – A Video Tour of 'Maquinita de Vivir'
05 August, 2013
Fred Lorca is the project of Christian Dergarabedian, one of the most interesting Latin American electronic music producers working today. Not only did he write one of our favourite songs of all-time but he has shown over the past five years that his is one of the most distinctive voices out there, and that he is not afraid to do things his own way.
His latest album as Fred Lorca is a glorious example of Dergarabedian's idiosyncratic approach to both making music and the music business itself. Dergarabedian, who's from Buenos Aires but currently lives in Mexico City, is releasing all of his most recent work, Maquinita de Vivir, on video as well as audio. In fact, he's almost released videos for all songs off the album – only one remains. What's great about this project is how Dergarabedian and the film-makers he works with constantly experiment with video, trying new ideas that add interesting new layers to his songs.
You can watch all of the videos for Fred Lorca's latest album below, but before hitting play, and for those who want a bit of background to Dergarabedian and this project here is a little Q&A we did with the enigmatic producer:
Is there any particular theme behind Maquinita de Vivir or is it just a continuation of the work you've doing?
Interesting question! Actually I see Maquinita de Vivir as a breaking point in my discography since it is the most instantaneous album that I have made. I began recording without having in mind to make a new album but once I realized that I was actually making it, it was a frenetic impulse that led me. It took me only 3 weeks to finish it from scratch (music and lyrics). My first album Cosas Que Suceden took me 2 and a half years!! The 2nd Cuchita Club 1 year and a half, Surubi Brothers (a collaboration with Pablo Sara) 6 months and Bosque Tal? just 3 months. So, now I'm fooling with the idea of recording the next album in one day, not to break a record but to find another way of capturing my songs. So no there's not a theme behind this album but an urge of expressing emotions, reflections in a musical way and these emotions are loneliness, resentment, unfairness, fear and acceptance.
What is your reason for releasing all your songs as videos as well as audio?
That ocurred without planning. I started almost 4 years ago doing just one video and since then I have been involved with video in a quite frenetic way. It seems that the Fred Lorca project has expanded to the visual arena. I've been involved with visuals for quite a while (drawings, photography, film) but it seems there was a valve that needed a space for itself. So I would say that the main reason is because all my creative process is guided by intuition and by letting my unconscious take charge of 99% of my work (yes, music included). I let the work do the work. And now it has a body itself of almost 40 videos I have done!! By using my drawings, photos, films and also by editing found videos on the net (sort of a ready made approach). I think that they all are a nice example that you can deliver nice, original videos with no budget at all, just a few ideas and a strong commitment with what your are doing.
"Es Tu Carino" is the only song off the album without a video. Is this going to be released soon?
Nowdays I'm working with Nico Casavecchia (who directed videoclips for 2 songs of mine "Animal Bueno" and "Pero Le Gusta", besides being the director of A Boy And His Atom: The World's Smallest Movie for IBM this year, to create the video for this song. So yes we expect to film it the next month and after that face a post-production stage so hopefully September will see the light for "Es Tu Cariño".
Formalities aside, here are the videos for eight tracks off Maquinita de Vivir. You can listen/buy the album from Bandcamp.

Follow Sounds and Colours: Facebook / Twitter / Instagram / Mixcloud / Soundcloud / Bandcamp

Subscribe to the Sounds and Colours Newsletter for regular updates, news and competitions bringing the best of Latin American culture direct to your Inbox.
Share: