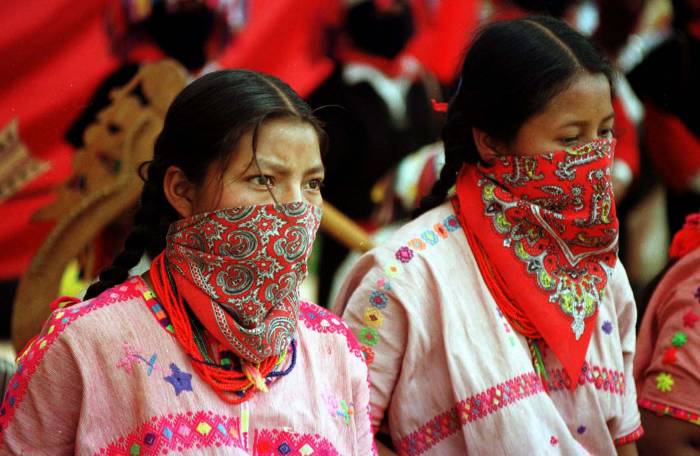 Free To Watch Online: 10 Documentaries Which Explore Contemporary Themes of Revolution in Latin America
19 May, 2014
The history of Latin America is entwined with the concept of revolution, following centuries of colonialism and the struggle for independence. Yet the modern era continues to witness popular movements and social struggle across the region, as communities follow in the footsteps of the revolutionary forefathers in resisting dominant forces. We have compiled a list of online documentaries, all available on Youtube although some without subtitles, which address various contemporary themes related to revolution and social change. This is not a definitive list but rather a broad look at various themes of modern relevance which we believe will be of interest. Feel free to add your own recommendations below.
No Volverán: The Venezuelan Revolution Now
The Chavez story is probably the most widely-covered aspect of modern socialism in Latin America and, even now he's gone, he remains a polarising figure. This documentary from 2006 looks at how Chavez's election eight years earlier changed Venezuelan society, as large sectors of the population gained access to health, education and other basic facilities which had been virtually unattainable under previous systems. The film's narrative unfolds on the streets and in factories, representing the voices of the silent majority who, thanks to chavismo, were finally granted the social recognition so long denied them. Bearing in mind the current political situation in Venezuela, it serves as a reminder of the immense void left by Chavez's death.
Los Ojos Cerrados de América Latina
Taking Eduardo Galeano's The Open Veins of Latin America as a reference point, this analytical documentary looks at the plunder of resources experienced by countries across the region. The film project was overseen by Miguel Mirra with collaborations from filmmakers from Mexico, Guatemala, Colombia, Peru, Paraguay and Argentina. The negative impact of multinational companies on society and environment is put under the spotlight, and featured topics include mining, soya cultivation, deforestation, economic factors, the depopulation of areas which firms seek to exploit, and governmental complicity. This has given rise to numerous movements committed to resisting the surge of globalisation. It's a hard-hitting and important film.
I realised things were getting out of hand when I got teargassed in my flat while having lunch. It was 2011 and I was living just off the Plaza Brasil in central Santiago, a few hundred metres north of the Alameda, where many of the massive demonstrations for free education would end in a barrage of flying rocks and water cannon. At the time, people in Chile were talking of revolution with a spark in their eye, a feeling that they were a part of history being made. It was a fascinating moment to be in the country, and I was deeply proud to be able to see at close hand the strength of the Chilean students' resistance to the inequality of the neo-liberal education system and to the authorities' wanton use of force.
At over three hours long, this offers an extensive assessment of the legacy of colonialism across Latin America some 200 years after independence. Although a continent-wide social struggle which involves all level of authority, from governments through to grassroots activists, is taking place, the dreams of the heroes of the liberation (Bolívar, San Martín, O'Higgins etc) have yet to be realised and Latin America remains in a position of subservience to external forces. Focusing on some of the principal social, political and cultural themes of post-colonialism, the film crosses the continent as it examines regional identity and asks what happens next.
Put a man on a horse and you give him gravitas. Stick him in a balaclava and he becomes mysterious. Give him a smoking pipe and an air of sophistication envelops him. Add these things together and then situate him at the forefront of a revolutionary uprising in southern Mexico, and you have perhaps the most romanticised Latin American folk hero since Che. Subcomandante Marcos is the central figure in this documentary from Canadian director Nettie Wild, who travelled to the Chiapas region in 1994, at the height of the Zapatista insurrection, to examine the ideologies behind the movement, an amalgamation of indigenous and peasant communities influenced by Mayan beliefs.
Abya Yala (Land of Vital Blood) is a term that originates from the indigenous Kuna people of Panama to refer to the entire American continent. Patrick Vanier's film applies this to the political movement in Bolivia which eventually led to Evo Morales becoming the first indigenous president in the country's history. The entrenched inequalities and discrimination existent in Bolivian society since the colonial era, and events such as the Cochabamba Water War, triggered the massive grassroots campaign that finally saw majority rule established in South America's poorest nation. Morales is still in power despite ongoing foreign interference over important symbols of indigenous culture such as the coca leaf. Incidentally, the Kuna Yala flag is quite interesting. I could swear it reminds me of something.
Oliver Stone. A mixed bag. I remember reading a Guardian interview in which he said that it's impossible to walk down a street in London without being afraid you'll get blown up. Having walked down London streets for a great many years of my life without any bombing concerns, I could only assume Stone to be a melodramatic fool. The overriding fear of walking down London streets is worrying how you'll ever be able to afford to live in one. Having said that, Stone's made some pretty decent films (Salvador, Platoon) and was once seen as one of Hollywood's loudest left-wing voices. But all that was a long time ago and Stone's decline has been evident in films like World Trade Center and the truly awful Savages, in which the Mexican characters couldn't be more offensively drawn if they spent the entire film asleep under a cactus. In 2009, Stone attempted to recover something of his original verve by travelling around Latin America interviewing political leaders such as Chavez, Correa, Raul et al. There are some interesting moments as Stone takes his best shot at becoming relevant again.
While the concept of revolution regularly evokes notions of liberty and unified struggle, there is another side to this idealistic coin. In 1983, the Sendero Luminoso revolutionary army killed 69 people from the Andean village of Lucanamarca in Peru. Twenty years on, a team of forensic anthropologists went to the region to try to locate the bodies and learn what provoked the massacre. This documentary follows the mission to discover the truth about Lucanamarca, while also highlighting the authorities' apparent indifference to the events.
Since the election of Rafael Correa in 2006, Ecuador's global media profile has risen, with foreign commentators offering a wide range of perspectives on the political process in the country. Correa's implementation of socialism has put him in direct conflict with powerful organisations in Ecuador and from abroad as he has cancelled national debt and prohibited US military presence in the country. Government policies, meanwhile, have reduced poverty and unemployment, helping Correa to be elected for a third time in 2013, in spite of an attempted coup three years earlier and the ongoing international propaganda campaign.
One of the first crowd-funded films in Spanish, La Educación Prohibida provides a widely-encompassing assessment of the education system in Latin America. The film looks at ten key themes, each one addressing a fundamental aspect of today's school system, while examining how education is driving social transformation and what this means for future generations. The filmmakers present alternatives to educational convention in order to ask to what extent children benefit from the current system.

Follow Sounds and Colours: Facebook / Twitter / Instagram / Mixcloud / Soundcloud / Bandcamp

Subscribe to the Sounds and Colours Newsletter for regular updates, news and competitions bringing the best of Latin American culture direct to your Inbox.
Share: