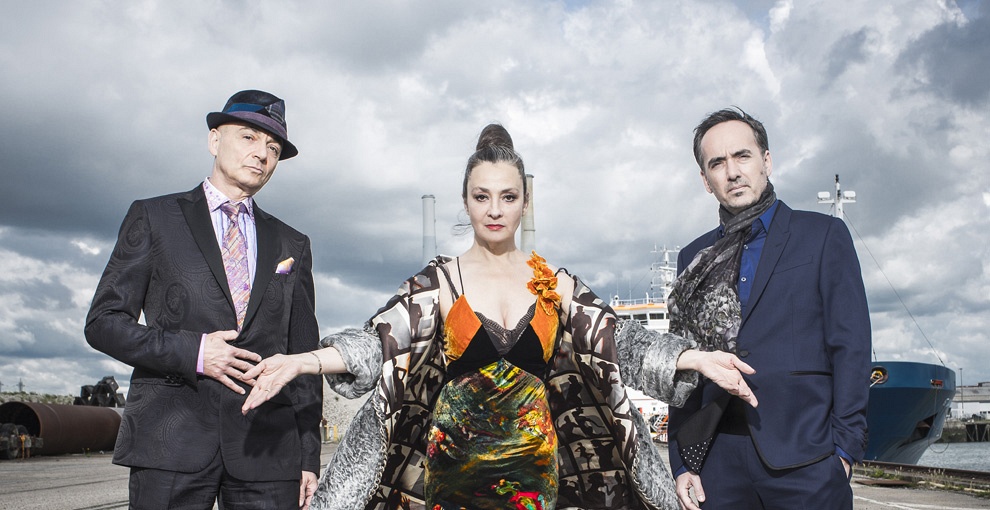 Gotan Project's Eduardo Makaroff and French Singer Catherine Ringer Discuss Their New Group Plaza Francia
16 April, 2015
Plaza Francia is the new project from Gotan Project's Eduardo Makaroff and Christoph Müller and French singer and actress Catherine Ringer, most famous for fronting one of France's most famous bands of the eighties and nineties, Les Rita Mitsouko. They will be performing at London's Koko on Thursday 23 April as part of La Linea Music Festival. S&C had the pleasure of interviewing Catherine and Eduardo, who were both exceedingly nice, to chat about Plaza Francia, tango music, and its importance to French and world culture.
Catherine Ringer
Could you tell us how you became involved in Plaza Francia?
I was composing some new songs for my personal career, and was invited to sing two songs on a new album with many other singers. It was great and they were very pleased with me, so they asked me if I wanted to do the whole album. Also, I think it's easier to just have one singer on tour! But, as I'm French, it's good to begin a project with someone who is known. So we did a lot of shows, and now happy to come to London.
How does it compare to your previous work as a solo singer and in Les Rita MItsouko?
Well, yes, because I sing in Spanish, and the songs are tango and use the bandoneon [accordion-like instrument].
Is singing in Spanish a big challenge?
I love singing in other languages. I love French as well, but I'm good at other languages. It gives another atmosphere, another place. And I love listening to the emotion in music, even when you don't understand the language. There's no obligation.
You've played tango before, haven't you?
Yes, because tango is in the French style. It's been a love since about 1920, so a lot of songs are based on that rhythm. It's not so far away, you know, very expressive, very euphoric, a lot of drama.
What's the difference with Plaza Francia?
It's different because it's pop. It's based on tango but there are pieces of rhythm & blues, or waltz. There are lots of things happening.
Do you have a favourite song on the album?
They're different, but I like all the songs very much.
You've previously worked with Argentinean styles, as well as other music. Is Argentina a special place for you?
I've never been to Argentina but I know of Argentinean people in France. There's a lot of freedom in the music, I think it's fresh for our ears. A lot of suspense in the music! And it's music to dance to. I love it for that.
What other Latin American music interests you?
I love Colombian and Peruvian music, the classic sound based on a three, 1-2-3, 1-2-3.
What other styles would you like to explore?
Since my career when I was 17, I've done a lot of different things. I love to experiment, with everything from classical European music, to reggae, to music from movies, to experimental modern music. Once I feel the beauty of the music I can jump in, and it's a great experience each time.
Eduardo Makaroff
Do you know Sounds and Colours?
They told me it's a good magazine. Let's take a look! [Eduardo goes online] Oh yes, very nice.
Where in Argentina are you from?
I was born in Buenos Aires. I came to Paris in 1990 to develop tango music, because tango history goes back and forth between Paris and Buenos Aires. Tango exploded in France at the beginning of the 20th century.
So tell us about tango.
It's a very multicultural music style. During the 19th century, many European immigrants – from Italy, Spain and France – settled in Argentina. Nearby was a Spanish colony where a third of the population was of African origin, descendents of slaves who had been transported there. This mix of African and European culture produced tango. 'Tango' is an African word. 'Milonga' is an African word.
What do these words originally mean?
As you might have seen in Argentina, 'milonga' means many things. It's a place to dance, or a rhythm or type of dance. It's also a thing, or it can be a woman. But I think that the African translation means 'words'. I'm not sure what 'tango' means, but all these concepts of 'milonga' are at the roots of tango. At the same time as jazz emerged on the banks of the Mississippi River, tango emerged on the backs of the Rio de la Plata. It evolved so strongly that it became a universal style of music, and was adopted and adapted by different countries around the world. As well as French tango, there is Finnish tango, for example.
Finland is perhaps not a country some people would associate with tango.
Maybe, but it's the national music, which is different to Argentinean music. French music uses many rhythms taken from tango. The African roots are the most distinctive aspect.
You're now doing the Plaza Francia project. Where does the name come from?
It's a square in Recoleta in Buenos Aires. When I was young, I was involved in the hippy scene and the rock scene. My brother and I used to smoke weed and sing and pick up girls at Plaza Francia. There's a monument to the French Revolution, and another to Argentine independence. Now we live in Paris, working with tango. So the name Plaza Francia made sense.
What was the appeal of working with Catherine Ringer?
We were looking for female singers, not for tango singers, but for pop or rock singers. Catherine is one of the best singers in the whole of Europe, she had the most important rock group in France [Les Rita Mitsouko]. I have to say it's a dream to work with her, because she's a great artist. It's like working with Aretha Franklin.
What are the differences between Plaza Francia and your previous work in Gotan Project?
Well, it's always about Argentinean tango. But the difference is that with Gotan Project we wanted to approach dance-floor music and DJ culture. The music was instrumental, and mixed tango and electronic. Plaza Francia is more a meeting between tango and pop/rock, so it's very important to have a good singer.
What does this signify for the two projects, Gotan and Plaza Francia? Will you focus more on one than the other from now on?
I'd say that at the moment Plaza Francia is very important, as we didn't know it would be so interesting. We've left Gotan Project 'asleep' for a while. We were working on Gotan for twelve years but we always had side projects. We also work on film soundtracks or documentaries. If you search for Muller & Makaroff and you'll find our stuff. We are very open and, while Plaza Francia is important, Catherine has her own career. So it depends on the plans of each person.
Which other South American music styles inspire you?
We're inspired by Argentinean folk music, people like Atahualpa Yupanqui. A lot of Latin American music – cumbia from Colombia, for example – is very close to our culture. We used to listen to salsa, we're Ruben Blades and Willy Colon fans, and now I like Calle 13. I saw Jorge Drexler and Concha Buika are going to be at the [La Linea] festival.
It seems like Latin American cultural figures have often been drawn to Paris. For example, Violeta Parra, Pablo Neruda and Julio Cortázar lived there for extended periods. Is there a specific appeal?
In my case it's because the history of tango is there. But it's true that filmmakers like Pino Solanas, writers like Cortázar, and others have come here. It's a place of political exile but it's also attractive, because Paris is a cultural centre to determine different types of art. And for tango, Paris is especially attractive.
For full information and to buy tickets for La Linea, featuring Ana Tijoux, Emicidia, Jorge Drexler, Concha Buika, Mexacoustico and more, visit the website here.  
[soundcloud url="https://api.soundcloud.com/tracks/196302217″ params="color=ff5500&auto_play=false&hide_related=false&show_comments=true&show_user=true&show_reposts=false" width="100%" height="166″ iframe="true" /]
[soundcloud url="https://api.soundcloud.com/tracks/196302228″ params="color=ff5500&auto_play=false&hide_related=false&show_comments=true&show_user=true&show_reposts=false" width="100%" height="166″ iframe="true" /]

Follow Sounds and Colours: Facebook / Twitter / Instagram / Mixcloud / Soundcloud / Bandcamp

Subscribe to the Sounds and Colours Newsletter for regular updates, news and competitions bringing the best of Latin American culture direct to your Inbox.
Share: