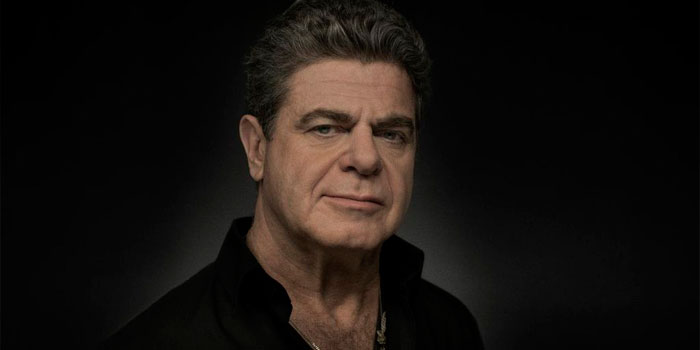 Picky Talarico
I've Always Been Obsessed By Identity: An Interview with Bajofondo's Gustavo Santaolalla
20 May, 2013
Although Gustavo Santaolalla may not be the most recongisable name you will come across on the Sounds and Colours website, his name is quite possibly the most ubiquitous if you were to closely examine the credits on your record collection (at least he is on ours).
It is after all Santaolalla who helped define rock en Español through his production work with Café Tacuba, Caifanes, Maldita Vecindad, Los Prisioneros and Divididos, while also working with crossover artists such as Juanes and Julieta Venegas, and folk artists from his native Argentina (León Gieco being the prime example). Add to that a recent stint as a soundtrack composer in Hollywood (Brokeback Mountain and The Motorcycle Diaries are both his) and you already have a pretty successful and far-reaching career.
However, it is with Bajofondo that Santaolalla has been able to combine his roles as performer and producer, with the Argentine collective achieving international recognition over the course of their first two albums. Now, back with a third album (Presente), I spoke to Santaolalla about the group's attempts to escape the electro-tango tag and how they came to make their most personal album yet.
So Gustavo, how did Presente come to life?
We worked on this album for 3 and a half years, but really it took us 10 years of playing together, of developing our own language, a language that we can now call our own, Bajofondo music.
When the project started 10 years ago it was more like a studio project. It was basically Juan Campodonico from Uruguay and myself from Argentina wanting to make modern music from Rio de la Plata and at that time, because of the way the music was made, we sampled a lot, programmed a lot of stuff and had colleagues coming in and playing some bandoneon, some strings, some piano and we never really thought of the project as more than an album.
By 2004 we added a drummer and that became another human interaction and then it became even more organic and I think that all of that process factored into Mar Dulce, which is our second album. We opened the gate to a lot of people, a lot of guests. We had Elvis Costello, Nelly Furtado, Gustavo Cerati, Mala Rodriguez, Lágrima Ríos, a whole bunch of people. The band was already configured at this point, it was the same people as on Presente, and these elements, of becoming more organic, became more visceral.
And so how did that progress to the sound on the new album?
Really we had some premises before making this album and one was that we really didn't want to use any more guests, we wanted to take all the responsibilities. We did, for example, all the singing, which we've never done before. Obviously I've sang for many years, that's how I started, but I'd never sang on a Bajofondo record before and some of the other guys had never really sang before professionally. We just went for it. Now, we feel like a band.
Also, we wanted the album to be a concept album, different from the previous albums. They were composed and recorded more as a collection of tracks, but really there wasn't anything cohesive about them more than some elements of the style. It was a recording project, not really a live project but the albums got such a great reception in Argentina, Uruguay and in other parts of the world that we kind of felt we needed to go out and play it and then we put together an assemble of people to play, which is the same people we've been playing with for 10 years. When we did that and started playing the music live, the music began to change. Lots of the stuff that was programmed was now being played live. This one, we wanted it to be more like a movie. Even if it didn't have a storyline it felt like a concept inspired by great albums like Pet Sounds and Sgt Peppers.
Last but not least, we wanted to finish with the labels, we were really sick of the label of electrotango or tango electronico and we really felt that not only was it a narrow description for what we do, but also it's not really true. If you want us to explain all the music that's converged in Bajofondo you need two pages. It's rock, candombe, murga, it's soul, classical music, jazz, hip-hop, so many genres, so hopefully by now Bajofondo plays Bajofondo music, because it sounds like our music.
I remember seeing the band live in 2009 and thinking that it sounded nothing like the albums. With this new album do you think you've managed to capture more of that live sound?
One of the things that we hadn't captured was that energy, that power when we play live. We want to project it even more on the next one but we're getting to a sonic place in which the energy we have when we play live is what we have on the album. To be honest when you see the band live it's more close to a rock band than anything else, but when you listen there's a lot of other elements. Obviously we do want to project an aesthetic that reflects who we are and where we come from. It is a Rio Platense project so it has a lot of the genetic make-up of that part of the world, there's all these elements but they're fused with rock and hip-hop and classical music and all these things that are seen through Rio Platense eyes so even when we worked with these genres they have a different quality.
On the short "making of" video you made for the album you talk about experimenting a lot more. In which ways do you think you experimented on the album?
Experimenting is part of our premise as a band. We always wanted to experiment and push ourselves and try new things. Now we feel very strong about the language that we have so we can tap into almost anything and still be Bajofondo which shows for us that we've found some form of idiom that we can use.
"Oigo Voces", certainly, for me, feels like an area where you decided to try something new …
"Oigo Voces" is something that I've always wanted to do. It's a dream for me. I'd always wanted to do an a capella song, and I do all the voices in that particular track. It's my tribute to Brian Wilson and to The Beatles. It's also my tribute to a wonderful group that existed in Argentina in the 60s and 70s that was called Buenos Aires Ocho and they were an a capella group, four girls and four guys, that sang especially tango. They did a folkloric album but their speciality was tango. They even had a whole Ástor Piazzolla album.
Why do you think Bajofondo seems to speak to people from all over the world?
There is a connection that has to do with the element of tango. Tango is a music that has really transcended frontiers. There are milongas everywhere in the world. The second city with the most milongas after Buenos Aires is Berlin for example.
I think there's an element that's inherent in the music that we make that has elements of melancholy, that has elements that are very sexy, that people connect with. It's very passionate and people connect with that worldwide. We've played in Shanghai three times, we've played in Korea three times in different cities and people love our stuff there. The Russian female Olympics team chose Bajofondo for their Olympic Games routine. Russia, you know?!
One of the things you will have seen on previous covers is that we always used the iconography of the fishnets and the female form and for this album we especially wanted to have an African-American woman. We asked to have that skin and it's not a coincidence, the word tango, the word milonga, the word candombe, they are all African words. There is an origin, for example, in the 3-3-2, which is one of the tango rhythms, that comes from Africa. Lots of people don't know this but it's true.
With Bajofondo and some of your other recent projects was there a need to re-connect with your Argentine roots after spending time in Los Angeles and Mexico?
I never left [my Argentine roots]. When I started with my band in Argentina when I was 16 I was the first one that mixed Argentinian and South American rhythms and music. I was not very well received by the rock intelligentsia in Argentina at the time but they put me right in the end. I've always been obsessed by identity to project what you do, where you come from and all these bands – Café Tacuba for example – they've all done that. Even Juanes, with the records he did with me, had a lot of elements of Colombian folk music. So I think with Bajofondo I am connecting with tango, which is part of my identity. With Bajofondo it is my connection with that part of who I am, which started 10 years ago, and slowly I have started producing not so many records – I still produce albums but less – and just devote myself more to Bajofondo and my other projects.
I saw that you've already started touring the album. What have you got lined up?
We're ready to go now and play all around the world. We did a wonderful tour again in the States and we are playing now in Argentina and Uruguay. We're going to do a big tour in Latin America and hopefully bring it to Europe soon.
See bajofondomusic.com for the band's latest tour dates.
Presente is available from Amazon and iTunes
Watch the video to "Pide Piso" below:


Follow Sounds and Colours: Facebook / Twitter / Instagram / Mixcloud / Soundcloud / Bandcamp

Subscribe to the Sounds and Colours Newsletter for regular updates, news and competitions bringing the best of Latin American culture direct to your Inbox.
Share: