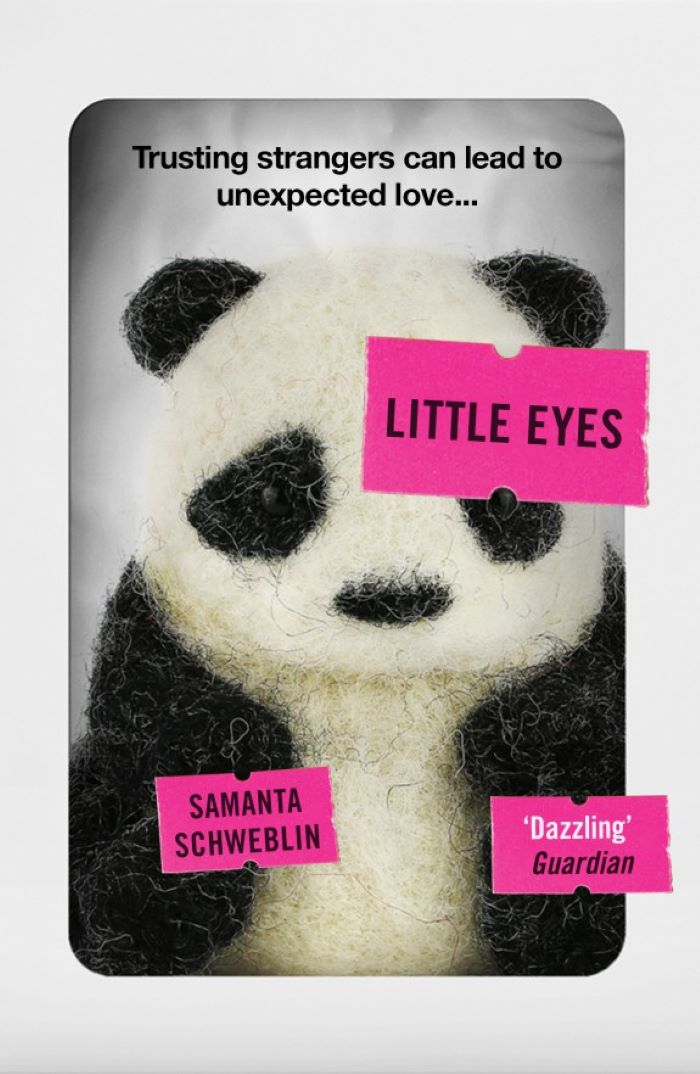 'Little Eyes' by Samanta Schweblin: Would You Take the Chance to be a Voyeur in Someone Else's Life?
22 March, 2021
Think about what you do when you're alone at home. Would you act differently if you knew you were being watched? Would you take the chance to be a voyeur in someone else's life?
Samanta Schweblin's latest novel Little Eyes (translated by Megan McDowell), which was longlisted for the 2020 Man Booker International Prize, reflects on these questions and what their effects would be. Taking things a step further from the current reality, where many of us own a smart device that encroaches on our privacy to some extent, Schweblin imagines the consequences of purposely inviting a stranger into your life through technology.
Little Eyes follows users of the latest must-have gadgets, kentukis. These cute, robotic 'pets' can move independently and require regular charging. Housed within each kentuki is a connection to a user somewhere in the world, who controls its movement and can see and hear everything that goes on around it. Each connection only has one life, so if the kentuki is not charged, or somehow gets destroyed, it's effectively dead. You can choose your kentuki; that is to say, you can decide whether it takes the shape of a bunny, or a dragon, or a crow. What you cannot choose is who the 'dweller' is. And although a user can choose to be a dweller, they have no control over where they end up, or who becomes their 'keeper'. Kentukis cannot talk, so the dweller has, in theory, no way to communicate with its keeper.
The novel is divided into several longer narratives and a few short vignettes told from the points of view of kentuki users all over the world. We see how users manage to communicate through various means, from the ingenious (a Ouija board, Morse code) to the mundane (phone and email). We also see how they use kentukis to manipulate, cheat and humiliate.
To be a keeper is to allow an unknown stranger into your home. For Alina, it's a distraction to the life she leads in the shadow of her artist boyfriend; she spends much of her time alone as he works with fellow artists in a retreat in Oaxaca. Enzo, in Umbertide, Italy, grows fond of the kentuki his ex-wife and her psychologist insisted he buy for his son to help him work through his parents' divorce, and he tries to communicate with it. Both of their stories end with alarming consequences.
The appeal of being a dweller is far more obvious. It allows Marvin, a young boy in Antigua, Guatemala, to see snow and win street cred with his peers through his adventures as a dragon kentuki in Norway. Emilia, an elderly woman in Lima, Peru, enjoys the company as she spends time as a kentuki with Eva in Germany. For both, it morphs into an obsession that has profound effects on their real lives.
The desire to be a dweller proves lucrative for Grigor, who spots a gap in the market for users who are willing to pay handsomely for a connection to a kentuki in a specific situation and location. He starts cultivating connections to sell on, a grey area in an as-yet unregulated market. While the ethics of doing so are questionable, he and his associate manage to save a young girl from a harrowing situation on the other side of the world… Until they realise they haven't saved her at all.
Schweblin does not shy away from going to the darkest places of humanity, but she does so subtly and with humour. Although Little Eyes moves at a quick pace through multiple narratives, the stories and characters are compelling and even relatable. Reading this at what is (hopefully) the final stretch of a pandemic makes this particularly poignant, raising questions about our relationships with technology, with each other and with ourselves. It's a must-read for anyone who's a fan of Schweblin's other work, or who appreciates fiction with a touch of the sinister.
Little Eyes, translated by Megan McDowell, was published by Oneworld. It is available to purchase via Sounds and Colours' page on bookshop.org.

Follow Sounds and Colours: Facebook / Twitter / Instagram / Mixcloud / Soundcloud / Bandcamp

Subscribe to the Sounds and Colours Newsletter for regular updates, news and competitions bringing the best of Latin American culture direct to your Inbox.
Share: