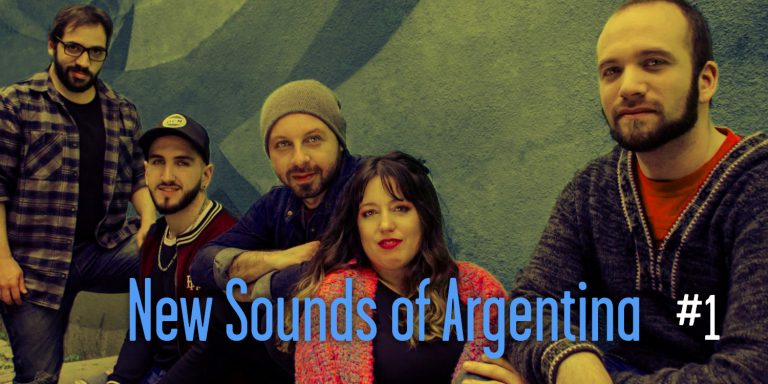 New Sounds of Argentina #1
19 October, 2020
The spring has arrived in the Southern Hemisphere. Fresh and warm air gives us a breath after long months of isolation in Argentina because of the COVID-19 pandemic. I know this year has been tough, but I wonder what would happen without music unwinding us from all of the world's issues. The following 10-song playlist with new music from Argentina shows this feeling of being reborn, just like spring vegetation after the cold days of the winter.
There is music by So Abra, Flor Lovaglio, Esmeralda Escalante, Rudy (Ft. Mariana Paraway), Temporal, Melanie Williams, Guineana (Ft. Lola Membrillo), Les Wonderes, José Ajaka and Niniomafia (Ft. Mariano Tiki Cantero). Below you will find a review of five featured songs from our selection.
Playlist curated by Laura La Valle
Song reviews by Laura Catanzariti
Esmeralda Escalante – Bruma
This is the first release from Esmeralda Escalante as a solo singer. She is a musician and composer from Buenos Aires who, since 2012, has been singing in the group Ainda.
"Bruma" is taken from the four-track Santa Basura EP, which was released in September. It has synthetic and minimalist drums, with an acoustic guitar that accompanies the protagonist of this song: Esmeralda's voice and choirs. The lyrics are the reflection of a hazy and confused appearance of a person's image.
Rudy Ft. Mariana Paraway – Canción inútil
Rudy is the project of Pamela Rudy, a songwriter from Córdoba. She met Mariana Paraway from Mendoza last year at a music festival and they recently came together to create this song.
This single mixes folk and country and tells us about a heartbreak story that could happen at any time and change our status quo. After that, all we can do is move forward and accept the change.
Temporal – La realidad material inerte
Temporal have been my soundtrack to 2020. They formed in 2012 in the western region of Buenos Aires. With rock and pop influences, their music invites us to connect with our emotions and follows its own conceptual and philosophical construction.
"La realidad material inerte", is part of an EP recorded live for the Quédate Indajaus festivals, the first festival in which the band participated after the outbreak of the pandemic.
The song features guitar, piano, drums and vocals, starting off with an uplifting happy melody. Then, with a sudden change, the track invites us (with tones that remind me of psychedelic sounds) to contemplate how magnificent, timeless, dark and bright our existence can be.
Guineana Feat. Lola Membrillo – Nombrarnos
"Nombrarnos" is the last release from Guineana, the project of Ana Vidal, a music composer and singer from Buenos Aires, with Lola Membrillo accompanying on backing vocals. This is an updated version of the song, which was featured on her last album Simio.
Listening to this single is like diving into a peaceful and hopeful ocean. It has a simple but very powerful melody where the guitar, cello, violin, piano and backing vocals create a deep universe with their sounds. The lyrics are a call in order to highlight this new way of living with hope and peace.
Les Wonderers – Canción de invierno
There is no spring without going through winter. This is what Les Wonderers, a group made up of Ignacia Etcheverry, Maxi Guiñazú, Paula Neder, Dorian Maronich and Juan Farré, a group of renowned singer-songwriters on the new music scene, reflect on their first single.
This song is the result of five days of artistic and life experience. The songwriters decided to isolate in El Nihuil, a remote village in southern Mendoza, surrounded by mountains and a lake. They lived together in the winter of 2019 for five days and devoted their time to composing and recording. The song is created, literally, on the edge of the abyss and tries to soak up the senses of this environment and this unique experience.
Las Lauras Producciones is a team conformed by Laura La Valle (musician) and Laura Catanzariti (degree in communications), both from the suburbs of Buenos Aires, Argentina. Since 2015 they have produced concerts and festivals, such as the Sonora International Composer Festival in 2018; they have managed artists from Buenos Aires since 2018.

Follow Sounds and Colours: Facebook / Twitter / Instagram / Mixcloud / Soundcloud / Bandcamp

Subscribe to the Sounds and Colours Newsletter for regular updates, news and competitions bringing the best of Latin American culture direct to your Inbox.
Share: