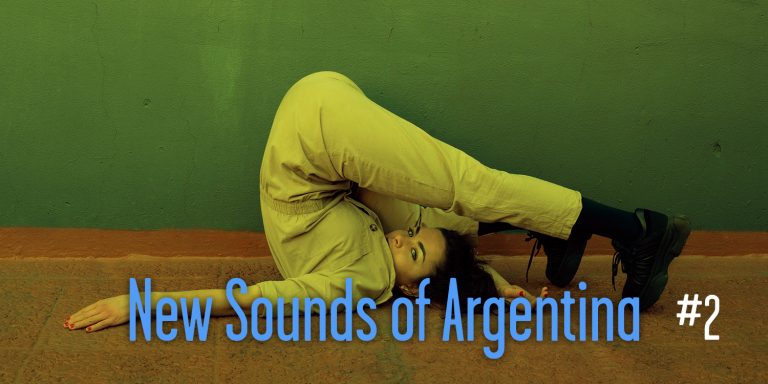 New Sounds of Argentina #2
10 November, 2020
November is a month when I usually feel exhausted and all I want is to get it over with, finish my duties and stop receiving so much information. For me, this period of the year is the moment in which we must deal with the decisions we have made in 2020. It is also time to let go of the stagnant energy, transform ourselves into new people and heal all the things that we carry on our shoulders during this period. In only a month from now, we will be thinking about the balance of the year and our objectives for the next one. Fortunately, taking into account this well known worldwide situation, a cycle is about to end and a new one is about to begin. Hopefully, different and better experiences will be on the way. So, this is the time for us to stop, reflect and think about what we can do with the intention of a new beginning for us. Could music evoke this feeling? Perhaps. 
The following ten song playlist from Argentina tries to musicalise such a special period. We can find music by Agustina Paz, Candelaria Zamar, Mariana Michi, Esteban Martinez, Irene Ruth, Natalia Lagos, Todo Aparenta Normal, Vargas, Falso Nueve, Santi Bravo Ft. Tomás Amante, Delfina Oyuela, and Juan Ignacio Pardo.
Below, you will find reviews of five of the featured songs of our selection.
Playlist curated by Laura La Valle
Song reviews by Laura Catanzariti
Agustina Paz – Alta Cumbre
Agustina Paz is an Argentinian pianist and songwriter, here performing "Alta Cumbre", the final song on her latest album, La Fuerza. With a melodic piano and cello adding an intensity to the song, this is a track that responds to my introduction, expressing the change of cycles at this time of the year. 
The lyrics speak of how to get rid of the masks we wear in order to fit into society. If we manage to do so, we can be on the "piso de alta cumbre", which means being able to see life a better viewpoint. According to Paz, "Alta Cumbre" represents the highest summit of water which begins to flow, and this reminds us of the importance of being humble, letting ourselves go and accepting who we are. Of course, it is not an easy task to carry out. For me, this sense of being part of the high summit is represented in one of the powerful verses of the lyrics: "encumbrarse no es envanecerse es saber domar las sombras", which means that praising yourself is not about becoming vain, it is about controlling our shadows, in the same way as we can tame an animal.
Mariana Michi – Ruidos Programados
"Ruidos Programados" was released as part of a live streamed concert called La Paz Obligada (Mandatory Peace) which was recorded in Niceto Club, a well-known venue in Buenos Aires. This live concert did not have the traditional form of the multitudinous live streams that took place during the pandemic, where there were musicians playing in front of the camera. Instead, it used the language of other audiovisual genres to produce a bold cinematographic vision.
The whirlwind life many of us were exposed to during the pandemic (overwork and the overuse of electronic devices) made us realise how important it is to slow down. In this sense, this single points out the need to afford the time to create an empty space. With electronic sounds, the lyrics talk about putting a series of "programmed noises" together in order to be able to take care of our silence and contemplate the times of nature.
Irene Ruth – La Demora
With a mix of pop, contemporary music and jazz, "La Demora", by singer and pianist Irene Ruth, expresses the metaphorical idea of ​​the shadow as one of the many ways of slowing down and delaying. A delay that is, after all, transformative, and perhaps necessary. Taken from her debut album Fuga de Capitales, Ruth performs with a sextet of saxophone, trumpet, trombone, drums and bass.
Natalia Lagos – Ambar
Natalia Lagos is a tango singer, composer, and a member of Fernandez Fierro, a well-known tango orchestra in Buenos Aires. With the phrasing and vocal expression typical of tango, the timbre of her voice shows a renewed take on classical tango on "Ambar". Lagos has captured the expressiveness of rioplatense tango, but given it a modern perspective. "Ambar" can be found on Lagos' album Tangos de hoy en piano y voz.
Falso Nueve – Voy Acostumbrado
With booming guitars, drums and voices, "Voy Acostumbrado" reflects the feeling of being used to one's daily routine, the repetitions that have become such a prominent part of our society. Yet, while it expresses the idea that routines are good on the one hand, on the other, it proposes breaking them. The accompany video, recorded entirely at home and using a stop motion technique, tries to convey this meaning. Despite always doing the same, if we do things with passion and enthusiasm, the inanimate of everyday can become animate and surprise us. Again, the cycle of life could change. 
Falso Nueve have been making music together since 2018, regularly expressing daily life in Buenos Aires' suburbs: football, friendship and family.
Las Lauras Producciones is a team conformed by Laura La Valle (musician) and Laura Catanzariti (degree in communications), both from the suburbs of Buenos Aires, Argentina. Since 2015 they have produced concerts and festivals, such as the Sonora International Composer Festival in 2018; they have managed artists from Buenos Aires since 2018.

Follow Sounds and Colours: Facebook / Twitter / Instagram / Mixcloud / Soundcloud / Bandcamp

Subscribe to the Sounds and Colours Newsletter for regular updates, news and competitions bringing the best of Latin American culture direct to your Inbox.
Share: