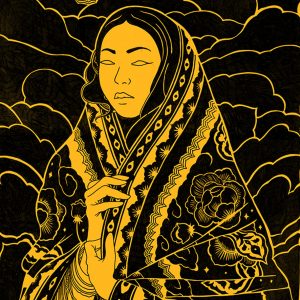 Guillermo M. Cerredo and Juan Jose Calarco, two Argentinian producers from Buenos Aires, are definitely not your typical cumbia duo and the interesting story starts as soon as you look at the very name of the project: Panchasila. It comes from the word pancasila which surprisingly enough is a fundamental ideology of the Indonesian state. Such choice of a name may seem random at first glance but this is not the case as it's rhythms from Southern Asia that Cerredo and Calarco mix with cumbia and other South American sounds to create their exceptional music.
Back in 2012, at the time the project was born,  the producers began working with short samples from both Southern Asian and very old Latin American records. It turned out then that although these two worlds could be considered too distant to coexist within the same track, there are actually ways to create strong links between them that would make it possible. The similarities may be found not only in the sounds themselves (in the form of similar folk beats and musical scales) but also on the visual side with commonality in the symbols and imagery.
The unique ideas of Cerredo and Calarco were first executed on their debut EP Pallqa, self-released in 2014. Now they are back with a beautiful self-titled cassette that is documents several years of further exploration of the connection between Latin America and Asia, the latter this time specifically represented by Bollywood, Thai movies and Indonesian music. The already characteristic heavy influence of dub in Panchasila's music is still present which once again results in a deep and sultry atmosphere throughout the release.
The Panchasila cassette kicks off with a perfect representation of how far Cerredo and Calarco have been able to penetrate the DNAs of both Asian and South American sounds to find a common origin. Although "Canción de la Emperatriz" is a direct tribute to jaipong, a style of Indonesian music that is a biggest obsession of the duo, at the same time it may as well be a lost recording paying homage to the power of the selva (jungle). And maybe it is. Which is exactly what fascinates in Panchasila's music as their blend of elements that otherwise seem impossible to be joined are so organic that it is hard to differentiate between them in the final product.
Cumbia and dub flavours are more apparent on other tracks like "Patpong" and "Sembiyan". Although the beat and melodies may be hushed, slowed down and sometimes completely disappear beneath the smoky interludes there is no doubt that this record is in fact South American. The highlight of the album comes in the form of "Runapayka", the only track on the release where the voice does not come from samples. In this case the lyrics have been sung live by Carolina Rovira who uses Quechua language, adding another dimension to the song.
Taking into account its story, its cultural and educational aspects as well as its flawless execution, Panchasila can be seen as a complete release, providing a captivating listen for conscious music lovers. It's yet another record that proves how complex and ambitious the electronic music scene in South America can be if you look beyond the obvious.
Panchasila is out now on Sucata Tapes, the sublabel of Discrepant.

Follow Sounds and Colours: Facebook / Twitter / Instagram / Mixcloud / Soundcloud / Bandcamp

Subscribe to the Sounds and Colours Newsletter for regular updates, news and competitions bringing the best of Latin American culture direct to your Inbox.
Share: