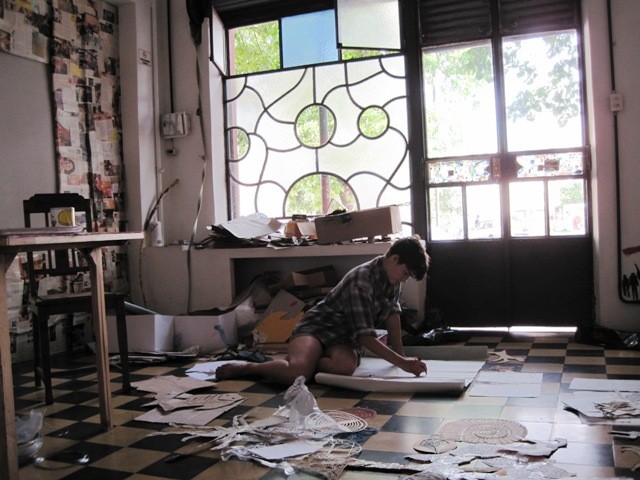 Residencia Corazon: A Project Made By Artists For Artists
27 November, 2014
Located in vibrant La Plata, the capital of the state of Buenos Aires in Argentina, Residencia Corazon is a multicultural arts project which, for the past eight years, has welcomed artists from every discipline of the art world, to participate in an experience that will enhance their lives and their artistic work.
Home is where one feels comfortable enough to… draw on a wall! Walking through Residencia Corazon one walks past rooms that combine everyday life with the practice of making art – there are clothes strewn across the floor mixed with tubes of paint, works of art hidden behind plants in the garden, while the smell of the food from Mom's kitchen wafts through the house. The walls are painted with strong colours and are filled with the works of past residents. In essence, Residencia Corazon feels cosy and warm, like your favourite friend's house.
The project revolves around the idea of receiving artists from different parts of the world. They spend time living in the residence where they develop and present their ideas in the form of an exhibition, with the aim of creating an enriching cultural and artistic exchange. The residency was initiated in 2006 by Rodrigo Mirto, a visual artist, and Juan Pablo Ferrer, an arts and media worker, who were both in their mid-30s at the time. Mirto and Ferrer describe their decision to start the residency program as "the desire to do something different related to art. We wanted to bring the world to the city. We felt that the city and the cultural circuit [of La Plata] had stagnated."
Any big project requires a big effort, whether professional or personal, and both directors feel like each experience with a new artist is like a whole new beginning as each resident arrives with his or her own set of expectations, fears and ideas. As Mirto says: "The fact that it permanently changes is very mobilizing in all aspects." They accompany each resident from the time of their arrival and through his or her entire period of stay, including pre-production of the show and the presentation to the public. This results in a huge involvement. "You involve yourself emotionally with each artist beyond the professional. These are people who have broken up their everyday lives, and we need to make them feel good in every aspect and also to fulfil their expectations about our support of their artistic work. It can be really intense," adds Juan Pablo.
The artists generally arrive with the plan to stay for two months, and after this period most of them return to their homes, off on a trip around South America, or simply they decide to stay a little while longer! As Rachel Fuller, a writer from Australia, comments, "My experience at Residencia Corazon has been incredible. I originally came to the residency for two months in April and May of 2014. I then returned to Argentina in August and have now been back for a further four months – I love it that much!" At the moment Rachel shares the house with two other artists from Canada and Korea. She has almost become a family member as last month she assisted Mirto and Ferrer in moving the residency to a new location. She adds, "For me, it has always been easy to make friends in La Plata. Every day I meet new people and the people of La Plata are open and genuinely interested in forming new relationships and friendships."
La Plata is a city with a great cultural scene. It hosts the National University of Fine Arts and also has an endless number of independent bands and musicians with some national and international recognition. As Rachel says, "I am constantly surprised by how often creative people in La Plata say that they really have no interest in being in the bigger 'creative capital' of Buenos Aires. Cultural life is very rich in La Plata." In the middle of all this artistic movement, Corazon tries to provide residents with a way to contribute and absorb some of what they experience in the city. In fact, many resident artists develop works which are highly influenced by the cultural characteristics of the city. "Often the city and the country is reflected in the artist's work. They live and absorb the culture of here," says Juan Pablo.
A project designed by artists for artists, in a country where the socio-economic context is always complicated, has not made running Residencia Corazon easy. There is a lack of financial government support for cultural initiatives in any sphere. As a result, the two founders of Corazon seek to provide a residency experience within a self-sustaining framework. At any one time there are two or three artists from around the world working at Residencia Corazon which seems to be a testament to the model they offer for both the local La Plata community and the artists who continue to arrive year after year. 
It seems impossible to imagine bringing the world into a home but looking across the trajectory of Corazon over the past eight years it appears that Mirto and Ferrer have managed to mix a pinch of the Argentinian air with the cultural roots of each resident, resulting in exhibitions that capture the energy of this unique exchange. It is at once emotional and artistic and that has always have been the intention of Corazon. It is easy to imagine how big and full of life the world is in this house.
Find out more about Residencia Corazon at residenciacorazon.com.ar

Follow Sounds and Colours: Facebook / Twitter / Instagram / Mixcloud / Soundcloud / Bandcamp

Subscribe to the Sounds and Colours Newsletter for regular updates, news and competitions bringing the best of Latin American culture direct to your Inbox.
Share: