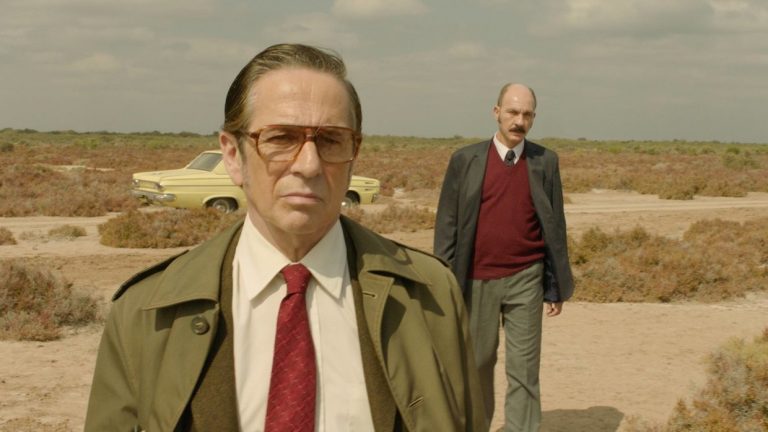 Rojo
09 September, 2019
The horrors of Argentina's Dirty War have long been a fertile source for film-makers looking to translate its inherent dread and paranoia to screen. Benjamín Naishtat visits this period of unease in his latest release, Rojo, where tension bristles and bubbles in the months leading up to the military coup of 1976.
In this ochre-hued noir the corruption and roughshod-ing of civil liberties that accompany the changing political tide spread through society like a contagion, at first imperceptibly, but eventually eroding social values from the top down. This is told through interconnecting vignettes in which neighbours are forced to flee the country, houses are fraudulently flipped and disagreements are resolved with disappearances in a way that mirrors the routine military abductions of the time. It is almost as if such apathy and brutality have been legitimized by a barbaric higher power, and all that was needed for the people to surrender to their duskier impulses was a little push.
For much of Rojo we follow small-town lawyer Claudio (Dario Grandinetti). Enjoying a charmed and comfortable life, and largely inoculated from the increasing political violence, his tranquil existence is derailed one evening when an altercation with a stranger in a provincial cantina reaches a bloody finale.
In the months that follow, Claudio continues unburdened by guilt and shrugs off the moral quandaries in his life. This spiral is disrupted by the arrival of Sinclair, a Chilean TV detective, in a scene-stealing turn by Alfredo Castro, who is tasked with finding the missing stranger from the cantina. A game of cat and mouse ensues which reaches a sun-bleached showdown in the desert that drips with a biblical panache.
Naishtat masterfully walks the tightrope of portraying the influence of a shadowy force without being overtly political. Instead this is a story of the accountability of the individual, and the ease of internally reconciling moral dilemmas. Nor does the film buckle under the bleakness of the narrative, preferring to punctuate the dourness with droll and deadpan moments of genuine humour.
The film ends with the military coup imminent and a plea at a local school's theatrical production that the audience not lose sight of its identity, and that of their country, in the face of what would be Argentina's darkest hour. Given the current shifting cultural and political climate across Europe and the United States, this scene will likely resonate with Western audiences. A timely reminder that the wrestling of power is often slow burn, in which it can be all too easy to remain complicit and compliant.

Follow Sounds and Colours: Facebook / Twitter / Instagram / Mixcloud / Soundcloud / Bandcamp

Subscribe to the Sounds and Colours Newsletter for regular updates, news and competitions bringing the best of Latin American culture direct to your Inbox.
Share: