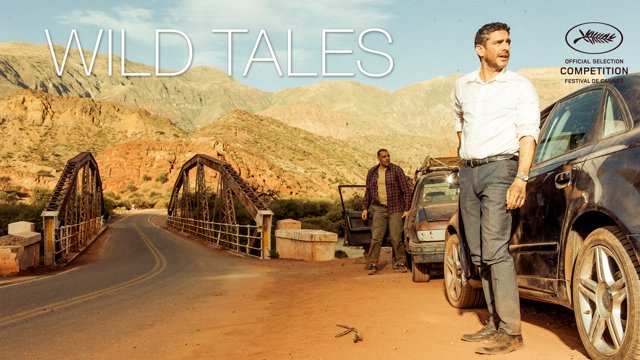 S&C at the London Argentine Film Festival: the films to look out for this year
14 November, 2014
I cry for you, Argentina, like a baby marmoset whose mother has been poached by the hunters. I recently spent an extended period in Buenos Aires, covering, amongst other things, various aspects of the city's music and film scene for Sounds and Colours. Argentina is pretty right on with its cinema, in the sense that the government subsidises film to make it very cheap and accessible for the public. Places like the Gaumont in Plaza Congreso cost $8 Argentine pesos (50p), while the Cine Arte in Constitución is even less (40p entry, and popcorn only 60p, although you may get mugged on your way out). What with the law obliging national radio to ensure a certain percentage of its output covers Argentine musicians, you can see the proactive steps taken to promote the national cultural scene. While many countries in the region are proudly patriotic, Argentina resolutely forwards its own creative identity. Good for them.
To state the obvious, cheap cinemas are great, with the logical conclusion being that you end up seeing a lot of films. Amid the tumult of a nation that seems to swing from high to low with greater velocity than most others (in my few months there Argentina faced an economic crisis, then reached the World Cup Final, then the president of the Grandmothers of Plaza de Mayo was reunited with her stolen grandson, then Gustavo Cerati died, and so on), film plays an important role in providing a couple of hours of escape, before heading back out into the whirlpool of reality. As I found at April's Buenos Aires International Film Festival (BAFICI), national filmmakers are producing some pretty interesting work. Back then, I caught Natural Sciences, Mauro and The Third Side of the Shore, all of which will be screening in London at this month's Argentine Film Festival. I later caught Wild Tales and if that isn't Latin America's cinematic event of the year, then there's a serious lack of violent humour around.
In Britain, for every Dead Man's Shoes there's a Sex Lives of the Potato Men, and Argentine film is no different. But spending a mere 50p on the admission allows you to find forgiveness in your heart. That doesn't mean you can't take the piss. Tiro de Gracia (Coup de Grace, subsequently renamed, by me, as Catastrophe in the Chemist), which resembles an amateur dramatics Dog Day Afternoon, was met with hoots of derision from my fellow filmgoers. But the best worst Argentine film was El Ardor, which somehow managed to rope in two of Latin America's biggest film stars, Gael García Bernal and Alice Braga. A western set in the humid forests of the Paraná Delta, it follows a peasant woman and a mysterious nameless forest dweller as they seek to avenge the murder of the woman's father by evil land-grabbers. The topless and tattooed García Bernal gimps around the jungle with all the menace of Mowgli on his way to a full moon party, while Braga purses her lips and frowns throughout, like she's playing Kiera Knightley faced with a particularly tricky crossword clue. García seemingly turns into a jaguar at one point. It's that kind of film.
Sadly for fans of crap cinema, and fortunately for everyone else, El Ardor will not be appearing at the Argentine Film Festival, which runs from 27-30 November at the Hackney Picturehouse and the Ritzy in Brixton. The festival, now in its third year since being founded by S&C collaborator Sofia Serbin de Skalon, will be screening several of the past year's best-received films, as well as a series of shorts and 90s classic Wild Tango (Tango Feroz). If, like me, you initially assume this last film to be about tango, you'd be wrong, for it is actually the tragic life story of musician José Alberto Iglesias, or Tanguito, a forerunner of Rock Nacional and dead at the age of 26.
So, let's look at what the festival holds in store. Well, there's Wild Tales, which I mentioned here, which S&C reviewed here, and which Sofia covered at Cannes earlier this year. There's also Natural Sciences, which I reviewed here, with its excellent central performance from 11-year old Paula Hertzog. I enjoy happy and enthusiastic children in films like I enjoy getting my hand stuck between the doors on the tube, but solemn, introspective ones are a different matter. Another troubled youngster is at the centre of The Third Side of the Shore. Talented lead Alian Devetac never wipes the grimace off his face, whether chatting to girls, getting in a scrap at school, or being taken to a brothel by his old man. Mauro, meanwhile, is a murky slice of Buenos Aires underbelly, that sort of social noir that serious film people make and watch. It is a petty crook-meets-girl tale, stylised in the natural grime of a late night Channel 4 documentary.
Those are the films I've already seen. Others on show include Death in Buenos Aires, featuring Ricardo Darín's son Chino is an 80s-set detective story set round a high-profile murder case. The film was heavily promoted while I was in the city, but due to a hectic schedule, and the publicity campaign's offputting taste for neon-purple shading, I forsook the opportunity to watch it.
Documentaries are also represented, with three films of contrasting subject matter and tone. First up, Living Stars is a celebration of music and dancing, as the people of Buenos Aires opened their homes to the directors in order to dance for the cameras. Definitely one to see prior to a night out. Street Years follows the lives of four homeless children over a twelve-year period, as they mature and seek to assimilate into mainstream society. From what one can imagine, it is probably not a simple task. The third documentary, Cerro Torre, covers human endurance and big cojones, as it looks at renowned climber David Lama's attempts to scale one of the world's toughest mountain faces. Just looking at the images makes me reach for the martini. Intriguing-sounding films all three.
If you've seen The Secret in their Eyes, you will surely remember the remarkable continuous scene which began with a bird's eye view of a football stadium and ended several minutes later with the detention of a prime suspect (here it is again). Well, now the director of that film, Juan José Campanella, turns his attention to an animated tribute to Argentina's relationship with the beautiful game. Metegol was a huge success when released in its home country, as it charts the rise of a young footballing superstar who must return to his village in order to save the day. This one looks a lot of fun, even if I'm someone who can usually spend about as much time watching animated films as listening to someone else's conversation on the bus. But the kids will no doubt love it.
The final slot at the festival goes to a collection of short films entitled Nuevos Talentos, featuring, intriguingly, 'a monkey with a razor, a frustrated beauty queen, the fantasy life of a school outcast with a vivid imagination, (and) two ex-Nazi officers' secret meeting'. More than anything, it sounds like Wild Tales 2. You'll see what I mean.
In London, I look out across a drizzle-stained landscape of house prices, hipsters and hangovers, and my mind returns to the cobbled streets of San Telmo, the imposing grandeur of Recoleta, and the boho chic of Palermo. I cry for you, Argentina, like a child whose ice cream has been snatched by a seagull. I await your presence in London, no matter how fleeting it may be.
The London Argentine Film Festival runs from 27-30 November, with full details and tickets available via the official festival website. Sounds and Colours, an official festival partner, will be there throughout.

Follow Sounds and Colours: Facebook / Twitter / Instagram / Mixcloud / Soundcloud / Bandcamp

Subscribe to the Sounds and Colours Newsletter for regular updates, news and competitions bringing the best of Latin American culture direct to your Inbox.
Share: