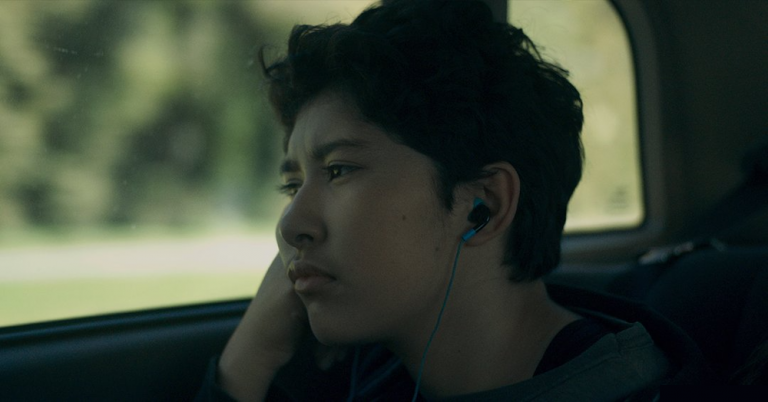 'The Name of the Son': Gender Identity and LGBTQ Rights
19 November, 2020
This review was originally published by Sounds and Colours's partner, Latin America Bureau, in October 2020. You can read the original here.
'El Nombre del Hijo' premiered at BFI's London Film Festival in October. Gianna Giordani takes a look at the disparity between Argentina's liberal LGBTQ rights and the treatment of trans people within Argentinian society, as portrayed in Martina Matzkin's tender short film.
Premiering at the BFI London Film Festival 2020, Martina Matzkin's short film, El Nombre del Hijo (The Name of the Son, 2020), artfully illustrates the fragile relationship between gender identity and coming of age. The thirteen-minute production follows the perils and realisations of a trans teen named Lucho, who painfully seeks to reconcile his male identity with his changing female body.
Tenderness. If there was one word to describe this short, this would be it. Tender emotions, tender relations, tender bodies, permeating both consciousness and corporeality. We see the hurt in Lucho's eyes, as he stands before his old dolls, cathartic reminders of his childhood and girlhood. We understand Lucho's father's pain as he witnesses his child's suffering and embraces him, as if to absorb his sadness. We feel Lucho's dysphoria as his first period arrives and he stands motionless and afraid before the chaotic solitude of the sea.
Argentina boasts some of the most liberal laws in the world when it comes to LGBTQ Rights. The 2012 Gender Identity Law grants citizens the right to legally change their gender based on their own self-identification, though director Matzkin stresses in an interview that this does not translate to societal acceptance of trans people. She goes on to say that 'life expectancy of trans women in our country and in Latin America in general is 35-40 years,' – a similar figure has been widely reported by others. This schism, between law and societal attitudes, renders this short film all the more impactful. Witnessing a young boy whose body does not conform to his own gender identity, let alone to social ideals, shines a spotlight on the painful relationship many trans people experience with their bodies and the bodies of those around them.
In this short, as in much of queer cinema, questions of memory and temporality are urgent and looming. Here, Lucho sees memories of his yet-to-transition everywhere. Be it in his corporeal memory, in his body which continues to bear the marks of womanhood; in his childhood memories, as embodied by his dolls; and in his familial memories, in his relationship with his father and sister. Lucho is living in a liminal space between childhood and adolescence, between his current self and the parts of his identity he wishes to leave behind. This limbo in which we find Lucho may perhaps even be symbolised by his stay in his family's holiday home, a temporary place of residence which he presumably has not visited since transitioning.
Matzkin urges us to consider gender as a malleable concept which is idiosyncratically beautiful. It's not about seeing Lucho for the person he is now, nor is it about us seeing identities which have dissipated over time. In these impactful thirteen minutes, the director articulates that a journey towards self-discovery and congruence can only ever be a process; one which may be frustrating, lonely, and seemingly unending.
You can follow the film's Instagram page to remain up-to-date about further festival screenings.

Follow Sounds and Colours: Facebook / Twitter / Instagram / Mixcloud / Soundcloud / Bandcamp

Subscribe to the Sounds and Colours Newsletter for regular updates, news and competitions bringing the best of Latin American culture direct to your Inbox.
Share: