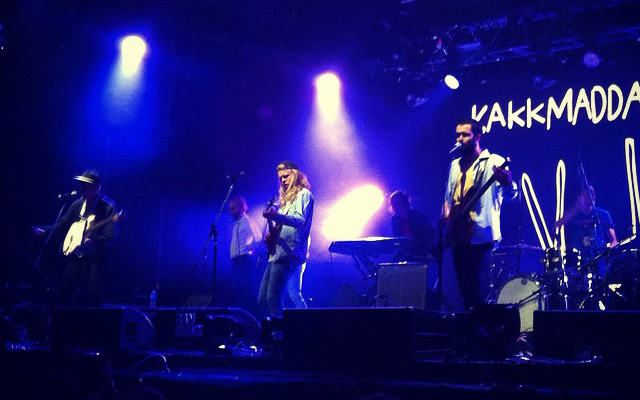 Wins and Losses from Buenos Aires' November 2014 Music Festival Season
15 December, 2014
Buenos Aires was pulsating with music festivals this November, and porteños' (as Buenos Aires natives are called) wallets are still recovering. Large international music festivals have been making their way across Latin America in the last few years, and this November felt like the culmination of all of them in Argentina. It included Personal Fest, Creamfields, and the new Music Wins Festival. During these few weeks, Scandinavian bands stole the shows, young Argentines showed off their hip alternative fashion, and I learned a few tips about how to survive an international music festival in Buenos Aires.
International music festivals are not new in Buenos Aires, but they are gaining momentum and new ones are being implemented every year. Creamfields, the offshoot of the British electronic dance music festival, has been held in Buenos Aires since 2001, and Personal Fest, a rock festival sponsored by the Argentine phone company, was celebrating their tenth year anniversary this year. Lollapalooza first came to South America in Chile in 2011 and then expanded to Argentina only this past year. Music Wins Festival was brand new this year, and gears towards more indie and alternative bands. It was a lot to take in, so to make it easier for readers I've divided my review into wins, losses, and tips. I'll admit I didn't make it to Creamfields (scheduling problems, as I'll talk about earlier), but I've included as much as I could about all of the events.
Wins
1. Scandinavian Bands. The highlight of Personal Fest and Music Wins for me were two Scandinavian bands. The Hives, a Swedish garage rock band, stole the show at Personal Fest. The lead singer had unbelievable charisma and energy on stage, and wooed the audience by speaking a surprising amount of Spanish.  His continual repetition of the question "están preparidos?!" without realizing it was wrong was hilarious. My favourite performance at Music Wins was another Scandinavian band, this time from Norway, Kakkmaddafakka (pictured at top). Their high energy performance on a small stage in a tent made the crowd go wild. It didn't matter that they were speaking English: the crowd understood them. Their flag-waving, synchronized dancing, and interaction with the audience made up for the fact that when listening to their music on its own, it's rather generic.
2. Fashion. Music Wins closed out the festival month of November on the 23rd and 24th with a little bit more of an indie feel (not surprising given the organizers of the festival are called Indie Folks). While at Personal Fest, the raging style for both girls and boys were the Arctic Monkey t-shirts sold along the entrance, at Music Wins the young porteños had the chance to show off their 90s-influenced fashion: platform shoe sandals and eclectic mixes of fabrics and patterns. It's a little bit grunge, a little bit hipster, and a lot of platform.
3. Lollapalooza Lineup Announcement. Smack in the middle of the month, the 2015 Lollapalooza Argentina line-up was released. It's killer, and combines mainstream artists with more alternative and local ones. Could you make us any more excited? The list includes Pharrell Williams, Calvin Harris, Foster the People, Alt-J, and Chet Faker. From Argentina, the electronic scene will dominate with Maxi Trusso, Poncho and Chancha Vía Circuito.
4. Music Wins Layout. Personal Fest lost points for their terrible layout (see below), but the layout at Music Wins was much easier to navigate. A centralized beer garden and food truck area made connecting with friends much easier. From there, you could choose to go to the tent (a smaller stage, but great bands), or either of the two big stages side by side. It felt less crowded and had more flow.
5. Spanish Speaking Bands. This may seem obvious, but speaking Spanish made a difference in bands' ability to connect to audiences. Yes, some English speaking bands were able to connect in English (like Kakkmaddafakka), but language really does make a difference. The second day of Personal Fest featured large Spanish-speaking artists like Calle 13 and Molotov, which resulted in more of a band/audience connection. Music Wins was the only festival to feature Argentine acts as some of the main acts in their lineup: both Juana Molina and Él Mató a un Policía Motorizado. Juana Molina didn't gather quite as big a crowd as I would have expected, but maybe it's because Argentines can see her any time they want. Él Mató even closed the show, as I'll explain below.
Losses
1. Timing. The festival month started off with some badly planned competition between Creamfields and Personal Fest. Both were held on Saturday, November 8th, making porteño music fans choose between the two. Luckily the types of music are so different that it didn't seem to be a hard choice for many. Anyone who has lived in South American cities will know that the youth here has an obsession with the Arctic Monkeys — the headliner for Personal Fest. That made it an easy choice.
2. English speaking bands. The Arctic Monkeys' performance at Personal Fest was completely different from the Scandinavian bands I described. Instead of the energy being generated from the band into the audience, the energy stemmed from the over-excited crowd. Alex Turner, the crush of nearly every girl I spoke to in the audience, hardly spoke between songs, just saying thanks or "muchas gracias". While it didn't impress me, the audience didn't mind at all. Everyone was too busy jumping, singing along to every word, and trying to avoid getting trampled by the crowd. This also taught me about how to (not) lose friends or a shoe during the performance (see "Tips" section, below).
3. Timing at Music Wins. The tent at Music Wins Festival fell an hour behind schedule, meaning that Astro from Chile, one of my favourites, had a thin crowd since everyone ran to the main stages after Kakkamaddafakka to see Mogwai. Ideally, the schedule had been set up to alternate bands so that you could see all your favourites. The good surprise ending to this was that Él Mató is so popular amongst the crowd of Music Wins that they actually waited and ended up closing the show after Tame Impala, the scheduled closing headliner. Who doesn't love the quiet stage presence of El Mató.
4. Personal Fest's Organization. There was absolutely no security on the way in to Personal Fest – I didn't see anyone's purse or bag get checked! There was a similar lack of security at Creamfields. The setup at Personal Fest was also difficult to manage: one narrow and highly commercialized and advertised strip connected the different stage areas. It was hard to navigate getting out of one stage area, but even harder to navigate the crowded strip. The exit on Day 1 of Personal Fest was a disaster: there was no one to guide the exit, and one exit was closed, leaving only one way to go. The jostling and squeezing in the crowd was even worse than during the craziness of the Arctic Monkeys' set! No one could move, and yet everyone wanted to leave. Apparently Day 2 was slightly better organized.
5. Prices. All festivals had capacity for thousands of entrants, but of course many Argentine fans were left out. With so much inflation in the country, it is hard for Argentines to save, and tickets were over $1000 pesos for two day passes to any of the three festivals — that's roughly a week of working minimum wage in Argentina. Luckily many of the bands performing at the festivals also did side shows later at smaller clubs throughout the city, so people who missed Metronomy for example could go see them at Crobar later. Personal Fest also offered online streaming for those who weren't amongst the 20,000 or so who attended.
Tips
1. Wear comfy sneakers. You'll be standing a lot and shoved a lot, and may even lose a shoe if it's not on tight enough.
2. Bring a tall hat. It helps to distinguish a pointy person in your group in case you get lost from each other! Just remember to take it off during the performance so you don't annoy the people behind you.
3. Bruises are normal. Don't be surprised if you have bruises the next day from the pushing and shoving.
4. Have patience! There's a lot of fans at these festivals, and as hard as it is to believe, they are as much a fan of the artists performing as you are. They all want to get close too.
That's it for this season of festivals in Buenos Aires. Porteños now have the holiday summer season to recover and start saving again for Lollapalooza in March. Hopefully the different festivals can continue to learn from each other about what works and what doesn't work as more festivals gain a foothold in the country. Luckily it looks as though the momentum isn't going to decline, and will only increase in the next few years.

Follow Sounds and Colours: Facebook / Twitter / Instagram / Mixcloud / Soundcloud / Bandcamp

Subscribe to the Sounds and Colours Newsletter for regular updates, news and competitions bringing the best of Latin American culture direct to your Inbox.
Share: