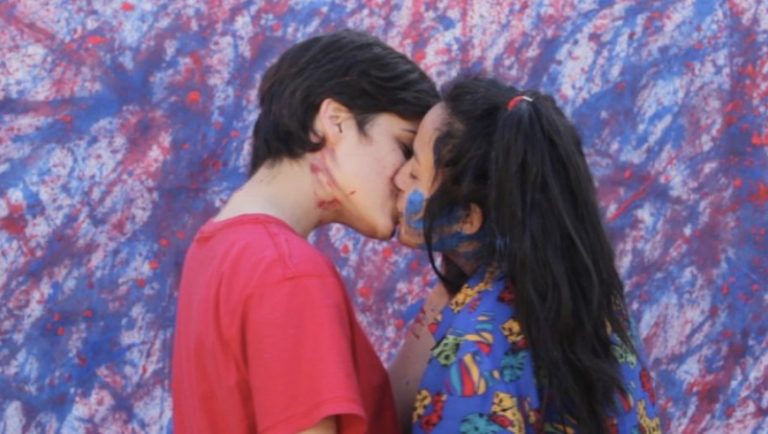 A Winter to Remember (El Color de un Invierno)
23 November, 2018
Lucia has returned home to visit her parents for the winter holidays. Back in the cradle of her childhood fears and insecurities, she is disconnected from the people around her. We see her discomfort as she moves through the various social scenarios of young adult life. Yet, after meeting Olivia, a painter with flowing dark hair and eclectic style, Lucia's world begins to warm and her cold exterior gives way to tenderness and passion.
Set in Salta in northwest Argentina, we soon get an impression of what life is like for a youngster struggling to accept themselves in a small town. Lucia's parents love and care for her, but they encourage her to take more of an interest in boys, and push medication on her to solve her depression. Her friends are more understanding, but they keep insisting she "tell them what's up", despite the fact that words often fail in these situations. The overbearing interest in her life pushes her to seek escapes, such as plunging herself into any icy pool of water.
Yet, the benefit of being part of a small community is that everyone seems to know everyone. Once Olivia has caught a glimpse of Lucia on the dance floor and expressed an interest, it is not long before her friends have engineered some initial interactions between the two. For the audience, these awkward moments are a heart-warming reminder of the butterflies and admiring stares that come with young love. Whilst the chemistry between them is immediate, both women have to overcome various obstacles before they can finally give in to their attraction.
Lucia initially denies her lesbian identity, but her deepening relationship with Olivia leads her to take another plunge and come out to her family around the dinner table. Such scenes usually fail to really capture the emotions of this consequential event, but A Winter to Remember offers an intimate and tender moment that leaves you silenced. Although Lucia's voice trembles with nerves, her usual snappy dialogue transforms into eloquent passages that narrate her years of struggle for self-acceptance. Through this we witness Lucia begin to break free from her years of mental turmoil.
The protagonist's process of self-discovery is given a poetic allegory through dream-like scenes of her running helplessly down a deserted mountain road. As her relationship with Olivia develops, the cold hues and frantic movements of these scenes give way to warmer colours and intimate shots of Olivia. Whilst cutting back and forth between these two narratives introduces another tempo into the film, the predictable aesthetic transformation makes these additions feel 'try-hard'. This is disappointing as they break with the skilled cinematography of the rest of the film, particularly in the director's ability to seamlessly combine a home video aesthetic with beautifully stylised shots of dance floors and nature.
At just over 60 minutes, this feature film is a promising debut from director Cecilia Valenzuela Gioia (who also plays protagonist, Lucia). The film's sound design is left wanting, particularly given its use of club spaces and nocturnal scenes. However, the bubbling romance between the pair is handled with such delicacy that it makes it hard not to smile as this love story unfolds.
This film screened as part of Fringe! Queer Film & Arts Fest 2018.
A WINTER TO REMEMBER – Trailer from Loïc Magneron on Vimeo.

Follow Sounds and Colours: Facebook / Twitter / Instagram / Mixcloud / Soundcloud / Bandcamp

Subscribe to the Sounds and Colours Newsletter for regular updates, news and competitions bringing the best of Latin American culture direct to your Inbox.
Share: