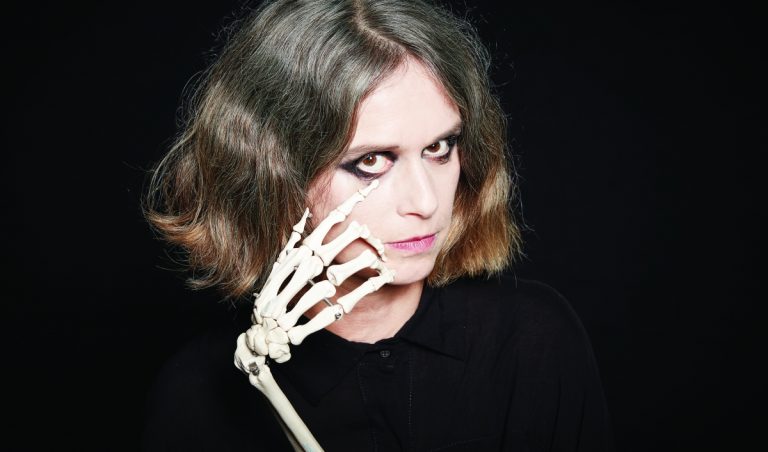 Marcel Setton
With 'Halo', Juana Molina Finally Gained Acceptance in Argentina
12 May, 2020
There's a particular breed of Argentine hero. One that is celebrated more outside their homeland than within. Where the image of Che Guevara adornes posters and tshirts around the world, you'd be hard pushed to find many monuments to the iconic figure in his native land. Messi suffers a similar fate, lauded abroad, but not widely adored in the Southern Cone.
There's a similar paradox with Juana Molina, a seminal artist whose body of work has not been as widely embraced by her compatriots as it should. This disconnect was perhaps best embodied when her 2002 release Tres Cosas was included in the New York Times top ten albums of the year, at the time when her music career was met with a shrug of the shoulders in Argentina. 
Where frigidiness towards Che Guevara and Messi can be reasoned by their most notable achievements coming in other parts of the world, this is not a charge that can be levelled at Molina, whose career has been more closely rooted in Argentina. 
A common explanation for the coolness towards Molina is that she is more widely associated with the popularity of her 90s comedy show, Juana y Sus Hermanas, which has overshadowed her subsequent turn as a musician in the eyes of many. While there is a certain logic to this rationale, given that she was a genuine household name during this period, it is frustrating to think that public opinion can remain so hard headed as a genuinely inspiring career blossoms. Molina has reflected upon her stint as a comedian as being a stepping stone for her music career. The problem was, she has described, that she became too successful. 
As with most walks of life, sexism has played a major role. While Argentina has a lot of problems in this regard, with legal abortion and the prevelance femicide continuing to dominate the wider cultural dialogue, rock music in general is an unforgiving terrain for women to navigate.  
Perhaps the key factor behind the indifference towards Molina is that the highpoints of her oeuvre are too angular for mainstream success. Where pioneers such as Charly Garcia and Luis Alberto Spinetta have rich and storied careers in which they redefined the boundaries of popular music in the region, their art was often grounded in recognisable structures, making them easier to appreciate for the casual listener. The highlights of Molina's work, on the other hand, are harder to pin down.
It is on her seventh LP, 2017's Halo, released under Belgian label Crammed Discs, that Molina perfects delivering her off-kilter inclinations for a wider audience. While the sparse, trance-inducing rhythms are a marked difference to the acoustic melodies of her earlier work, this shift in style had long been foreshadowed. As early as 2002 Molina used the Boss RC-20 loop station to add texture to the folkier tones of her third album, Tres Cosas. This was revisited again on 2008's Un Dia, where the spatial soundscapes of the title track stand in stark contrast to the lilting atmosphere of the rest of the record. By the time Molina released WED 21 in 2013 these minimalistic snapshots had given way to a full blown commitment to the hypnotic grooves that would dominate her latter releases.
Where Molina wielded this new sonic palette on WED 21 to create a more danceable mood built around typical pop formations, Halo inhabits a more experimental plain that is accompanied by an unnerving edge. As much is heralded on the cover art, where a disembodied bone peers out with a gimlet eyed stare, reflecting the folk legend of the "bad light" – a malevolent spirit which lingers around burial sites – upon which the album takes its inspiration. In an interview with KEXP Molina described pouring over lyrics as she struggled to find a name for the album when halo popped out in a moment of clarity. Not only does the choice chime with the foreboding light that underpins the album, but given that the word halo is the same across various languages, it also adds to the elusive nature of her work. 
These occultist themes are encapsulated on the opening track, "Paraguaya", in which Molina whispers about witchcraft and manipulated desire over a haunting marriage of electronic beats and rising strings. There are similar tales of spells on "Cosoco", a dizzying eddy of distorted loops and piercing riffs that is buttressed by an unwavering bass line. "In the Lassa" carries a similar kinetic punch, where Molina's chants of her earthly death out of an ambient fuzz. 
While there is a dynamic undercurrent that runs through Halo, the record is also peppered with gauzier moments. The titular light makes its first appearance on the doom-laden and glacial "Lentisimo", where the eeriness of the arrangements are matched by Molina's ghostly murmurs. On "Cálculos y Oráculos" Molina coos chillingly of lovers lost in the woods against a backdrop of spectral rhythms.
Molina turned a corner with Halo. While she toured the record widely outside of Argentina, appearing on US shows such as KEXP and NPR, it also received more popular acclaim in her homeland than her previous releases. In doing so Molina's bewitching tendencies penetrated a scene that sometimes favours the more meat-and-potatoes end of the alternative rock spectrum. This is no mean feat, and underlines Molina's knack for distilling out-there leanings into palatable nuggets for mainstream audiences.
Halo is released by Crammed Discs

Follow Sounds and Colours: Facebook / Twitter / Instagram / Mixcloud / Soundcloud / Bandcamp

Subscribe to the Sounds and Colours Newsletter for regular updates, news and competitions bringing the best of Latin American culture direct to your Inbox.
Share: