Review
Woodie Alien – Yeeha
Considering Woodie Alien's self-confessed fascination with extraterrestrial activity it's not too surprising that their sound comes off sounding like early Flaming Lips and Mercury Rev. This is none more apparent on the opening trio of tracks which effectively mark the groups sound; high pitch vocals riding above a pulsating bass constantly amid a swirl of effects and ephemeral sounds. The last of these tracks, "Perro Loco", starts off as a rabid, Balkan punk groove, switches to a glorious, lulling ballad before returning to its original boisterous opening riff. It's these little journeys where the band really excel, only failing when they try to do something more conventional as on "Tan Feliz", an upbeat melody but little else, lacking all the imagination and inventiveness they show elsewhere. It almost feels like the track was included as a possible argument for a single.
After this one misstep the band soon returns to what it does best. "Cosas de Grande" manages to become so grand that it begins to resemble Sigur Ros, a band who have surely had some influence on Woodie Alien, especially in the style of singing. It's followed by "El Mariachi Punk" which never begins to sound like a punk song, instead sounding like it could soundtrack the end credits to a Hispanic version of Pee-Wee Herman.
Woodie Alien started out as a jam band in Buenos Aires in 1998. Since then they have moved towards more structured compositions, culminating in this, their first album, but if there was any inkling of their past status it would be on the two songs "No Hay Tren / Cuando el Sol Caiga Detrás del Cementerio" and "Perdido en el Desierto" which both show a different side of the band, able to harness texture and ambience. The second of these tracks, which translates as "Lost in the Desert" could not have been more suitably titled.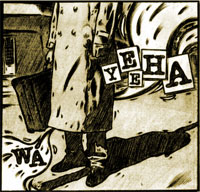 It's on the final track "Lagrimitas" that the Lips/Rev comparisons seem at its most apt; a lush, swooping epic as infectious as "Bronx Cheer" or "Shine on Sweet Jesus", two early classics from the US pair. It finishes off the album in some style, an album which at 10 tracks and 33 minutes may not be deemed too long, but as a first album works as a perfect introduction with no lack of ideas and no lull, only that one poor choice of song offering anything near a blemish. With the lo-fi grunge aesthetic of early 90s US indie rock, the grandiosity of bands such as Sigur Ros and Spiritualized and their own peculiar ideas of songcraft and melody they have made sure that they are a band definitely worth keeping an eye on, one who have not quite managed to record a classic but are in danger of doing so in the future.
Yeeha is released on Gochie Records. It is available to download at Woodie Alien's website at http://woodiealien.blogspot.com/

Follow Sounds and Colours: Facebook / Twitter / Instagram / Mixcloud / Soundcloud / Bandcamp

Subscribe to the Sounds and Colours Newsletter for regular updates, news and competitions bringing the best of Latin American culture direct to your Inbox.
Share: