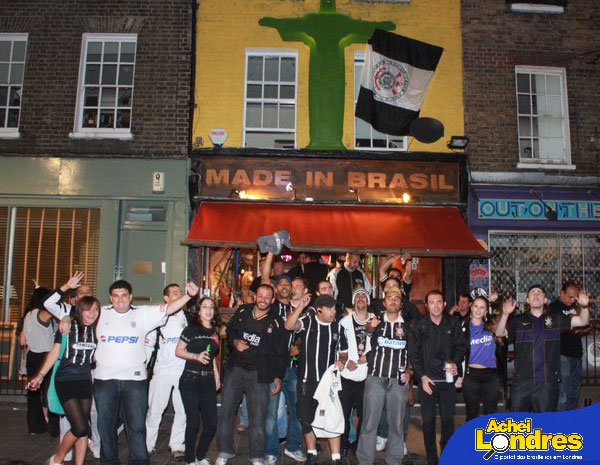 Mirelle Tome
100 Years of Corinthians, 5,000 miles from Sao Paulo
13 September, 2010
Keeping your eyes and ears open, it's clear that London has its fair share of Brazilians and Brazilian parties. However on a September evening something else is in the air. Caipirinhas are replaced by Carlsbergs and any sultry samba sounds fade to the more rugged tones of dozens of voices singing 'Salve Corinthians' as a side street of Camden is turned into São Paulo's Parque São Jorge.
The story of how a group of working class Brazilians formed a team and took inspiration from the English for their name has been well told (see here) and to mark the centenary, London's Corinthians army have been out in force to retrace their history. From North, South, East, West (Sao Paulo as well as London) they descended on 'Made in Brazil' to put a Paulista spin on that most English of midweek evening activities: drinking in the street and bellowing football chants.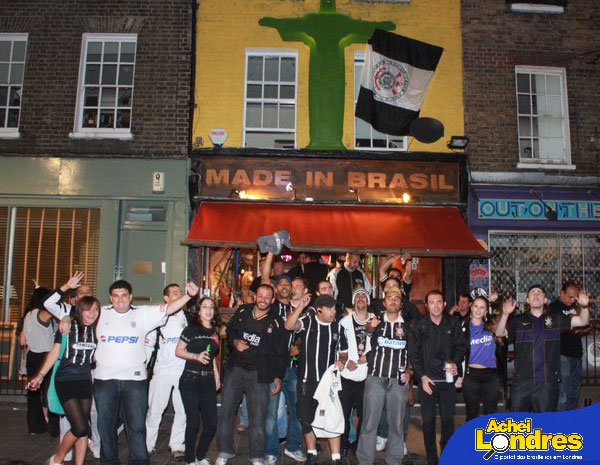 "Celebrating the 100th anniversary is like celebrating a family member's birthday" said one of the faithful, Fabio Santanna, 28, from Bairro da Saúde, São Paulo. "What I feel for Corinthians is true love so the distance does not affect it, if anything being so far from home has given more reason to come together." The number of Corinthians shirts seen on London's streets seemingly multiplied in the days leading up the anniversary and in Camden it's interesting to see how former strangers united by team colours greet each other as old friends. As Fabio says "Corinthians means working class, solidarity, so it's also a philosophy. You will inevitably bump into other fans and greet them, start a conversation. You have an instant connection."
A few days earlier sections of loyal Corintianos had made the pilgrimage to the South West London suburb of Tolworth, Surrey, to visit the home of Corinthians Casuals. Whilst not exactly being where it all began 100 years ago (Corinthians have moved several times over the years, including merging in 1939 to become Corinthians Casuals), seeing Corinthians fans kiss the turf of the 'birthplace' of their team was like being in the presence of a papal visit.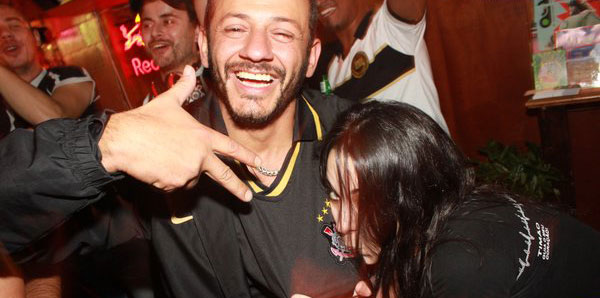 This lot had further reason to show their passion: TV Globo's (essentially the Brazilian ITV) European correspondent Pedro Bassan had flown in from Lisbon to film the occasion, and a peaceful commute home from Waterloo to Surrey for a train full of commuters was shattered at Tolworth as TV Globo's cameras were met with a raucous rendition of "Happy Birthday Corinthians". Felipe Miranda, 26, from Campinas São Paulo, moved to England aged 13 and grew up in the shadow of West Ham United's stadium in Upton Park. On his first visit to Corinthians' spiritual home he told Globo (and millions of households back in Brazil) "Man, we get here and straight away we feel at home. The trip here, watching the Casuals train; it's all worth it, to mark the centenary and start the party".
The trip also proved to be something of a scouting mission. Corinthians Casuals (playing in the Isthmian League Division One South, a mere 7 divisions below the Premiership of Arsenal and Chelsea) agreed to a friendly to mark the centenary against a select XI of London based Corintianos (with a couple of São Paulo and Palmeiras fans thrown in) calling themselves Corinthians Clandestinos. Fernando Motta, 27, of Piracicaba, São Paulo, revealed himself as surely one of Corinthians Casual's most far flung fans: "Last season I came down every other week to watch the Casuals, it's the closest thing to Corinthians Paulista here." Noting the differences between the English and Brazilian branches of Corinthians, two teams that are oceans apart in many ways he noted, "Their game is different here, there's none of this short passing game. They're big, they get the ball into the channels quickly and they won't stop running for 90 minutes." In the end insider tips could only go so far as the builders, waiters and admin workers of Corinthians Clandestinos bravely went down 8-1. Roll on another 100 years…
Photos by Mirelle Tome / acheilondres.com

Follow Sounds and Colours: Facebook / Twitter / Instagram / Mixcloud / Soundcloud / Bandcamp

Subscribe to the Sounds and Colours Newsletter for regular updates, news and competitions bringing the best of Latin American culture direct to your Inbox.
Share: