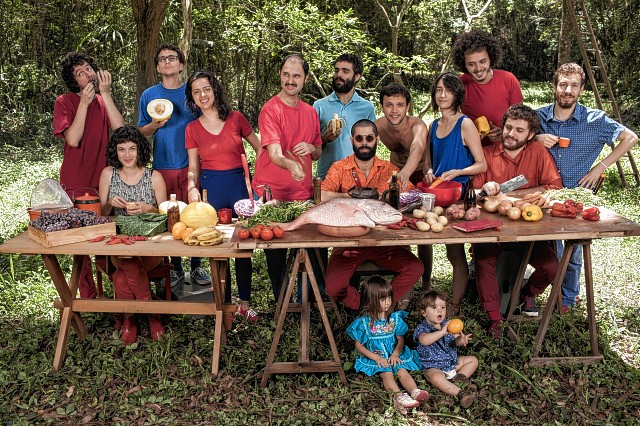 11 Brazilian Songs From 2015 You Need To Hear
22 December, 2015
Luiz Gabriel Lopes is a one-man Brazilian music machine. As well as being the lead singer and guitarist for well-respected bands Graveola and TiãoDuá, he is increasingly earning accolades for his solo music. This year he released O Fazedor De Rios, a new album that has featured in many Best Brazilian Albums of 2015 polls. Here, he chooses 11 of his favourite Brazilian songs from 2015.
Find out more about Luiz Gabriel Lopes at facebook.com/lglopeslglopes, and listen to his latest album at soundcloud.com/lglopes
Virginia Rodrigues (Bahia) "Mama Kalunga"
Born in Salvador, Bahia, Virginia Rodrigues is an incredible singer whose unfortunately not that well-known in Brazil. Discovered in the late 90s by Caetano Veloso, Virginia has returned with a new release after an eight year absence. Her brilliant new 13-track album was produced by Brazilian master singer-songwriter Tiganá Santana and offers a deep dive into afro-Brazilian melodies and atmospheres; to listen slowly with your eyes closed.
Gustavito (Minas Gerais) "Bença"
Gustavito is my brother of music and soul, partner on roads travelled around the world, during our tours with TiãoDuá, our trio project. This is from his second solo release, Quilombo Oriental, which has got a truly transcendental and tropical vibe of Brazil's finest carnivals. I love this track – great melody and groove.
Trupe Chá de Boldo (São Paulo) "Smex Smov"
Trupe Chá de Boldo is an amazing big band from São Paulo, with a hot brass section, sweet female backing vocals, astute grooves and ironic lyrics. Although I know their albums and videos for a long time, I saw them live just once, squeezed on to a very small stage, and I can truly say this: they rock.
Ava Rocha (Rio de Janeiro) "Você Não Vai Passar"
In 2015 Ava won a lot of 'Best New Brazilian Music' awards. In a certain circuit, she became something like hors-concours, like Juçara Marçal did in 2014. Despite the hype, which now feels like a cliché, I personally love what she does. Her musical approach is so different and particular, in terms of interpretation and composition, that I feel she is creating a new paradigm for female singers, miles away from a (very boring) 'seductive' model that has been repeated many times. I love this track, the way it sounds pop and smooth, it's lyrics and brass arrangement, for me it is very cool.
LG Lopes (Minas Gerais) "Enquanto Pisco"
This is the single from the second solo album I've released this year, O Fazedor de Rios. It's a track I wrote inspired by Gilberto Gil (I actually 'stole' some words from a couple of his songs on it). I like the way the band's arrangement gave new colour to the song. Special mention to Alexandre Andrés' participation, with his magic flute solo in the final section.
Sara Não Tem Nome (Minas Gerais) "Solidão"
Sara Não Tem Nome (translating as 'Sara Does Not Have A Name') is a young and friendly singer from Contagem, an industrial city nearby Belo Horizonte, who develops many visual arts projects, in parallel with her work as a songwriter. Sounding something like an urban Brazilian Patty Smith, she's just released her first solo album. Melancholic beautiful tunes with a folk mood.
Iconili (Minas Gerais) "Piacó"
Iconili is an awesome 13-member band from Belo Horizonte, whose musical research spans Fela Kuti's traditional afro-beat and Moacir Santos' deep Brazilian melodies and harmonies. I know them from a long time, when they were just five people playing something more close to post-rock stuff. After many changes, here they became a big-band, something incredible. Piacó is one of my favourite albums of 2015. Live on stage, it's even better.
Maglore (Bahia) "Invejosa"
Maglore is a very nice power-trio originally from Salvador, Bahia, but now based in São Paulo. I met them a couple of times in festivals around Brazil, when playing with Graveola during the past years. Their new album is a great mix of rock'n'roll and sunny Brazilian vibes. I like the way Teago (the vocalist and songwriter) sings and plays his minimalist guitars. This track makes me feel more hopeful every time I listen to it.
Ian Ramil (Rio Grande do Sul) "Salvo Conduto"
Member of an amazing musical family from Rio Grande do Sul, Ian's second solo album has very interesting elements of contemporary urban ambient music, mixing lots of noise and concrete interferences in a deep and complex musical production, without losing its pop taste. Political lyrics and unusual arrangements complete the journey.
Ilumiara (Minas Gerais) "Auto Fim de Capina"
Ilumiara is a very interesting project with creates a bridge between traditional Minas Gerais work songs and a smooth contemporary approach. With beautiful melodies and completely acoustic arrangements, their album is a deep trip inside Minas musical roots. This track is an original song from Jequitibá, a small city nearby Belo Horizonte.
Zé Manoel (Pernambuco) "Canção e Silêncio"
From the city of Petrolina, Pernambuco, the singer-songwriter Zé Manoel is one of the most interesting names of the new north-east Brazilian music scene. His latest album, Canção e Silêncio, mixes classic-style melodies and harmonies with a smooth pop taste and sophisticated arrangements. Very emotional tunes, to listen with the heart wide open.

Follow Sounds and Colours: Facebook / Twitter / Instagram / Mixcloud / Soundcloud / Bandcamp

Subscribe to the Sounds and Colours Newsletter for regular updates, news and competitions bringing the best of Latin American culture direct to your Inbox.
Share: