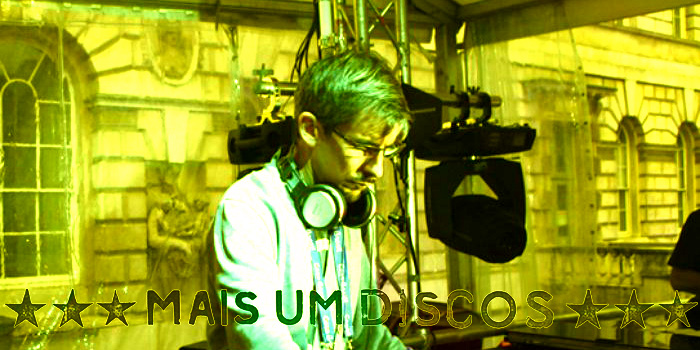 5 Questions With Mais Um Discos' Lewis Robinson (+ Sociedade Alternativa Mixtape)
11 June, 2014
Starting with Oi! A Nova Musica Brasileira!, Mais Um Discos have been responsible for releasing some of the best new Brazilian music in Europe over the past five years, with artists like Lucas Santtana, Metá-Metá, Graveola and Bixiga 70 all gaining much critical and public love. Mais Um Discos is the brainchild of Lewis Robinson (or Mais Um Gringo), who is also helping organise the quite awesome Joga Bola! festival at Rich Mix during the World Cup. We wanted to rack his brain about the alternative music scene in Brazil and how things have changed between when he released his first compilation Oi! and his most recent, Rolê, which came out this week and features 43 tracks from some of the most forward-thinking and original artists in Brazil right now.
Check out our interview below, and skip all the way to the bottom for Lewis' mixtape and discover's Brazil's "Sociedade Alternativa".
I can't believe it's been 4 years since Oi! came out. That one seemed very much like a huge research mission and a step into the unknown, trying to find alternative pop, rock and electronic acts that would surprise people in the UK. How was the process of putting together Rolê in comparison?
Yeah 4 years has flown by in a flash! Compiling Rolê was a lot easier in terms of finding the music than when I did Oi! When I compiled Oi! I started from scratch discovering this whole new world of Brazilian music for myself jumping around from Myspace to Myspace yet since Oi! I've been to Brazil 10 times, met hundreds, maybe thousands, of musicians and the label's had some good press so I have a good network now in Brazil. For Rolê I had a list of about twenty killer songs I'd heard throughout 2013 that I wanted to put on the comp and had a long list of artists I'd been meaning to check out but hadn't got round to and then friends sent me recommendations and the word got out I was doing a new comp so I got even more suggestions. I think in the end over December and January I ended up listening to around 500 albums from where I got the other 23 tracks from, plus I came across some bullets in the first few months of this year I had to include like Russo Passapusso's track. I could easily have made the album a 60 or 80 track compilation as there was so much good stuff.
Do you think the scene for "new Brazilian music" in Brazil itself has changed a lot in the last four years?
Yeah I think it's got stronger than it was four years ago. I think Brazilians acts are really getting to grips with the free album download model they have pioneered and I think this is making the scene there stronger as it's so easy to listen to new music. There seems to be more bands coming through from the regions as well. For example when I produced Oi! Gaby Amarantos was unknown outside of Belém and the track we featured was the first ever 'officially released' compilation (whatever that means) to feature her and now four years later she's an international star and her success has led to a great interest in bands from Belém which is such a good thing for the local scene. So I think whilst São Paulo will always dominate the music scene in Brazil I think the free album download model has levelled the playing field to a degree for bands from across the country to be able to be heard on a national level. Of course what they do after/with this will determine whether they sink or swim, but at least they can be heard now. Fora do Eixo has I'm sure helped bands as well – not least in the fact that the creation of FdE brought attention to the fact that there should be a network helping support indie musicians.
What do you think are the new trends in alternative Brazilian music that are perhaps reflected in the choices on Rolê? Are there any new tecnobregas on the horizon?
Not sure – I mean tecnobrega was already fifteen years young when I championed it! It's just because Belém had kind been in a self contained bubble not many people even in Brazil, let alone Europe, knew about it.
I guess on this album there's more influence from the north of the country. For example Arnaldo Antunes's track is a cover of a song by Felipe Cordeiro from Belém and Dead Lover's Twisted Heart describe their track as a 'special lambada', so it shows the north is hip with the south.
Maybe there's a few more tracks for the hipsters on this comp than the last one too – Silvia Tape and Trupe Chá de Boldo both drop some killer punk-funk grooves and I love Mahmundi's tropical take on chill-wave.
Belo Horizonte has a really kicking scene at the moment and the four tracks on disc one from BH are four of my favourites on the comp. On this comp there are eight tracks from artists based in Rio where as on Oi! there were only three and I think this reflects that Rio's indie music scene is definitely stronger now than it was in 2010. On Oi! there were 16 tracks from artists from Pernambuco and now on Rolê there are only 4 but this is all swings and roundabouts cause there's still an incredibly healthy scene there.
Overall though it's just a reflection of a really healthy indie music scene in Brazil where musicians are happily incorporating their musical roots into rock, electronic and pop with great results.
Western media still largely seems fixated on samba, bossa nova and tropicalia when looking for Brazilian music – and funk carioca if it's after something urban. Do you think that perceptions are changing? Are the new crop of Brazilian musicians beginning to alter this perception at all?
If you've seen any of the press coverage lately in the UK I'd say no. The mass media trades in stereotypes anyway so they're not going to champion anything other than that. I think in mainland Europe like France and Belgium it's a bit better as they are more open to Latin culture. In the UK we're a bit too Anglo Saxon and more focused on rock and electronic music – thump, thump, thump – where's the swing? Stereotypes take tens – hundreds? – of years to change and this change needs to be led by Brazil itself so it's up to them – how do they want their country to be seen? I was impressed that Coca-Cola chose Gaby Amarantos as the singer on their World Cup song. Of course it's a 'Coke' song but fair play to them for getting her on board. I don't think she's been used on the song though in the UK. Instead it's some guy who looks like he should be on Pop Idol and Aloe Blacc. Don't get me started on the FIFA song though – what a joke.
You have spoken before how Lucas Santtana was a big catalyst for Mais Um Discos, an artist who was already well-respected, had released a number of albums and had had some good press in the US but didn't really have the international profile that perhaps he deserved. Any discoveries like this on Rolê?
Watch this space!

Follow Sounds and Colours: Facebook / Twitter / Instagram / Mixcloud / Soundcloud / Bandcamp

Subscribe to the Sounds and Colours Newsletter for regular updates, news and competitions bringing the best of Latin American culture direct to your Inbox.
Share: