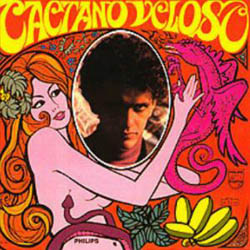 Caetano Veloso – Album Guide
|

01 July, 2010

We figured Caetano Veloso had to be the first of our new album guides, which will pick out eight of the best albums by a single artist or group. Here we look at the albums of Caetano Veloso, one of the greatest songwriters of Brazil, and most probably, the world. Our only problem has been winding the list down to eight, meaning that some great albums don't get a mention. If you think we have missed any crucial record please feel free to write in the comments and put us straight!


Psychedelic Album
Caetano Veloso (1967)

Veloso's first self-titled album, released in 1967, set out to give Sgt. Pepper's a run for it's money. It's mixture of pop, modern culture and regional styles was revolutionary, one of the first bricks in the Tropicalia movement (the album's first track was named after an art installation by Hélio Oiticica, called Tropicalia). In reality the album doesn't sound quite as revolutionary now as it must have back then, but it still includes some truly original arrangements. "Tropicalia", "Superbacana", "Clarice" and "Ave Maria" in particular sound far ahead of their time, mixing youthful exuberance, a plethora of ideas and a mix of pop and orchestral that would continue with Tropicalia: Ou Panis et Circenses (a collaboration between Veloso, Gilberto Gil, Os Mutantes and Tom Zé that became the cornerstone of the Tropicalia movement).

Homesick Album
Caetano Veloso (1971)

His third album, still self-titled, is a love song for Brazil. He had been exiled to London, something which had not gone down well and resulted in one of the most homesick of all time. On songs such as "A Little More Blue" and "Maria Bethania" it is impossible to ignore how much he is longing for his home country. The album features a completely different sound than his previous tropicalia efforts, using jazz and folk musicians from London. In some ways it has more in common with Donovan than his normal Brazilian stylings. This is non plainer than on "London, London", one of the most ebullient songs on the album, expressing his delight at the politeness and peace of life in London. The songs is sung in English, as are all but one of the tracks here, and makes this a good starting point for any English-speakers to get involved with Veloso's music.

Classic Album
Transa (1972)

Transa is generally regarded as his classic. It was recorded once he had returned to Brazil, but still with many songs in English. The sound is livelier than the records he made in London, but the lyrics are no less melancholy. Elements of 70s rock and jazz obviously imbued themselves into his sound from his days away from Brazil, but here they are allied with traditional Brazilian rhythms and instruments. Perhaps this is why this album has seemed to gain in stature over the years. It offers enough Western styles to keep outsiders interested but also sounds undoubtedly Brazilian. It also helps that it features strongs as solid as "Nine out of Ten", "Neolithic Man" and "Mora Na Filosofia" (a song that originally caused uproar thanks to it's rock treatment of a classic samba). "Nostalgia (That's What Rock 'n' Roll Is All About)" could also be seen as the template for Devendra Banhart's first few albums.

Natural Album
Muito (1978)

Caetano experimented with various different styles during the 70s but, without doubt, one of his finest albums is Muito on which he cut back his sound to just guitar, vocals and the odd other instrument. "Terra", a song about Mother Earth is one of the highlights, as is "Sampa", a song which would go on to be one of his favourites as well as the unofficial anthem of Sao Paulo. The emphasis on all songs is discrete and delicate, something which took some courage as most artists around him were becoming seduced by new studio wizardry.

Pop Album
Outras Palavras (1981)

While many of his peers used the 80s to release album after album of stylized, sickly pop music, Veloso did at least show that he was at the top of the game. Outras Palavras cannot hide from the 80s; the polished production is present, which could put some people off, but the arrangements and songs are as strong as ever. In particular "Seu/Nao" and "Quero Um Baby Seu", the two most upbeat songs on the album, are pop nuggets with a sound that shares similarities with Paul Simon and Prefab Sprout. As usual, the ballads "Blues" and "Lua Estrela" are as strong as they always are with Veloso.

Electro Album
Estrangeiro (1989)

This was Veloso's first American release, and for it he teemed up with No Wave-icon Arto Lindsay. The resultant album is difficult to classify, including elements of electro, samba, pop and anything else that was floating around modern culture at the time. The use of effects and modern recording techniques (listen to the sound of the drums) can make this album seem very mechanical in comparison to other Veloso efforts, but repeated listens do warrant reward. There is a reason why this album was so popular in New York, allying itself with efforts from Laurie Anderson and Talking Heads. In particular the title track is a forward-propelling testament to modern culture, "Outro Retrato" is another slice of funky pop as heard on Outras Palavras and ballads such as "Branquinha" and "Etc." are as perfect as ever.

Buy from Amazon MP3 or iTunes

Breakthrough Album
Circulado (1990)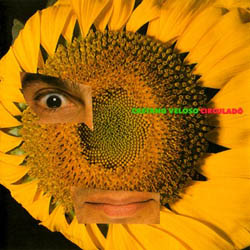 By the start of the 90s Veloso seemed to have become more interested with modern R 'n' B and hip-hop rhythms, and this started to surface with Circulado. It's a slinky, sultry album which warranted a "live" version (Circulado – ao Vivo, which arrived in 1991). With these albums and Tropicalia 2 (a collobaration with Gilberto Gil) Caetano showed that he could crossover to an American audience. He has been a darling of New York ever since, regularly appearing at Carnegie Hall. Opening track "Fora da Ordem" and the haunting "Itapuã" are two of the stand-out tracks on this album.
Punk Album
Cê (2006)
This album marked the start of a new phase in Caetano's career. Working with a young trio he took apart Brazilian melodies, replacing them with an alternative/punk rock sound. Taut rhythms and feedback abound in tracks that have a striking resemblance to the German band <strong>De Kift</strong>. The quality of the original songs may not be to Caetano's usual level, but the freshness of the band makes up for this. Songs like "Outro", "Rocks" and "Odeia" are as vital as any music he has made, and most definitely the heaviest he has been. The band recorded a second album "Zii e Zie" which has failed to receive great reviews by fans or critics, but has not stopped the band from going on a worldwide tour.

Follow Sounds and Colours: Facebook / Twitter / Instagram / Mixcloud / Soundcloud / Bandcamp

Subscribe to the Sounds and Colours Newsletter for regular updates, news and competitions bringing the best of Latin American culture direct to your Inbox.
Share: