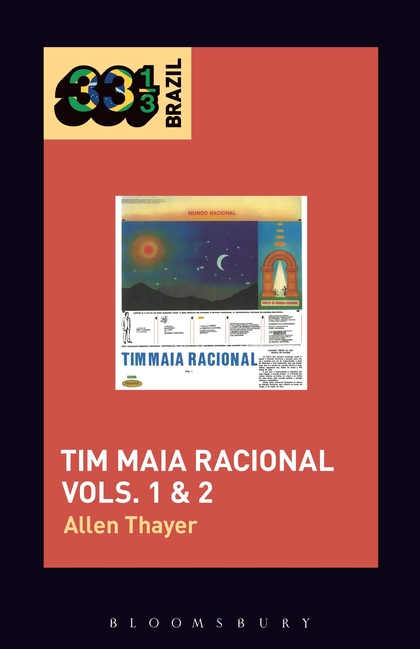 Allen Thayer – Tim Maia Racional Vols. 1 & 2
10 July, 2019
When in 1974 the Brazilian soul singer Tim Maia discovered a book called Universo em Desencanto (Universe in Disenchantment) no-one around him would have predicted what would happen next. At that time Maia was one of Brazil's biggest pop stars, and undoubtedly its biggest soul singer. Singles like "Chocolate" and "Não Quero Dinheiro (Só Quero Amar)" had propelled him to the top of the charts. With his group, who happened to be some of the funkiest musicians around, he'd just sealed a deal to make a double album for RCA Victor in Brazil, a sure sign of his lofty ambitions and the regard he was held in the music industry. Then that book came along.
Universo em Desencanto is a book of spiritual awakening written by a charismatic leader Manoel Jacintho Coelho. It's a quasi-religious text that uses pseudo-science and much bluster to seek to awaken its reader to another level of consciousness, telling them what they need to do to reach enlightenment, or to become rationally immunized, to use their parlance. The book that Maia picked up was just the first volume (in total Coelho wrote 1,000 volumes) but it was enough to get him hooked.
It seems that at that point in his life what Maia needed was spiritual enlightenment and Rational Culture, which was the cult that formed around Coelho and his teachings, was going to provide that. Maia promptly binned the vocals he'd written for his double album for RCA, and began writing new lyrics influenced by his new vocation. He also gave away many of his possessions, began dressing in white and, for an 18-month spell, ended up directing much of his money towards the cult. On a positive note, he also gave up drugs and reigned in his monstrous appetite, meaning he at least got himself in shape. Some, but not all, of his band members joined him for the trip.
This story is captured beautifully in a new book by Allen Thayer, part of Bloomsbury's recently-launched Brazil 33 1/3 series, which takes a look at important albums from Brazilian music history. This title focuses on the two Rational albums that Maia put out while he was in Rational Culture, as well as the tracks that would posthumously be released as Volume 3. It is as authoritative and informed as any book you are likely to find on this particular period in Maia's life, and also brings in much other detail of Maia's career and the musicians and scene that he was a part of, bringing 70s Rio, and especially the funk and soul scene, to life.
With much mythology around this period in Maia's life, Thayer undertook plentiful research to make sure he got the facts straight (or as straight as they're ever likely to be), speaking to dozens of musicians who worked with Maia on these records, as well as others who were part of the scene, in addition to other journalists and artists with expert knowledge. Though we never get to find out exactly what drove Maia to become so obsessed with Rational Culture – he himself rarely spoke about the Rational years after leaving acrimoniously in 1975 -, the glimpses into Maia's psyche, the various troubles he'd faced in his life and the fact his father died when he was 16/17 offer up some possible reasons.
Although these new Brazil 33 1/3 books are ostensibly academic titles, Thayer finds a nice line between extensive research, factual rigour and an easy-going tone and structure that suits a story about one of Brazil's most gregarious and gifted singers perfectly. Tim Maia Racional Vols. 1 & 2 is another great title in what is proving to be an indispensable series for any Brazilian music fans out there.
Tim Maia Racional Vols. 1 & 2 is available from Amazon UK and Amazon US.

Follow Sounds and Colours: Facebook / Twitter / Instagram / Mixcloud / Soundcloud / Bandcamp

Subscribe to the Sounds and Colours Newsletter for regular updates, news and competitions bringing the best of Latin American culture direct to your Inbox.
Share: