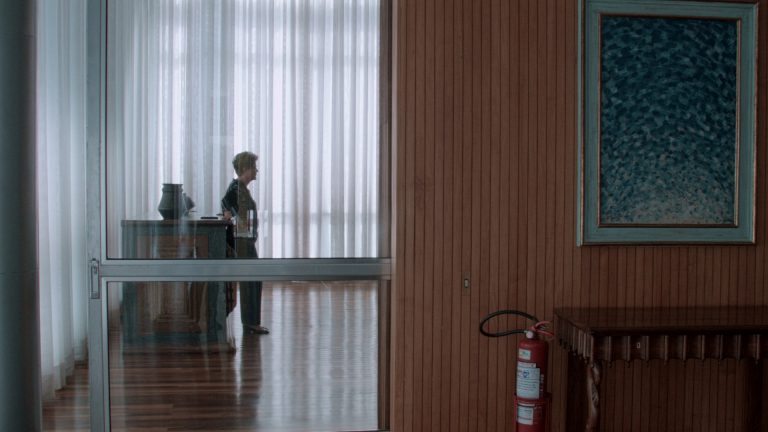 'Alvorada Palace' Offers a Window Into The Political Downfall of Dilma Rousseff
10 June, 2021
Anna Muylaert's Alvorada Palace is an intimate and compelling insight into the life of Dilma Rousseff in the days and hours leading up to her impeachment on 31 August 2016.
The full shots in the documentary show both the scale and grandeur of the titular residence (which is truly palatial) and the bustle of activity within it. César Charlone and Lo Pôloti's camerawork reveals teams of gardeners priming lawns to perfection, and human chains of cleaners polishing the brass runners of a huge staircase. There is an organised buzz to the environment, and Muylaert offers a gentle invasion into daily life within the palace.
Rousseff herself rarely addresses the camera directly, but the patience of the director lingers enough to catch her more philosophical moments, such as when she reflects on the concept of 'evil'. The documentary's best insights are when capturing Rousseff going about her working day, pacing along long marble hallways and up and down huge boardrooms. You can't help but be impressed by her stoicism. She seems to have an easy-going reticence to the political chaos – as if she has lived the moment before. She isn't irreverent, and it is clear that she wants deeply for democracy to survive in Brazil. Yet, she is at the mercy of the "coup-mongering media" and the senators who ultimately vote to overthrow the first woman president of Brazil. It's easy to see why her fans call her the 'Warrior of the Brazilian homeland'.
During the verdict itself, which is broadcast on a TV in almost every room throughout the palace, Muylaert decides to continue to capture the daily work of the palace service personnel, which persists in the background. I found this to have two interpretations: in one way this reflects the distancing of Brazilian society from politics; in another, the futility of trying to win the battle when you're in it to win the war. As Rousseff herself says, "How do you fight corruption? By providing the conditions for it to be fought". This isn't a leader in search of any quick wins.
Muylaert's documentary is as much about what is not said as about what is said, and offers a fascinating window into the political downfall of this formidable character. The details of the allegations against Rousseff aren't revealed, so those looking for a purely factual documentary won't find it in Alvorada Palace, this being a more metaphorical and candid watch.
Alvorada Palace (Alvorada) is showing as part of Sheffield Doc Fest 2021

Follow Sounds and Colours: Facebook / Twitter / Instagram / Mixcloud / Soundcloud / Bandcamp

Subscribe to the Sounds and Colours Newsletter for regular updates, news and competitions bringing the best of Latin American culture direct to your Inbox.
Share: