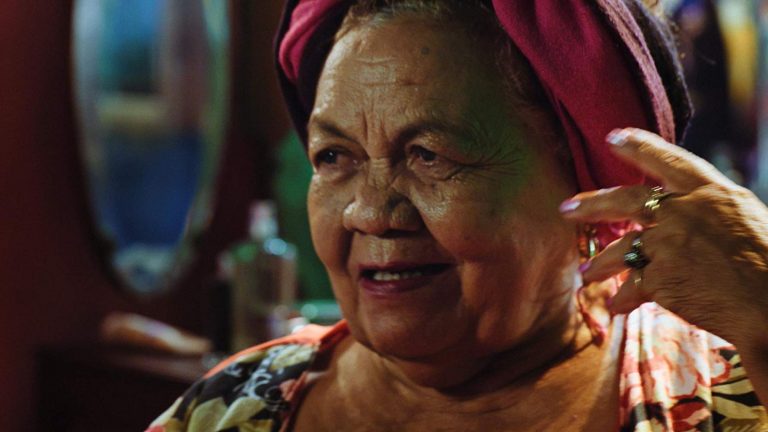 Amazônia Groove
17 October, 2019
At the beginning of this documentary we are told: "The river is this moving synthesis of our culture's flow. This is why it has such an appeal to artistic creation, and it also has an appeal to all mystical activities around this region." The river, of course, being talked about is the Amazon, and it becomes a benign subject in this film, which is ultimately all about the people who live or have lived near the Brazilian Amazon, and their close relationships with music.
What is made clear from the off is that this area of Brazil, the Amazonian region of Pará, offers a rich bounty of diverse music. The simple songs of blind folk singer Mestre Damasceno begin the proceedings, but we soon find ourselves heading off deep into the greenery to explore the sounds of birdsong within an experimental chamber ensemble (led by father-and-son duo Thiago and Albery Albuquerque), taking a loud diversion into tecnobrega and then coming out refreshed to the party sounds of Manoel Cordeiro and Dona Onete.
Each artist is given the change to tell their story, their reasons for becoming a musician and how the Amazon has played its part, but it's their heartfelt, feelings about making music that leave the deepest impression. To hear Sebastião Tapajós choke up as he reflects on his fortunes as a musician who travelled the world is extraordinarily moving, as is Manoel Cordeiro's tale of almost ending his life before his son's intervention. Together with the music and some beautiful cinematography – the staging of many of the live music segments is sublime, and should be applauded too.
An interesting device is the lack of introductions for any of the characters, the norm being for their names to scroll across the bottom of the screen, when they first appear. Although this leaves you curious to put a name to their face (which you can't do until the introductions during the finale), it has a democratising effect during the film itself. No-one is more or less important than the other, we don't have to process any info about their titles or professions, all we have are their stories and their music. Which turns out to be enough.
Amazônia Groove is a fascinating documentary that looks to pay homage to the music of the Amazon, and by choosing a cast of fascinating characters to tell the story, it became an emotional document of a people, society and culture, much more than simply a music doc.
Amazônia Groove will be screened at WOMEX 19, in Tampere, Finland (October 23-27), on October 26.

Follow Sounds and Colours: Facebook / Twitter / Instagram / Mixcloud / Soundcloud / Bandcamp

Subscribe to the Sounds and Colours Newsletter for regular updates, news and competitions bringing the best of Latin American culture direct to your Inbox.
Share: