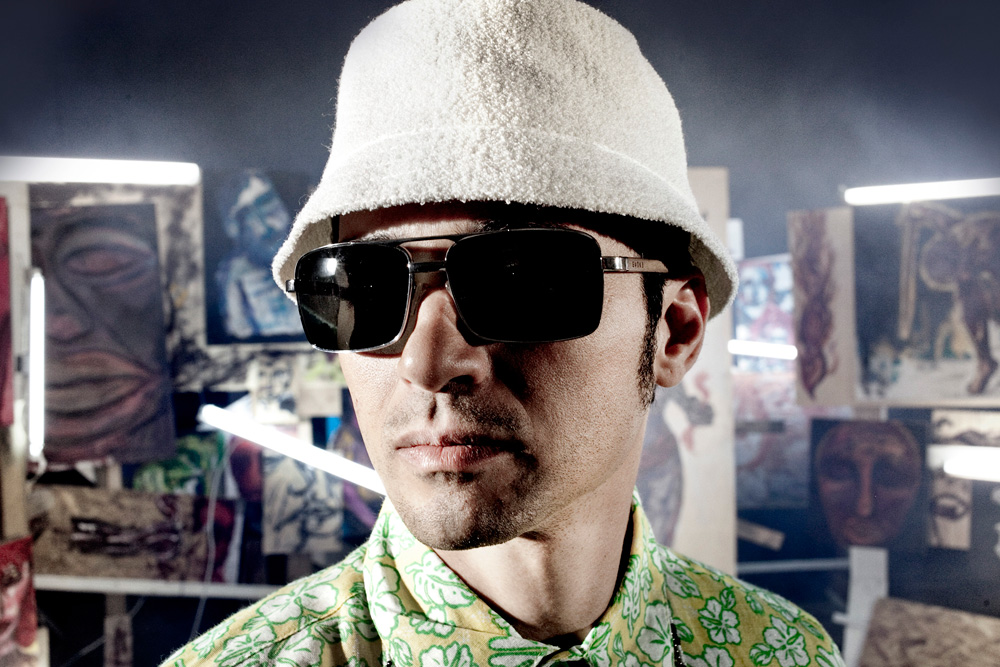 Pio Figueroa
Plenty of Ideas to Take Foward: An Interview with Nação Zumbi's Lucio Maia
03 September, 2014
One of the most respected bands in Brazil, Nação Zumbi took seven years to release their new studio album. The eponymously-titled record follows Fome de Tudo (2007) and the live CD/DVD Ao Vivo no Recife (2012), and was received amid much expectation by both critics and the public. "We took all this time to make a new album because we always start together from zero. In May 2011, at my place, we started to record it in a very lo-fi way. At that moment, we realised we had lots of basic tracks", remembers guitarist Lucio Maia.
Involved in many side projects – in April, he released an album with his most recent project, Zulumbi, with singer Rodrigo Brandão –, Maia believes the work of Nação Zumbi's members outside of the band ultimately contribute to the music of the group itself. "There's no doubt about it. The more we get to create, the more we can exercise ourselves in diferent genres. It all goes back to Nação somehow. But we do take care, because Nação is a project for the whole life. It has a meaning related to the story of our lives", he says. But, he still plans to create new projects. "I have plenty of ideas that I want to take foward. Not a long time ago, I ran into Pedro Baby (also a guitarist, son of singer Baby Consuelo and guitar hero Pepeu Gomes), we were already thinking of doing something together, and after this meeting something might happen."
Besides being involved with Seu Jorge and Almaz, Los Sebosos Postizos and his solo project Maquinado, Maia spent the last three years touring with singer Marisa Monte (along with Nação Zumbi bassist and drummer, Dengue and Pupillo), after playing on her last album. Monte returned the favour, singing on one of their new tracks on Nação Zumbi, the relaxing "A Melhor Hora da Praia". "Because of the tour, we got really close, family, children… It was natural that she would participate in our album", he says. "But neither Dengue, Pupillo or I invited her. It was Jorge (Du Peixe, the vocalist) who talked to her", Maia laughs.
The album also features Lula Lira, daughter of former Nação Zumbi singer, Chico Science, who died in a car accident in 1997. She is also a member of Afrobombas, another musical project led by Jorge Du Peixe. "We got close to her years ago. When Chico died, she was a little girl, so she didn't have much time with him. When she came to live in São Paulo, we were starting to get used to the city [they are all from Pernambuco, in the Northeast of Brazil]. She used to go see the same concerts we did, we used to meet a lot. She is the girlfriend of Ramon, the older son of Jorge", he tells us.
Coincidentally, Nação Zumbi's new album came to light on the 20th anniversary of their first record, Da Lama Ao Caos ("From Mud to Chaos"), which featured Chico Science, and is considered a benchmark in Brazilian music. "We know this album is an important piece of Brazilian life and music. It had an impact for the courage of making it. I still haven't seen anyone with that same courage. I'm very happy that people consider it to be so good. It's a dream for any musician, that his work will become eternal. The fact that we are still talking about it 20 years after shows that. The songs are very good and we know it, we still play some of them."
The new work is more psychedelic, full of ambient effects, rather than percussive like the band's usual sound. Maia says it wasn't something planned. "It was Pupillo, Jorge, Dengue and I who concentrated on writing for the album [without percussionist Toca Ogan and alfaia players Gilmar Bola 8 and Da Lua]. I think that was reflected in the final result. I think it's pretty good when someone finds it strange, because it's a different sound, and that's what we are looking for", he explains. "Sometimes, it was like adding percussion to the songs was our obligation. But we like to vary, to refresh our music."
Now, they are travelling in Brazil with a new tour, but they want to go abroad too. "We have developed a good relationship, especially with Europe, since the time when we still had Chico. We played the Jools Holland show, played in different countries… even if we had to cross 2,000km in a van. It's been a while since we played there for the last time, but we have friends there that always write [to us] when we release a new album, and I'm looking forward to travel there with the tour", Maia reveals. Let's hope.

Follow Sounds and Colours: Facebook / Twitter / Instagram / Mixcloud / Soundcloud / Bandcamp

Subscribe to the Sounds and Colours Newsletter for regular updates, news and competitions bringing the best of Latin American culture direct to your Inbox.
Share: