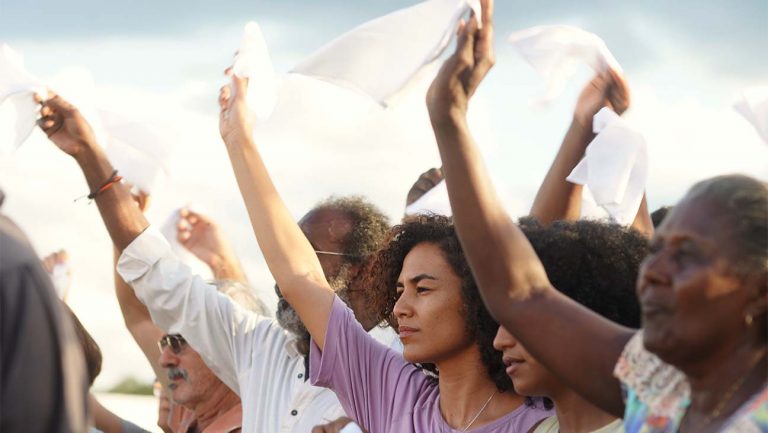 Bacurau
04 October, 2019
Bacurau is the third feature film from Brazilian director Kleber Mendonca Filho, following the acclaimed Neighbouring Sounds and Aquarius, and co-directed by Juliano Dornelles, a fellow director from Brazil's north-east.
The film is set in the near future and takes place in Bacurau, a fictional town in the Brazilian sertão. Bacurau is an independent village, which due to its own subsistence is not appreciated by a corrupt government. Suddenly the city "disappears from the map" (or so it seems) and the survival and existence of the community is at stake. One thing is for sure, they won't go down without a fight.
The first scene starts with a water truck driving wildly down a dirt road, where they pass a broken down truck filled with empty coffins. Another early scene features the death of a significant community member. Both of these instances are early signs of death, that occur frequently through the narrative, and are represented in many different ways. From actual death to death from lack of access to water, to people craving to kill (to provoke death), to isolation as a symbolic death and also death as an act of resistance.
The film is filled with cultural and political references, from the present and the past. Starting with a futuristic approach, you are invited to indulge in Cinema Novo, and are then moved towards what seems to be an American action film from the 90s (Indiana Jones or Jurassic Park might come to mind), and then changing again to what could be called a Tarantino-like final act. You might think these are very strange references coming together, but there is no one better than Kleber Mendonça Filho to make them work, even if ironically.
Bacurau undoubtedly drinks from Cinema Novo, especially the films of Glauber Rocha, which is a pleasant surprise, but it gives the movement a new contemporary look. A song from Sergio Ricardo ("Bichos Da Noite"), who also composed soundtracks for Rocha's emblematic films Terra em Transe (Entranced Earth) and Deus e Diabo na Terra do Sol (Black, God, White Devil), makes the reference very clear, but it can also be felt in the choosing of an "aesthetics of violence as a revolutionary act rather than a primitive one", as Glauber Rocha always suggested.
Music is an essential aspect of this film and adds directly to the narrative. The film's introduction features a camera zooming in on a globe while Caetano Veloso's song "Não Identificado" (unidentified) plays, in the voice of Gal Costa. The lyrics of "uma canção de amor para gravar num disco voador" (a love song to be recorded in a spaceship) will make perfect sense when you reach the end of the film.
Bacurau suggests a symbolic revolution of the working class against the ruling classes, working on a precept mentioned by the last song "Se alguém tem que morrer, que seja para melhorar", (if anyone has to die, let it be for the better). The message seems to be that to build something new, the preexisting system must be destroyed. At a time where Brazilian Democracy has suffered severe attacks (and also there have been cuts in funding Brazilian cinema), the message is quite clear. If it is an allegory or a concrete suggestion, it's left to the public to decide.
Bacurau is in select UK cinemas and available on MUBI in the UK from Thursday 19 March. Find a screening at mubi.com/bacurau.

Follow Sounds and Colours: Facebook / Twitter / Instagram / Mixcloud / Soundcloud / Bandcamp

Subscribe to the Sounds and Colours Newsletter for regular updates, news and competitions bringing the best of Latin American culture direct to your Inbox.
Share: